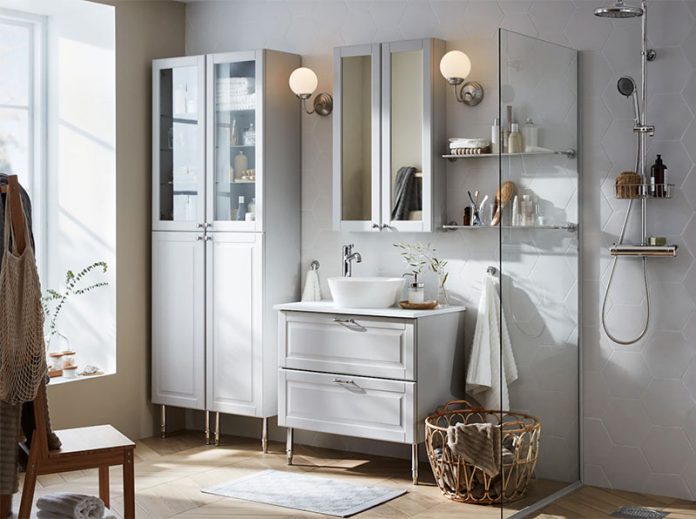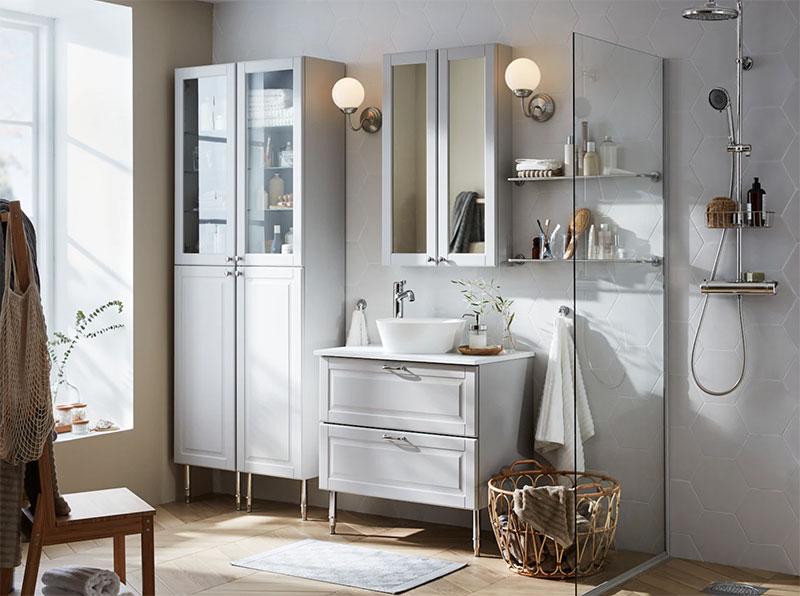 If your bathroom's looking a bit sorry for itself, read on for some tips on how to give it a new lease of life. The good news is that you don't need to spend a lot of money – small changes can really make a difference.
Update your shower head
Have you always wanted one of those relaxing rainfall showers, the kind they have in nice hotels? Starting at around £20, a rainfall shower head is an inexpensive update for your shower that really makes a difference! Close your eyes, relax and let the soothing patter of water transport you away.
Clean your shower curtain
Shower curtains can harbour all manner of mould and grime, and with our busy lives, cleaning them is generally low down on our list of priorities. You can wash most curtains in the machine– throw two towels in with it to provide extra scrubbing power. However, if your curtain has seen better days, why not invest in a bright new curtain?
Bring the outside in
Plants can instantly change your bathroom from a functional room to a relaxing haven. They come with added health benefits too, such as air purifying and mood-boosting properties. Choose large, easy-to-care for plants such as rubber plants, aloe vera and ivy to add a rainforest-vibe to your bathroom.
Revamp the toilet
If your toilet has seen better days, why not treat yourself to a new one? If your budget won't stretch that far, then replacing the seat is a quick fix to make your toilet look shiny and new again. If you're feeling a little adventurous, you could go for a coloured one, either to match your existing colour scheme, or in a contrasting colour. Or why upgrade to a soft-close seat if you didn't have one before.
Clean the grout
Discoloured and mouldy grout can really make your bathroom look dirty – not to mention mould spores can be a health hazard – but with a bit of elbow grease, you can make it look as good as new. You can buy specialist cleaners from DIY shops, or make a simple, homemade solution by mixing bicarbonate of soda and white vinegar into a thick paste. Work the solution into the grout with an old toothbrush, wait for up to an hour (or check manufacturer's instructions), then rinse off and marvel at your gleaming grout!
Invest in some storage
Towels on the floor, cosmetics and shampoo bottles everywhere − clutter can be as much a problem in the bathroom as other rooms in the house. Some clever storage systems can ensure your bathroom remains a zen-like space. Rattan or wicker baskets can provide an inexpensive and appealing place to hold essentials like towels and toilet rolls. If you're short on space, add some floating shelves above your toilet – giving you somewhere to store clean towels, soap and cosmetics. Or a shelf over the door can give you some valuable extra space for items you don't use regularly.
Add some art
Add a finishing flourish by hanging a piece of art on a spare wall. Whether you want a bathroom-inspired print or you have a favourite piece that makes you feel relaxed, ensure you don't hang your most expensive prints in the bathroom as moisture from can get trapped under the glass and stain them. Look for artwork printed on acid-free paper and varnish it with a painting varnish if it isn't already. Canvas prints are also a good option.