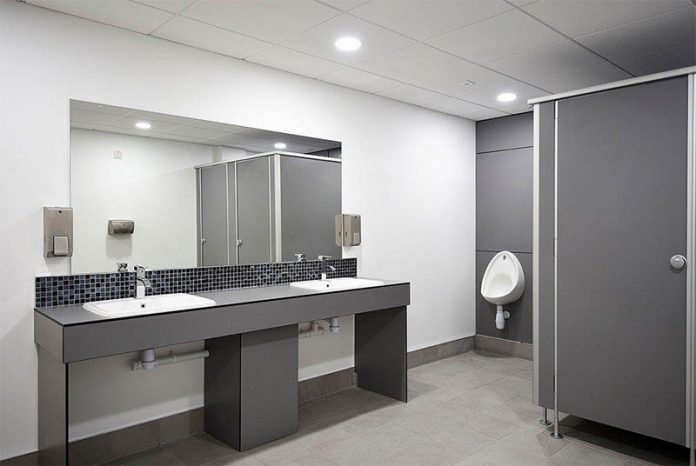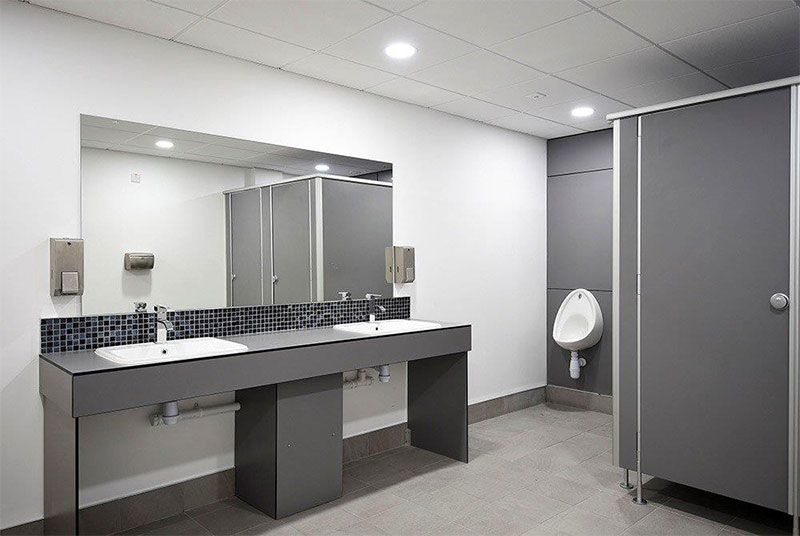 If you're planning to renovate your restrooms, choosing the right toilet partitions is necessary. But what materials do they come in, and how should you choose properly? Today, we will go through the different types of material, the pros and cons of each material, and where they should be best used. Continue reading if you want to know more.
What are the different types of toilet partitions?
Below are the different types of material used for toilet and bathroom partitions:
Metal Toilet Partitions
Metal toilet partitions are very common nowadays, especially in restrooms. They're quite common with business owners. Not only are they economical, but they also offer high-tech quality. The most popular ones are powder-coated steel partitions because of their benefits. The steel is baked in an oven where the powder is added on its outer surface. And while the variety of colors is limited, you cannot deny that they offer an amazing finishing.
Stainless Steel Toilet Partitions
Stainless steel offers a more attractive and sophisticated classy feel. If you use this type of material, you can make a smooth partition or get one engraved with some patterns. They can withstand not only heavy traffic, but they also have minimal impact on the environment, unlike other kinds of partitions.
What's good about them is that they're not just attractive and sophisticated. They're also scratch-resistant and can sustain any climate conditions. They are suitable for any kind of environment, whether it be humid or moist. They're also easy to clean.
However, of all the types of partitions, the stainless-steel partitions are the most expensive ones. They might even cost double the powder-coated steel partitions!
Phenolic Toilet Partitions
Solid phenolic partitions are the most durable material for the manufacturing of toilet partitions. It's a high-density material made by applying heat and pressure to layers of kraft paper, which have been saturated in a synthetic phenolic resin.
In this process, a chemical reaction called polymerization takes place, which transforms the materials into a high-pressure, thermosetting plastic. This gives them the strength to endure tough circumstances.
If you need a blend of durability and strength, go for phenolic partitions. They're water-resistant and highly durable, which makes them an excellent choice for high-traffic areas.
Solid Plastic Partitions
Whenever there's heavy traffic on the usage of urinals or public toilets, solid plastic partitions are the best choice when choosing a toilet partition. They are highly durable and are an ideal option for corrosive environments and areas with high traffic. These are what makes them best suited for public restrooms.
Not only are they very long-lasting, but they're also resistant to moisture, rust, and mold! They can endure dry, wet, cold, and hot environments. They are best suited for hospitals, schools, transportation facilities, and other high-traffic restrooms. Because of their durability, they are provided with 10 to 15 years of warranty.
However, they are fairly expensive. In fact, they cost more than the powder-coated steel and plastic laminate partitions.
Plastic Laminate Partitions
Plastic laminate blends reasonable cost within design flexibility. This means that they are very cost-effective, and they're available in a plethora of colors. These partitions are the best option for people who love to customize small partitions.
Depending on the requirements, you can easily customize them. You can install them by gluing thin laminate board sheets. Simply apply a laminate sheet to the surface by gluing it together.
However, they cost a little higher than powder-coated steel partitions. Manufacturers usually offer a 1-year warranty for plastic laminate partitions.
Corian Toilet Partitions
Corian partitions deliver durability and superior style, in a wide variety of textures and colors that can beautify the surroundings. They are virtually seamless, which makes them easy to clean. They're also resistant to cracks, scratches, and chips, which makes them very durable.
Corian toilet partitions are as pleasing to the eye as they're necessary to any room. They can expand your creativity in designing, thanks to the exciting variety of Corian solid surface.
The advantages and disadvantages of these toilet partitions
Below are the advantages and disadvantages of each toilet and bathroom partition:
Metal Partitions
Advantages:
Metal partitions are economical
They are scratch-proof and resistant to corrosion and stains
They're easy to clean
They offer maximum durability
Disadvantage:
You have limited options when it comes to colors
Stainless Steel Partitions
Advantages:
Stainless-steel partitions are very durable
They are resistant to scratches
They are germ-resistant
Stainless-steel partitions can function well in highly humid areas
They are resistant to germ, corrosion, and rust
Disadvantages:
They are the most expensive partitions compared to the others
They are heavy to install
Phenolic Partitions
Advantages:
Phenolic partitions have a variety of different colors
They have a long lifespan
Phenolic partitions are resistant to impact, which makes vandalism difficult
They're moisture-resistant, so they can be used in high humid places
They're also resistant to oil, bacteria, water, and stains
Phenolic partitions are easy to clean
Disadvantage:
Phenolic partitions are fairly expensive, especially because of the tough materials that are used to make them
Solid Plastic Partitions
Advantages:
Solid plastic partitions are very easy to clean
They have different color options and texture, to match any toilet facility
Solid plastic partitions are resistant to scratching
Disadvantage:
Solid plastic partitions are significantly more expensive
Plastic Laminate Partitions
Advantages:
Plastic laminate partitions come with a wide variety of colors you can choose from
They're very easy to clean
They can resist corrosion, rust, and penetration of dirt and grease
Plastic laminate partitions are a good fit for heavy-traffic toilets
Disadvantage:
Plastic laminate partitions easily get damaged when you install them in wet areas
Corian Toilet Partitions
Advantages:
Corian partitions are very easy to clean
They are also very durable
Corian partitions come in a variety of colors you can choose from
Disadvantages
Corian partitions cannot withstand direct heat
They easily get damaged by water
In short, this information helps you on how to choose the right toilet partition material. Knowing the different kinds of toilet and bathroom partitions will help you choose the right material.