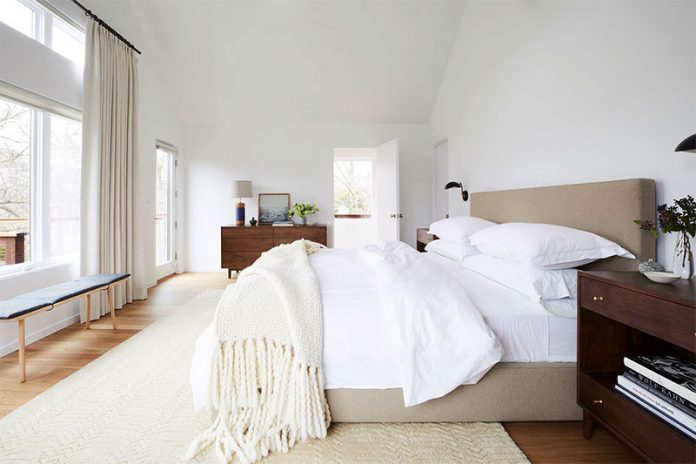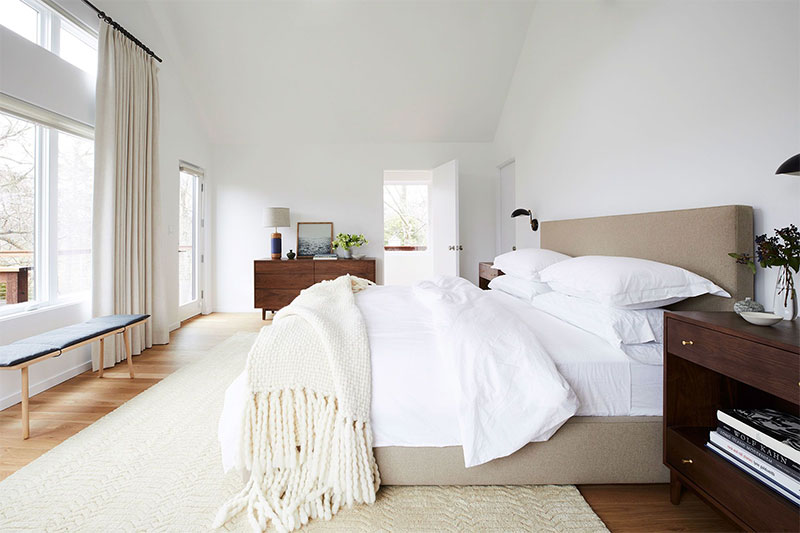 When we speak of bedrooms, the image that springs up instantly is that of a comfortable, snug, and restful space. This idea comes to us from the bedrooms we remember from our childhood or those we have felt safe and home-like in, and where we have been able to refresh and rejuvenate our tired minds and bodies. This feeling is described in the Danish language as "hygge" or that delicious sensation of warmth, comfort, and coziness. Obviously, the Danes know what they're talking about, given their long and deep, dark winters!
Your bedroom is your private retreat away from the stress, tension, and hurry of the everyday world. It's a space that perfectly reflects your personality, tastes, and lifestyle. It also tells the visitor much about your background, the places you've traveled to, and how you like to relax. While it's important that you relax here, it's also essential that it is maintained in a clean, hygienic, and neat way to safeguard your health and wellness.
Apart from rest and relaxation, many of us shut ourselves into our bedrooms to read, listen to music, pursue hobbies such as sewing, or answer private phone calls. Whether it's the master bedroom, guest room, or the children's bedroom in your home, it deserves as much attention to design as do other, more public, areas of the home.
Most people prefer large and more open living spaces. But all too often, a large room can feel overwhelming and impersonal; on the other hand, a small room can feel cramped and cluttered. The solution to both these problems lies in "cozy."
This is a word that's often used in tandem with small, comfortable spaces. It is an effect that can be created through clever use of color, texture, light, and accessories. Strategic placement of mirrors, furniture, and the bed can produce a wonderful effect of a cocoon-like resting space, especially in colder climes.
Here we share seven easy, simple, and smart design hacks that professional interior designers recommend to get exactly the tone you want from a cozy refuge.
Texture: Touch is the sense that most provides a feeling of comfort and warmth. Use different textures to enhance this feeling through the use of different materials. Wood is one such material – it can be used as flooring, wall paneling, door and window frames, furniture, picture frames, vanity tables, shelving, and more. However, don't go overboard with wood – it can overwhelm a design concept. Select warm tones and lighter shades for smaller bedrooms to make them appear more spacious. In larger bedrooms, add touches of dark wood with red overtones such as cherry to give warmth and comfort.
Opt for natural fabrics and textiles such as cotton, jute, sacking, wool, or silk for your sheets, draperies, carpets, rugs, and throws. Glass light shades and mirrors help add texture.
Color Palette: The feeling of coziness can also be stimulated visually through the use of certain colors. Smaller florals and prints work in a small bedroom, while bold geometricals and abstracts are preferred for larger ones. Select warm tones for the walls in the red, brown, and purple end of the spectrum, rather than the cooler shades. However, ensure that the colors are not aggressive or bold.
Layer the bed with quilts, duvets, pillows, throws, and comfortable knitted covers. If your bedroom is tiny, avoid a headboard altogether. Otherwise, a plump, quilted headboard in a warm-colored fabric to match the drapes and covers would be a perfect choice. Make sure that you choose a focal point for your color palette. You can paint the ceiling in a darker shade to draw the eye upwards and give a design accent to the room.
Rugs and Carpets: Give serious thought to these when planning a cozy bedroom. There's nothing like your feet sinking into a soft area rug the moment you put them down in the morning. Carpets provide a cozy and snug effect. However, they're also not easy to maintain, especially if you're a senior citizen or have pets and small children. They're a dust trap and a breeding ground for micro-organisms, allergens, and insects. If you choose to have some, select smaller area rugs or runners in easy-care fabrics that can be regularly washed.
Furniture:Obviously, the most important thing in your bedroom is the bed. When you're planning the redecoration project, map out the dimensions of your bedroom exactly. Measure the floor space and then decide the size of the bed you want. Don't skimp on size and quality. After all, we spend nearly one-third of our lives sleeping, and if you don't have a comfortable bed, all the coziness you feel in the room would be of no use. Select storage beds for a smaller bedroom and keep the level low. Larger bedrooms can take antiques, four-posters, and king-sized beds. Choose additional furniture based on functionality before aesthetics. In smaller bedrooms, ensure that you select furniture with legs to give a large view of floor space. Avoid free-standing, tall items in smaller rooms. You can afford to splurge on a vanity or dressing area and a large makeup mirror in larger rooms.
Style:Don't worry too much about themes and styles! Often a strict adherence to a theme can seem contrived and artificial. Instead, let the design evolve a bit on its own – try a mix of styles such as French, country-farmhouse, modern, minimalist, etc. for a more natural look. The contrast often produces interesting and cozy results.
Lighting:Use all the available natural light sources in the room to maximum effect. In smaller rooms, opt for ceiling-to-floor drapes and use lots of mirrors to bounce light off. Get dimmers, fairy-lights, mood-lighting, and warm incandescent bulbs to create the right atmosphere.
Storage:The cozy bedroom feel also comes from things – book-lined shelves, photographs, memorabilia, souvenirs of your travels, and artwork. However, you also need to stow away essentials such as linen and supplies. Make sure that these are out of sight. Multi-functional furniture does the trick – under storage beds, ottomans, hidden cabinets in awkward niches, etc. are the answer to your storage problems. Cozy also means neat and pleasant to view – so keep your bedroom uncluttered and well-organized.