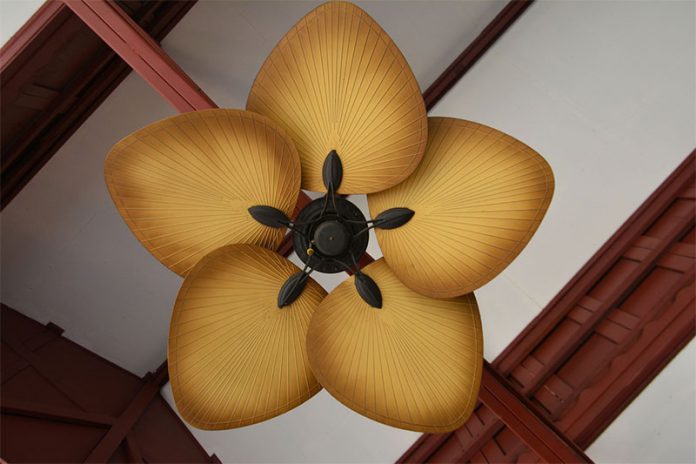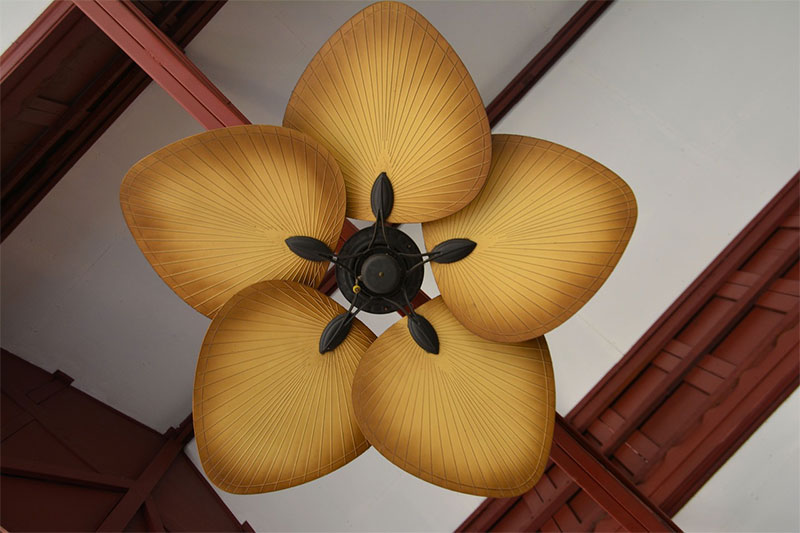 Gone are the days of the traditional wood, brass, and rattan ceiling fan your granny had in her parlor. Today's ceiling fans come in a wide range of design styles to match any decor. As a result, old advice about matching your ceiling fan to your ceiling has gone out the window. Today's homeowners want to draw attention to their stylish new fans — they want them to stand out.
And if there's one thing today's fan designs do well, it's stand out. These days, you can buy ceiling fan styles to appeal to any fashion sense, whether you're more of a laid-back, beachy type, or a sleek urban professional, or something in between. When matching a ceiling fan to your decor, you have to look at the colors and styles you already have in your home and choose a fan accordingly.
Coordinate with Your Home's Colors
Buying a new ceiling fan is a lot like buying a new piece of furniture — but instead, it'll become a permanent fixture in your home and something that you may even design your home around more in the future. If you want it to fit in for now, though, take a look at the colors already in your home.
Wood and wood-look finishes are popular in ceiling fan designs, so if you have a lot of exposed wood in your home — like a hardwood floor, wood wainscotting, wood trim and molding, or wood furniture — you could choose a ceiling fan made with the same wood or wood color. If a more eclectic approach to decorating has led you to collect pieces in a variety of wood types and colors, coordinate your fan with a dominant wood color and type, especially if it's one that features structurally in your home, like in the floor, doors, or trim.
Of course, you might prefer the look of a metal or even colored finish. Coordinate the type and color of your fan's metal finish to match your light switches, doorknobs, and other hardware, or choose a colorful finish that complements your decorating color scheme.
Match or Contrast with Your Home's Existing Style
If you're trying to choose between matching your new ceiling fan to your decorating style or to your home, you should match it to your home, so that it looks like a coherent part of the structure. Go ahead and choose that colored finish that makes your walls pop, but imagine how the ceiling fan will look once your furniture and possessions are moved out of the home — as it will if you were to put your home on the market someday. Will the ceiling fan look out of place? If so, you may want to weigh whether it's worth putting potential future buyers off.
On the other hand, you may not be planning to sell your home anytime soon, and it's more important for  you to choose a fan that complements your personal style. A distinctive fan can still add to a home's charm. Choose a fan style that matches your decorating style — whether modern, traditional, rustic, tropical or something else. Add interest to a unified decorating style with a fan in a contrasting style. If you have a more eclectic taste, you have more options — you don't need to match your fan to your decorating style. Instead, think about how your fan's color, design, and style complement your existing aesthetics.
Size the Fan Right
A fan that is too large or too small for the space it's in will look out of place and won't function correctly. Make sure you're using the right size fan for your room. Ceiling fans are measured in inches according to the width of the blade span across the center of the fan. Match fan size to room size accordingly:
Up to 75 square feet: 29- to 36-inch fan
76 to 144 square feet: 36- to 42-inch fan
145 to 224 square feet: 44- to 50-inch fan
225 to 400 square feet: 50- to 54-inch fan
401 square feet or more: 60-inch or larger fan
When you take the time to choose the right fan for your home and decor, you'll be choosing a new fixture that will add to your home's appeal and comfort. Whether you continue to live in your home for decades or eventually sell, you won't be sorry you chose to update your fan.