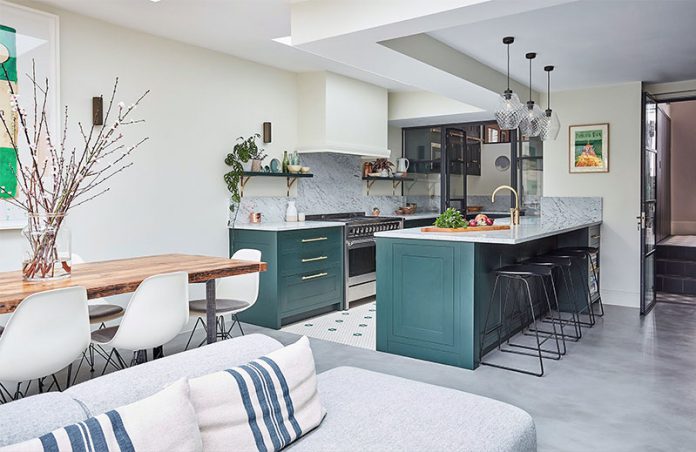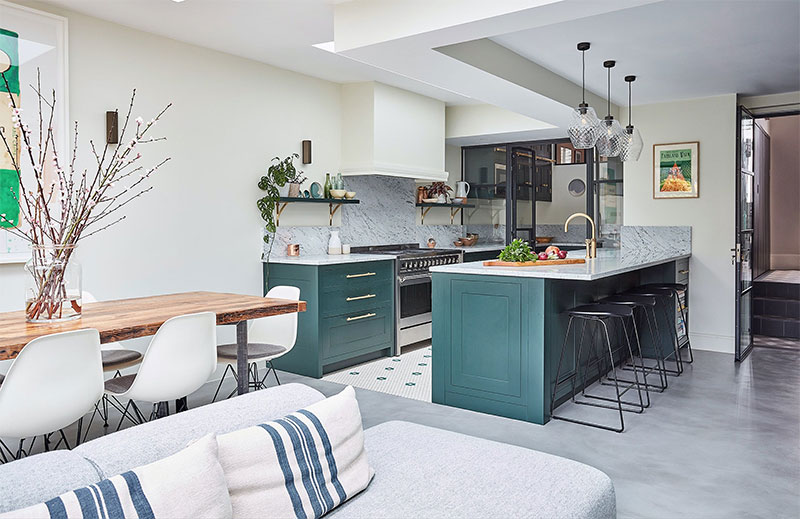 Kitchens are truly the heart of the home; they serve as multipurpose hubs where families gather to do everything from prepare meals to work on homework or simply share in each other's company. Therefore, while lighting is an integral part of any home's design, it's especially important in the kitchen due to the variety of tasks that take place there. In addition to increasing the functionality of your kitchen, the right lighting can also improve its ambiance.
Wondering where to start when it comes to lighting your kitchen for both form and function? Here's a closer look at key considerations aimed at helping you devise the perfect kitchen lighting plan for your home:
1. Use Layered Lighting
The most effective and balanced home lighting plans are layered. This means that they incorporate a mix of the three basic types of lighting: ambient lighting, task lighting, and accent lighting. In kitchens, layered lighting is especially important because no single lighting source is sufficient for the breadth and depth of tasks that take place there.
Decorative chandeliers are a popular choice for ambient lighting, but there are other options, too. For a different look, consider hanging three identical pendant lights at your kitchen's center or over the island. Like chandeliers, pendant lights are available in a wide selection of styles and can improve the look, feel, and functionality of your kitchen. Don't be afraid to go big and bold with your choice of kitchen light centerpiece. Think of it as an opportunity to show off your style and make a statement.
Keep in mind that, when it comes to hanging lights, it's not just about the fixtures themselves but also how you hang them. According to Forbes, there should be between 30 and 32 inches of space between a hanging fixture's lowest point and the kitchen island or counter.
In addition to the main overhead lights, you'll need "layers" of other light sources. For example, additional illumination is necessary in areas where certain types of work typically take place, such as over food prep stations, above the kitchen sink, and over the stove. Proper lighting can help make certain tasks, such as slicing and dicing, faster, safer, and more precise. A mix of lighting also helps to minimize glare, which increases visibility throughout the space.
Just because kitchens are inherently functional doesn't mean they can't also be beautiful. Enter accent lighting – wall sconces, in particular, are an easy way to showcase special features of your kitchen, such as a piece of art or collection. Furthermore, high-end wall sconces can be works of art in and of themselves.
2. Acknowledge Ambiance
When you're preparing food or helping your child with homework, adequate lighting is everything. However, when it comes time to serve and eat the meal, a different ambiance may be in order. Lighting has powerful potential to set the tone in our living spaces, and one simple way to do so is by using dimmer lights. In addition to a dimmer light for chandelier lighting and other ambient lighting, consider adding separate dimmers for each fixture to achieve a truly customizable lighting plan.
You should also be aware that there is such a thing as too much when it comes to lighting. Bring in too many hanging pieces or fixtures that don't coordinate well with each other or the rest of your kitchen décor, and you risk a cluttered end-result. If you need more lighting but don't want to overpower your design with too many pieces, under-cabinet lights and track lighting can add illumination without overwhelming the space.
Choosing the right bulbs is also essential for allowing ample light while establishing ambiance in the kitchen. Higher temperature bulbs emit cooler, bluer light while lower temperature bulbs emit warmer, amber light. According to Bob Vila, bulbs with a color temperature of between 3,500K and 4,100K are best for ambient and task light figures, while bulbs with color temperatures between 2,700K and 3,000K are best for accent light fixtures that will be used to backlight showpieces. Lastly, accent light fixtures with temperatures between 3,500K and 4,100K are ideal for casting sharp white light on details or decor you want to feature in the space.
As mentioned earlier, chandeliers, wall sconces, table lamps, floor lamps, and other lighting options aren't just utilitarian. Like all of the furniture and fixtures in your home, they're also an opportunity for self-expression. Selecting lighting that appeals to your sense of style and taste is important. Today's high-end lighting options are available in many different shapes, styles, and colors. Whether your kitchen is sleek and chic or relaxed and rustic, the right light fixtures can complement and elevate your space.
Worried that different light sources will clash? While they don't have to match, choosing a consistent finish, color palette, or design style across light fixtures and light fixture accessories can ensure a harmonious outcome.
3. Consider Your Investment
Many homeowners underestimate the value of lighting. However, this is a mistake, as the quantity and quality of light in your space directly impacts your quality of life. Instead of thinking of kitchen lighting as an afterthought, consider it an investment in comfort, convenience, and beauty. To that end, while setting a budget is important with any design project, make sure to prioritize ample and unique lighting. High-end lighting may have a higher price tag, but it will more than pay for itself in the long run in terms of the beauty and illumination it adds to your life.
The takeaway? Whether you're undertaking a complete kitchen remodelor you're hoping to make a few small improvements, there's no better way to transform your space than with lighting. This guide can help you design and bring to life a lighting plan that acknowledges and enhances how you live (and feel) in your home. From there, you can enjoy your well-illuminated kitchen – and the many opportunities it offers for gathering and spending time with loved ones – to its full potential.