When your stucco gets damaged over time, it can have several effects on your home. Cracks and holes can compromise its insulating effects, resulting in high energy bills. Blemishes reduce your home's curb appeal, negatively affecting your property value if you are considering selling. And old stucco simply doesn't have the same aesthetic appeal as stucco in its peak condition. You can always hire professional stucco contractors like Magnum Stucco to take care of your stucco repairs, but if you're feeling up to the challenge, it's possible you can handle the repairs yourself. You just need the right tools for the job.
Stucco is a mixture of sand, water, and cement that has been used for centuries to decorate buildings. It can crack or deteriorate in various ways, so the stucco needs to be repaired from time to time. In order to do this professionally and correctly, certain tools need to be used. To get professional results, it's important to have the right equipment on hand when doing stucco repair.
In essence, there are three major things you'll need for stucco repair: a caulking gun, a drill with a mixing bit, and a mud pan. These tools will ensure that all the work is done quickly and correctly, resulting in an optimal final appearance. You can also use metal wire brushes and wire saws to help cut through old stucco and remove cracked areas that you want to repair.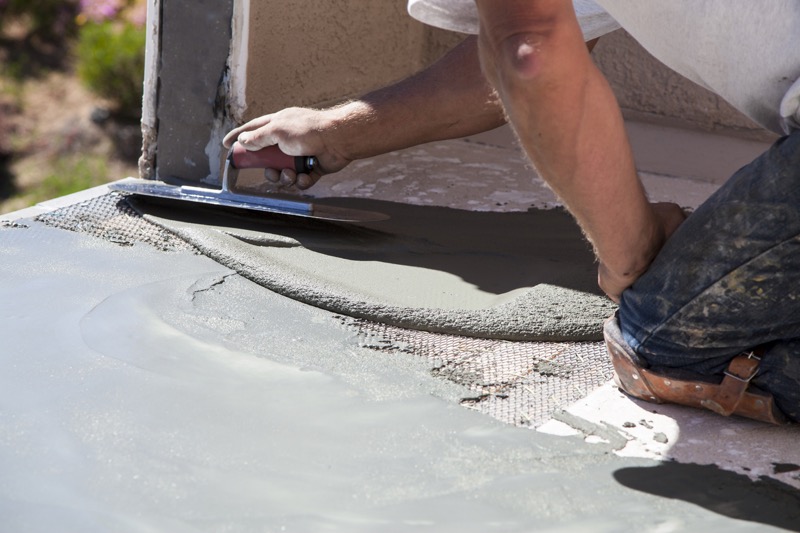 Caulking Gun
The caulking gun is used as a means of getting the stucco repair compound into cracks in the walls or on surfaces, such as those made by lintels over exterior doors. Since it is a mixture of sand, water and cement, the material works best when applied using a caulking gun. This will allow for even application and prevent any problems. When applying with a caulking gun, remember to apply the stucco sparingly – too much can make future repairs more difficult or result in uneven drying times. In addition, mould growth could become an issue if there's too much moisture.
Mud Pan
A mud pan is essentially a bucket that helps distribute the stucco repair compound. It's typically made of plastic, but some are metal. The mud pan helps you evenly apply the stucco along the walls. If there are cracks in the current mixture, you can get into them more easily since it acts as a scoop for removing portions of old mixed stucco.
Mixing Drill Bit
This is what helps make stucco repairs even easier and faster by eliminating many of the individual steps needed to mix up batches of material. Since these bits are specially designed for mixing concrete, mortar, grout, screed coatings, plaster and stucco, they'll help ensure that the compound is composed of the right proportion of ingredients. This will result in an optimal final appearance.
Wire Brush for Stucco
A wire brush is an important tool to have on hand when doing stucco repairs. They are typically made of metal so that they can be used with a drill as well as by hand. When using a wire brush, you'll want to make sure it's the right type and density for what you're working on; if it's too abrasive or not tough enough, it could damage surfaces such as wood decks and siding. Wire brushes come in different shapes and sizes, so it's best to do some research beforehand if possible.
Stucco Saws
Stucco saws, which were once only available at specialty home improvement stores, are now much easier to find, and this is a good thing. These tools come in different shapes and reach anywhere from 20 inches to 34 inches in length, so choose one that will work best for you. The stucco saws have hardened steel blades that can cut through old stucco, which will allow the compound underneath to be removed or replaced if necessary.
Replacing or repairing stucco requires certain types of equipment; therefore, it's important to know what needs to be purchased before beginning any project. When shopping for these tools, try not to skimp on price since cheaper options could end up costing more due to poor quality; instead, it may make more sense financially to invest in higher-quality items at first.
A good option is to check out online for stucco repair equipment. You can purchase individual items or entire kits that include everything you need and save money in the process. Online retailers offer a wide variety of products, including buckets, brushes, caulking guns, mixing drill bits and mud pans, so take a look and find what you need today.
When deciding what tools are necessary for stucco repairs, many homeowners focus on such things as manual wire brushes or drills with mixing bits. While these items will undoubtedly be useful, there are other tools that might also be helpful. For example, some people use cakes to scoop up compound material, while others prefer using lintels over exterior doors to remove or replace stucco. The type of equipment you'll need to complete the job will depend on what is needed for your particular situation.
Before beginning a stucco repair project, homeowners should learn how to mix and apply the material properly. If you're not familiar with these processes or don't use them often, it might make sense to hire someone who specializes in this sort of work; otherwise, there's a good chance that problems such as weak spots could result. If done improperly, future cracks could cause significant damage over time and lead to more extensive repairs down the road.
While repairing stucco may sound difficult, simply learning about the basics can go a long way towards making this task much easier when all is said and done. For example, always wear face masks when mixing stucco, or you'll risk inhaling harmful dust particles that could cause serious health problems over time. Also, remember to apply the material carefully and use a trowel to spread it evenly; doing so will result in a much stronger final product and one that looks great!