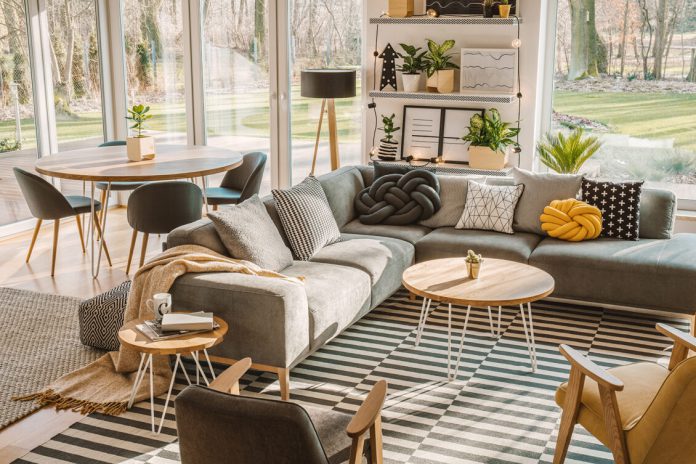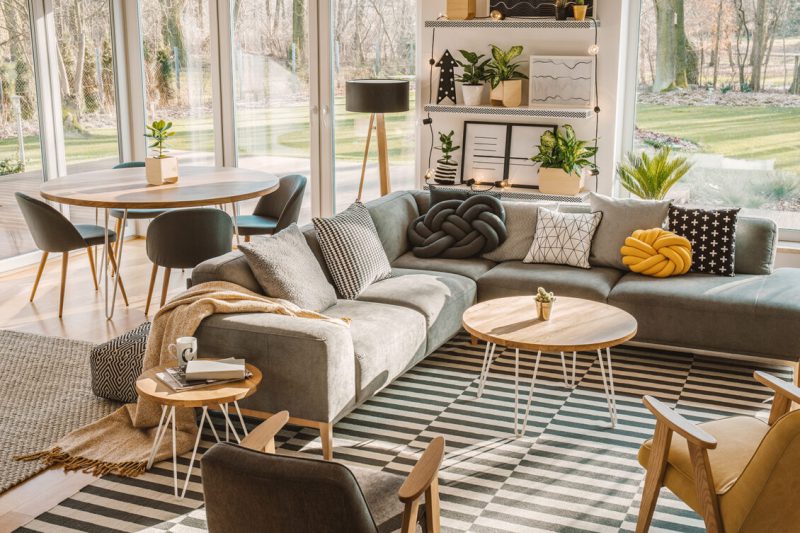 We all have our different styling types when it comes to decorating our living areas. Some choose a modern style while others may choose country, industrial, Mediterranean, art deco or a combination… the list goes on and on. But how do you choose to express yourself in your own living room? Whether you are moving into your first apartment or trying to redecorate after the nest has emptied, here are seven ideas to get you started on making your living room your favourite, the coziest room in your home.
"Cozy Accessories"
These are the fluffy comfy items that we just lay around strategically until they look right. Besides serving a purpose as décor, they serve a dual role in creating texture and warmth to a room as well.
Pillows– Not only are they used to make you comfortable while binge-watching your favourite shows, but they can also be used to add colours and patterns to the room. The wonderful thing about pillows is that they can be used to brighten up or tone down the room, the choice is yours. They also come in different sizes and shapes to harmonize with your room.
Throw Blankets – Not only are they handy on those chilly nights, but this is also where coordinating colours create a sense of warmth, and different textures, like chenille, flannel, or satin can create a subtle depth. When not in use, drape the blanket haphazardly across the back of the couch to create a casual elegance.
Curtains – These are multipurpose by being both functional and decorative. If you were to choose a see-through or thinner fabric drapes this may be setting a mood of being frilly and whimsical, or if you choose a heavier, sturdier fabric and use that to drown out light and sound from the outside.
Wall Art
Create a focal point by using a wall art canvas to lay out a foundation for the rest of your style ideas. When you search for a canvas, make sure to find one that utilizes the colours, fabrics, textures, and other materials that you know will be incorporated into your primary living room colours. This will set a tone for harmonizing the remaining accessories.
Mirror
One of the oldest decorating tricks in the book is to have a mirror in the room so that it creates the illusion of being in a much larger room. That's not the only reason to add this detail. Mirrors can be chosen to accent any décor with various elements and designs to choose from:
Metal – silver, gold, rose gold, burnished amber
Wood – stained, white-washed, or even reclaimed wood
Plastic or other various hard-surfaced painted materials
Books
Another decorating trick is to have a "coffee table book". This could be a book on a direct interest that can segue into real conversation starters with guests. Favourites for many are books on photography, military history, and movies. Allow others to see a different side of you by leaving out some of your favourite books: a few stacked on a side table, or if you have a mantle, a few on either side add a nice touch.
Photography
This is a matter of personal taste. For photos of people, places, or things, with or without frames, the possibilities are endless. This does not even need to be colour photography. Black and white photos have a depth all to themselves' and will add character to any room, no matter the colour scheme.
Plants
Whether you have a "green thumb" or you can kill a cactus will determine whether you use live or fake plants. If you choose to have real plants, and you have animals, make sure that you choose those plants that are non-toxic to pets. Plants are a great accessory for any room by adding a pop of colour and visual detail.
Being in the living room, there are many ideas for how to display them. You can get pots in various shapes, sizes, and designs, as well as stands to put them on if you prefer to not have them on the furniture.
Items of Interest
This is really about your personal flair, something with a history, a showpiece if you will. Adding a piece of artwork, pottery, or another handmade item to the room creates another focal point. It can incorporate a theme or idea to the room too.
This list should have you on your way to creating your most favourite room in the house. This is where the atmosphere is all about you and your vibe. This will become your safe, cozy place to entertain friends and family, or to sit with your significant other enjoying a glass of wine.