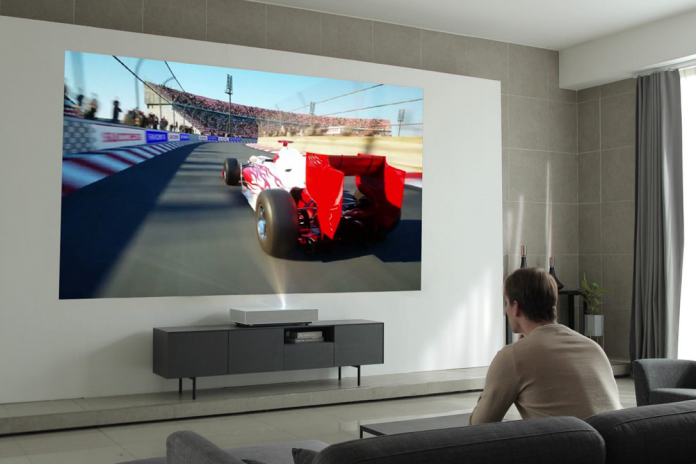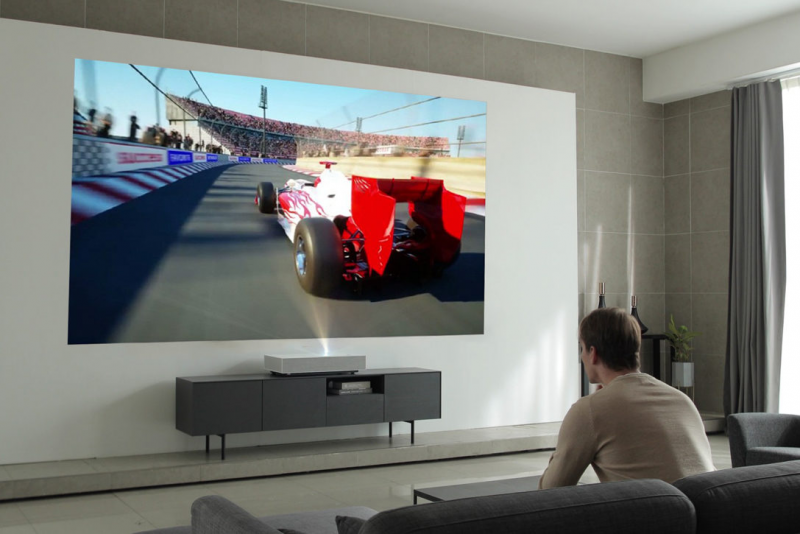 What is an ultra short throw projector and Why should I get one for my living room?
Most regular projectors need to be placed at least 10ft away from the projector screen and require a low amount of ambient light in the room to display the best picture.
An Ultra Short Throw projector (sometimes called Laser TV) on the other hand is a projector that sits right underneath the projector screen.
UST projectors use an extra bright laser light source and pair best with an ambient light rejecting projector screen. This makes ultra short throws the perfect choice for providing an immersive big screen experience right in your living room.
You can learn all about Ultra Short Throw projectors from this guide.
But assuming you already know about laser TVs, how do you design a living room centered around the projector and screen?
Start with the projector screen and go from there
What color is the screen?
When you think of a traditional projector screen you'd usually picture a plains white screen. While you'd think this would be the case for an ultra short throw screen, UST projector screens are almost exclusively gray. This allows the projected image to possess deeper contrast with richer black levels and prevents overexposed hotspotting.
Because the gray projection screen becomes the centerpiece, you'll want to make sure the rest of your living room matches it. Luckily it's very easy to match gray with many different colors.
How big of a projector screen should I get?
When it comes to projector screens, bigger is better. Depending on the space in your living room you'll likely want to get an ultra short throw projector screen with a diagonal size between 100-120 inches. If you get a larger screen you'd risk losing some of the brightness because laser TVs are not built to produce an image larger than that. Anything smaller just wouldn't be worth it.
How much wall space do I need?
For aesthetic purposes you probably don't want to have your screen go all the way to the edge of the wall so you should build in at least a few inches of buffer space. So for a 120 inch projector screen you want to make sure your wall is at least 130 inches wide so you have 5 inches of space on each side.
You may want to consider placing external speakers on the sides of the screen, in which case you need to make sure you have enough room on the wall for the speakers, the screen and a bit of extra space so the wall doesn't look overly crowded.
Which wall should I place the screen on?
If possible, it's best to place the screen on a wall that doesn't get direct sunlight. This prevents the sunlight from washing out the light from the projector so you get a brighter, more vivid picture.
How high should I hang my projector screen?
How high you should hang your projector screen depends on where you place your laser TV device.
The screen will typically sit about a foot above the top of your UST projector. This does vary somewhat depending on the model as some like the Optoma CinemaX P2 need to be placed a little bit lower.
Typically, there is a general rule of thumb that your seated viewing height should be 1/3 of the way up from the bottom of your screen height. But because you need to account for the placement of the projection unit, you'll need to place the screen slightly higher than the standard recommendation.
Use a TV credenza specifically made to house an ultra short throw projector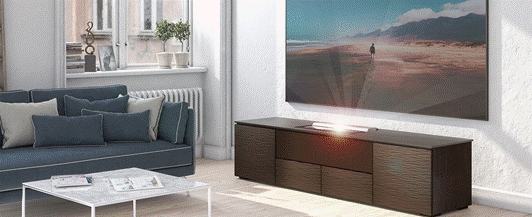 One of the best tips for designing your den or family room around your laser TV is to use a television credenza made to house an UST projector.
An ultra short throw projector cabinet is built so that it's the perfect height to place your laser TV. Instead of the projector sitting on top of the credenza, the UST cabinets feature a recessed space for your projector to sit so there is a clean flat aesthetic.
The practical advantage of using a UST cabinet is that the projector won't get shifted out of position if it gets bumped into.
There are some furniture brands like Salamander Designs that specialize in UST projector cabinets.
What kind of design aesthetic should I use for the rest of the room?
An ultra short throw projector is a modern high tech piece of A/V equipment so you want the rest of your room to have a modern minimalist design.
The best interior designers know that the secret in creating a minimal modern living room space is to focus on just four items. Less is enough.
The sofa. The rug.The coffee table. The accent chair.

The Sofa
The sofa texture is key and selecting one that is as large as possible. It's often preferred to have a couch with modular sections as they provide a multiple of seating options. Design is all about change and adapting to the need at hand. Remember to have it feel solid in the space with simple legs. Keep it low to the ground and in proportion to your window heights. Think of the window as your horizon line.
And make sure to keep the couch directly in front of the projector screen.
The Rug
The rug is as large as possible and simple. Consider contrast and pattern that is monochromatic or textural. The flooring of course needs to be considered if it is especially lovely to feature. Just remember to have the sofa sit 100% on the rug.
The Coffee Table
Coffee tables can be addressed first as function and second as sculpture. You truly can have both. Be brave in the material selection and something reflective is always interesting.
The Accent Chair
The function of the accent chair is to invite conversation. No point in having a chair that no one likes to sit in so testing comfort is key. You should have the chair angled so that the person sitting in it can watch the TV screen without straining their neck.
The chair can be a contrast in color and texture. Minimal does not mean boring where every finish is the same.
Where do I place the couch?
According to THX, to determine the optimal distance you take the size of your screen and multiply it by .835. Following the THX standard, for a 120 inch projection screen your couch should be between 8 to 10 feet from the screen.
This of course depends on personal preference, but typically this is the standard you want to use.
Are floor lamps or ceiling lights better?
A well-lit room makes for a much better living space. So when you're designing your living room around your ultra short throw projector your choice of light does make a difference.
While floor lamps can look nice they don't work as well with a UST screen.
This is because Laser TV screens use an ambient light rejecting surface that works by rejecting light coming from higher angled sources while only reflecting light from the projector itself towards the viewer.
That's why if you're designing your living room around your ultra short throw you want to use overhead lighting.
We also recommend using directional lighting that isn't pointed towards the screen. This will give you an ever better picture.
Frame the projector screen with speakers
Most ultra short throw projectors come with a built in soundbar. If you're not an audiophile you can get away with just using the laser TV's built in sound system.
However, if you really care about the sound, it's recommended to use an additional speaker system.
Framing the screen with your additional speakers not only provides the ideal audio set up for your enjoyment, but also draws more attention to the display surface as the centerpiece of the room.
How to hide the wires?
TV and cable wires look unsightly dangling from your television. Not everyone has patience to make art out of their TV wires. (Though it looks really cool if you can.) So what's the best way to hide your cables?
One of the main advantages of using a projector screen is there are no cables hanging from the screen.
Instead, they all come out of the projector making it much easier to hide the wires. This is especially true if you use a tv credenza to hold the Laser TV.
Summing it all up
Ultra short throw projectors are becoming a more and more popular choice replacing the flatscreen TV as the centerpiece of the living room. With a giant 120 inch screen it's hard not to draw attention to it.
So when you have a modern piece of A/V equipment, it's best to have a modern minimalist design to match.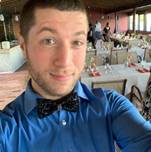 Asher Weinstein is passionate about movies and TVs. He works for ProjectorScreen.com and knows tons about projectors, projector screens and home theaters.