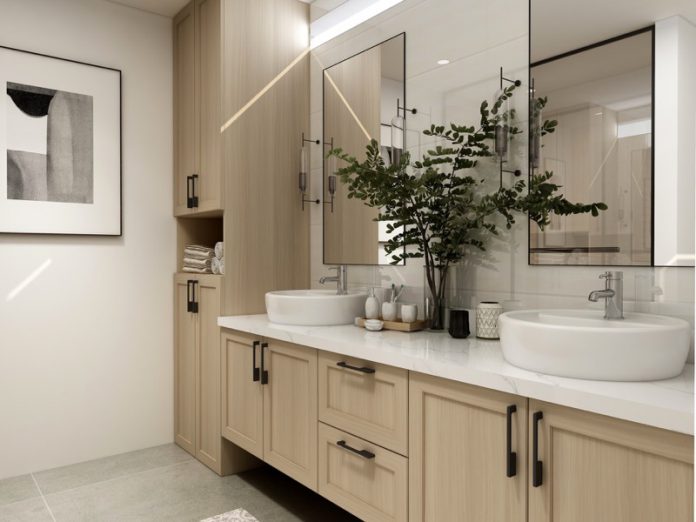 Does your outdated bathroom leave you feeling uninspired? If so, then it may be time for an upgrade. But, of course, with the average cost of a professional bathroom renovation hovering around $10,000, a full-scale remodel may not be in everybody's budget. The good news? There are always some small and inexpensive steps you can take to upgrade your small bathroom space without spending a fortune!
1. Start With the Right Color Scheme
One of the greatest challenges of working with a smaller bathroom is…well, a lack of space. A smaller bathroom without much square footage will somewhat limit your options when it comes to upgrades and renovations. However, you can always make even the smallest of spaces appear brighter and larger by choosing the right color scheme.
With a smaller space, lighter colors will be your friend. Avoid darker paint colors for your walls and ceilings, as this can make the space appear even smaller and more closed in. Reflective surfaces can also create the illusion of more space, so consider installing a larger vanity mirror or use other reflective surfaces (such as glass) in your design.
2. Choose Your Vanity Wisely
One way to free up space in an otherwise tight bathroom is to swap out the existing vanity with a more compact one. This doesn't have to mean sacrificing storage space in the process; it simply means shopping around for a vanity with a smaller footprint that will offer the most storage and counter space.
You might even consider a corner vanity and sink for tiny bathrooms, which can free up valuable square footage while still serving a functional purpose.
3. Take Advantage of Vertical Space
When you're short on floor space, vertical storage is your friend in a small bathroom. Consider installing some floating shelves to store things like towels and decor. These can serve both a functional and decorative purpose in your bathroom. If you aren't comfortable hanging shelves from the wall, you can even purchase an inexpensive shelving unit that will go over the toilet. These shelving units are excellent for holding spare toiletries, towels, and other items that would otherwise take up square footage or vanity space.
4. Keep Finishes Simple
As tempting as it may be to go all-out with bold finishes in your upgraded bathroom, it is generally best to stick with simple finishes in a smaller space. Not only will these be more budget-friendly, but they'll also help you avoid a bathroom redesign that's too "busy" for such a small space. Modern and sleek finishes, such as stainless steel drawer and cabinet knobs, can really elevate and transform even the smallest of bathrooms on a budget.
Get Started With Your DIY Bathroom Upgrade Today!
With the right color scheme and finishes, you can easily transform your existing bathroom space yourself and without spending a lot of money in the process. While it may not be a full-scale remodel, these small changes can make a surprisingly big difference. So now, where will you begin with your budget-friendly DIY bathroom transformation?