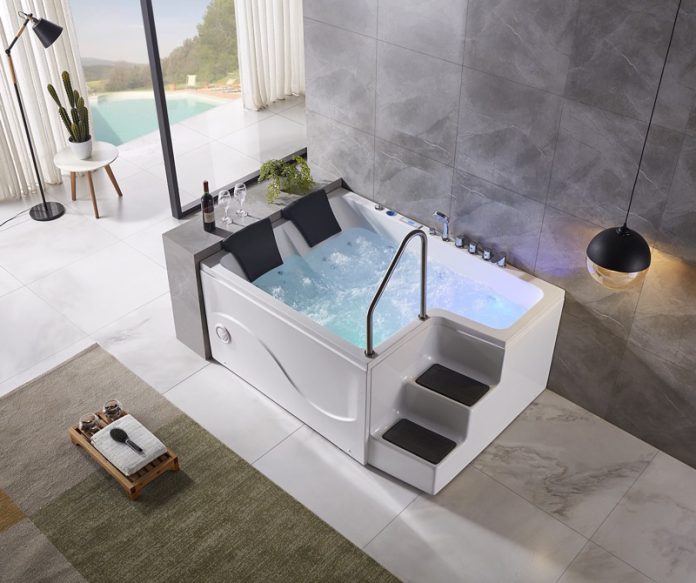 Once you determine that you need a more accessible bathing option, how do you decide which type of fixture to get? If you thought walk-in tubs were the only option out there, then your information is outdated. You can now get accessible walk-in showers, as well as walk-in shower-tub combos for your bathroom. But which will fit your personal needs and preferences best? Keep reading to get some help on making this decision.
Signs You Should Get a Walk-In Tub
Let's start with walk-in tubs, as these are the most common accessible bathing options. Walk-in tubs feature a low entry step so that you don't have to climb over a high tub wall, as well as an upright bathing seat, which prevents you from having to sit at floor level. These features alone can make bathing much more comfortable for senior citizens, but walk-in tubs go one step further.
A walk-in tub isn't just about accessibility (though that's its primary appeal); it's also about comfort and luxury. That's why many models come with spa-like upgrades: chromatherapy lights, hydrotherapy jets, heated seats, and aromatherapy chamber to circulate relaxing oils through the previously-mentioned jets.
The primary drawback to this option is that you have to sit inside the tub the entire time that it fills up and drains out the water. It's also not an incredibly convenient option for any ambulatory people who might share a bathroom with you.
A walk-in tub is the best accessible bathing option for you if the following statements are true:
You look forward to taking a long, hot bath regularly.
You want to take advantage of the luxury as mentioned above for a more spa-like experience when you bathe.
You don't mind waiting for the tub to fill and drain while you're in it.
You don't have to share your bathroom with anyone, or the person you share your bathroom with doesn't mind having to use a walk-in model.
Still not sure if this is the right option for you? Keep reading.
Signs You Should Get a Walk-In Shower
Next up on the list is the walk-in shower. Walk-in showers have become immensely popular in recent years for people of all mobility levels. Many fully ambulatory individuals are taking out their tubs and opting for a large, walk-in shower. But truly accessible walk-in showers do have somewhat different features than one that's put in for the average user.
An accessible walk-in shower, first and foremost, needs to have a secure seat. This can be a built-in bench or a chair that's mounted to the wall. Wall-mounted seats can be stationary, or they can fold up against the wall when not in use to provide more standing room—perfect if you have an ambulatory person with whom you share a bathroom. They should also have more accessible controls that can be operated while seated.
If the following statements are all true for you, then a walk-in shower might be what you need:
You prefer showering and rarely want to take a bath.
You share your bathroom, and your partner needs a bathing option they can comfortably use too.
You don't want to wait for a tub to fill and drain.
There's one more bathing option that might interest you, and it's got the best of both options described above!
Signs You Should Get a Combo
Many homes have shower-tub combos, which are incredibly convenient for most users. They allow you to use one fixture for both bathing and showering, and there are now walk-in models of this option too! A walk-in shower-tub combo is built primarily like a walk-in tub. However, it includes an overhead shower so that you can opt for an accessible, fast, and comfortable shower when you don't want to fill the tub.
So, if you don't want to choose between the above options, opt for a combo and give yourself a choice to bathe or shower every day. (Please note that, because they're built like walk-in tubs, combo models can still feel a bit cramped for an ambulatory individual who wants to stand and shower. If this is a major concern for you and your partner, a walk-in shower may still be the best option.)
There's no wrong answer when it comes to deciding which bathing option is best for you. The most important thing is that you find an accessible model that fits your mobility needs. Whether you choose walk-in tubs, walk-in showers, or combo options, you're making an investment in your health and safety that is priceless. So, start doing your research, decide what's most important for you in an accessible bathing option, and choose which of the above types is best for your mobility, preferences, and bathroom space.