Alfresco entertaining simply means you're entertaining guests on an outdoor space, rather than inside your house. You're making the most out of your garden or lawn, as an alternative to the usual forms of entertainment commonly done indoors.
Especially when the warmer months come, outdoor entertaining becomes a favorite pastime for many families. And it's not just entertaining guests, you can also make your alfresco area an extension of your home, for your entire family to enjoy.
Depending on the space you have, and what you wish to achieve for your home, there are many ways to come up with an alfresco entertainment area. Think grills, outdoor kitchen and dining, a lounge area, a garden, swimming pool, and play area.
Here are five tips you can apply when setting up your alfresco entertainment area:
1. Create A Shaded Area
One of the challenges with alfresco entertaining is that you never have control over the weather. While this may be true, there's one way for you to be prepared for whatever weather condition may come: by having a shaded area. This enables you to entertain, even during a possibly rainy day. It can also give you some shade from the sun in the afternoon, when the weather can be unforgiving.
If you're worried about having too much sun during the daytime, you can always go the extra mile by having a folding retractable awning installed. This can give you the best sun protection when needed. Then it can be folded when it's no longer necessary.
2. Blend Indoor And Outdoor Spaces With Sliding Glass Doors
You can create that perfect blend of your indoor and outdoor space with sliding glass doors. If you have closed walls, start creating your alfresco area by knocking those walls down, and replace them with floor-to-ceiling glass.
From the inside, you're opening your home up to a beautiful view, and from the outside, your alfresco area feels more like it's an extension of your home. And when guests come over, you can make the space feel a lot bigger when you open up the sliding doors.
3. Use All-Weather Furniture
Having comfortable outdoor furniture is key to having an enjoyable space. But it becomes a lot more tedious than it is enjoyable when you have to consistently worry about storing away your furniture when the wet and cold season starts to come. It may cost a bit more to invest in all-weather furniture, but in exchange for quality, longevity, and comfort, it's worth going for.
After all, what's an alfresco entertaining area without the appropriate furniture? Imagine couches, and an alfresco dining set. These will complete the outdoor living and dining room vibe you want to create.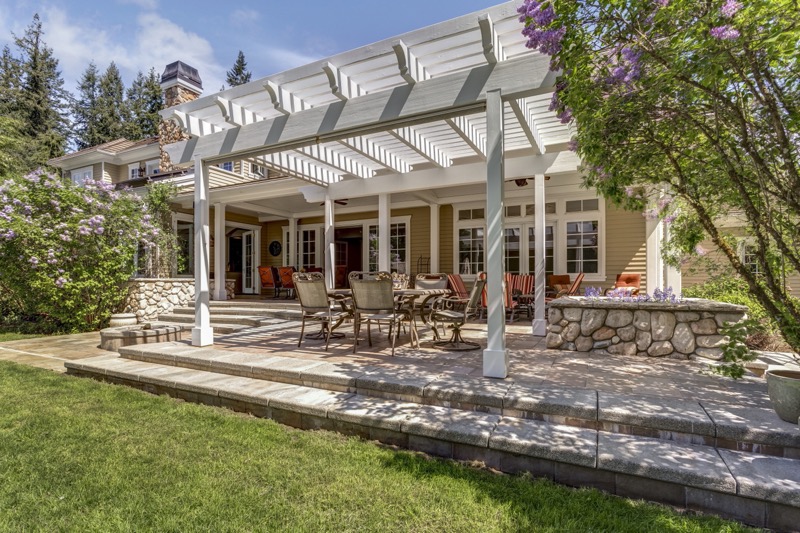 4. Choose Practical, But Beautiful Outdoor Flooring
Outdoor flooring has to be both practical and beautiful. For it to last as long as you intend it to, it's important to choose outdoor flooring that can withstand the harsh weather conditions.
Ideally, you'll want to mimic the style in your indoor space to have that cohesiveness. But you have to ensure the material of your outdoor flooring is made for outdoor use. This, you can do with the help of representatives in the hardware or home depot you're choosing materials from.
As a no-fail strategy, you can't go wrong with choosing classic, outdoor tiles. If you want to have wood elements outdoors but you're afraid to expose them to the elements, you can always opt for the safest choice: wood-looking tiles. Most importantly, do ensure you're working with a good contractor, so your outdoor flooring is properly made and installed.
5. Create An Outdoor Kitchen
If you love entertaining guests for meals quite frequently, or you like hosting gatherings, then it also pays to have an outdoor kitchen. This doesn't have to be a full-on kitchen, like the one you have inside your home. But at least have some of the basics present, for whipping light meals.
Usually, when you're entertaining, you can pre-cut and pre-marinade ingredients in your bigger, indoor kitchen, where you do all the heavy work. Then, all you have to do once your guests arrive is heat what you've cooked. Or, you can grill immediately on your outdoor kitchen what you've pre-cut and prepared beforehand.
Your outdoor kitchen should also ideally have enough storage space for all the utensils you'll use for the grill and outdoor cooking needs. This can include utensils, servers, and even a sink, for washing. If you feel like going all out, you can equip your outdoor kitchen with a fridge big enough for beverages, and a pizza oven, among others.
Conclusion
If you're a fan of alfresco dining, now you can recreate the same environment right at home. Who says you have to go out when you can invite guests over at home? If you have the garden space for it, then why not transform it into something more useful, and one your entire family will enjoy spending time in?
Entertaining guests doesn't always have to be limited indoors. In fact, it can be a lot more fun and relaxed, too, when you're in an outdoor space that gives you fresh air and a beautiful garden ambiance. You can make this a home project to go for today, with the tips above.