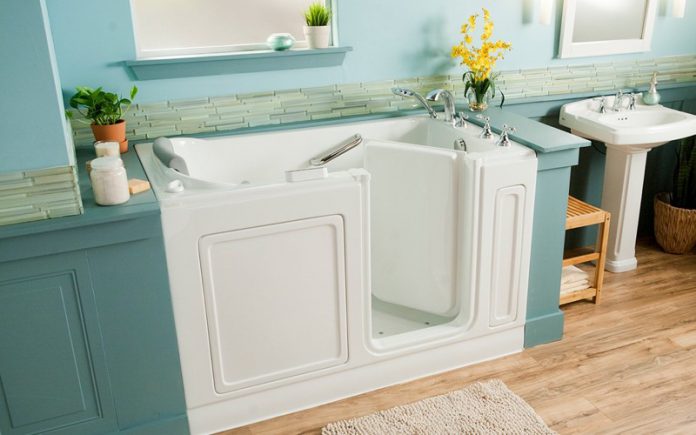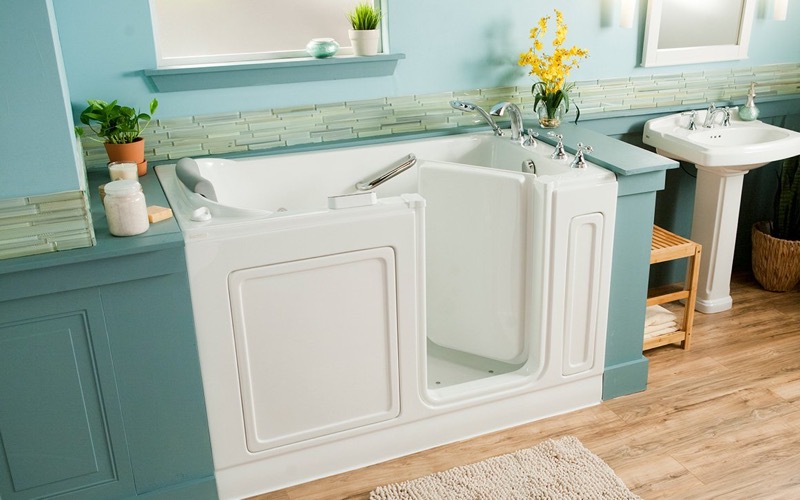 Ever heard of a walk-in tub? If not, you are in for a treat. These innovative luxury items can be used by just about anyone. This design comprises of a combination of a typical bathtub that you would find in most homes, but with one exception – it has a watertight door attached to it, that allows the user to enter into it, without having to jump over the barrier usually on the side of the tub.
This means it is on the same level as the floor and anyone who finds it difficult to step over and go inside the bathtub can benefit from it. The door is then shut and you can fill the device with water and it will not pour outside, leaving you to enjoy that much-needed bubble bath for your child or elderly family member. Once you are done you simply unplug the hole and the water will drain out, as per a conventional bathtub, and you can exit safely.
If you're wondering why anyone would choose to buy one of these and get them installed either in place of the normal one or have one in another bathroom, it is because it has undoubtedly got many benefits.
As people get older, one of the main things to do is your mobility. Elderly people who cannot walk or climb over things easily, or perhaps are sick or have some sort of injury can enjoy their bath time without having to worry about climbing in and out of the container like structure. It is not only difficult for some but also dangerous to let an elderly person who has any of these issues, help themselves into a bathtub without any help.
Many people enjoy the delight and comfort of soaking inside a bathtub, and in fact, there are numerous benefits to both the body and the mind. Some of which include:
Improving your heart health
Help you breathe easier
Benefits to your nervous system and brain
Benefits to your joints, muscles and bones
Help towards increasing immunity and blood circulation
Balancing your hormones
Helping to cleanse and moisturize the skin and hair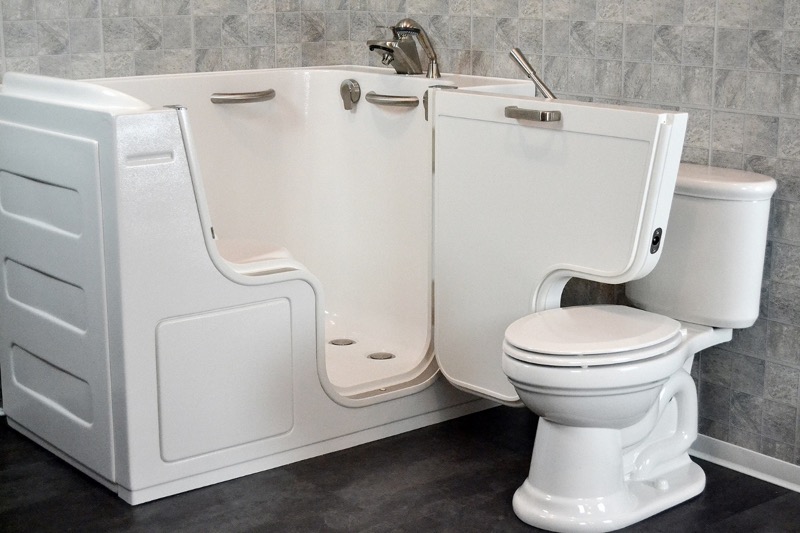 When you decide to get one of these installed in your home or care facility, there are a few aspects to think about regarding the costs, and you can find the cost details here and we will also include a breakdown of it for you below. These are not just your typical design but come with extra added equipment to make your experience as best and most comfortable as it can get. After all, what more would be looking for in one, if not the comfort of being able to relax and enjoy some serenity?
3 Common Types
There are 3 common types of these walk-in tubs:
A sit-up bath or a full-length one
An outward or inward opening door
A side opening door or a front opening door
How Do They Work?
These are simple to use and efficient at their job so there is never any worry of having to turn in any complicated gadgets or push multiple buttons. How they work has been explained below for you.
To get into the tub, you would simply step inside it by opening the door and taking a step or placing your feet onto a low-entry step. They are always designed to have the lowest height possible so there is no need to lift your leg too high. The height of the door will vary depending on the design.  Stepping in and out is an easy task with these in comparison to the traditional ones.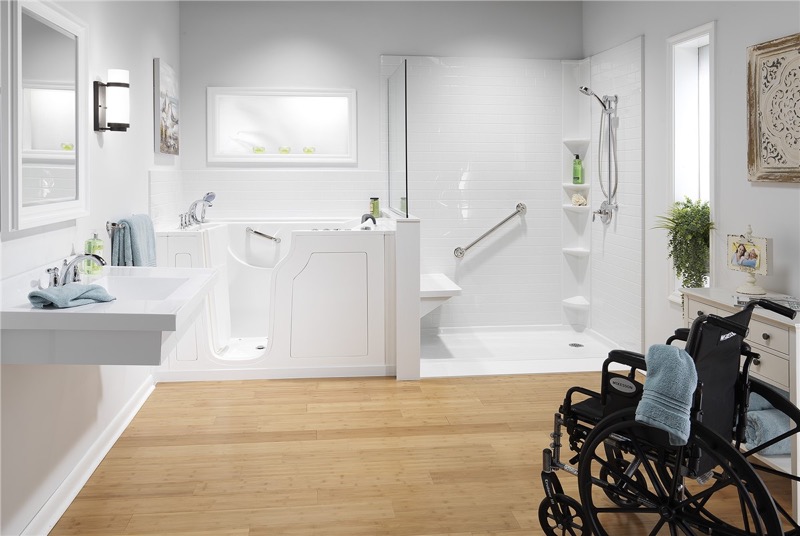 Once you're in, you close and seal the door so it becomes watertight. This is an important aspect to think about when purchasing these as some manufacturers don't do a good job of making doors that seal properly and water can leak out, but if you buy from a well-established and popular brand with good customer reviews and high-quality products.
There is usually a thermostat-controlled tap that you can use to fill the tub up, so the water is not too hot or not too cold while you are inside it. It will fill up at a controlled temperature ensuring to keep you comfortable.
Once that's all filled up to your liking, you can pour your essential oils or bath salts and soak away!
Costs of Installation
When buying and getting these installed there are a few aspects to consider. If you are in the USA or paying using dollars, the average costs can be anywhere between $2000 and $5000 for a soaker model. If you are looking for a wheelchair-accessible design you may pay slightly more. There are also hydrotherapy features you can add to them for that extra benefit. Hydrotherapy has many health benefits especially for those suffering from arthritis: https://www.versusarthritis.org/about-arthritis/treatments/therapies/hydrotherapy/
Suffice to say the customized models can range anywhere between $10,000 and $20,000, and this excludes installation costs. Some of the common features to think about when buying one include:
Fast drain technology
Easy to reach controls
ADA compliance
Safety grab bars
Chromotherapy (light therapy)
Hydrotherapy
Anti-slip surfaces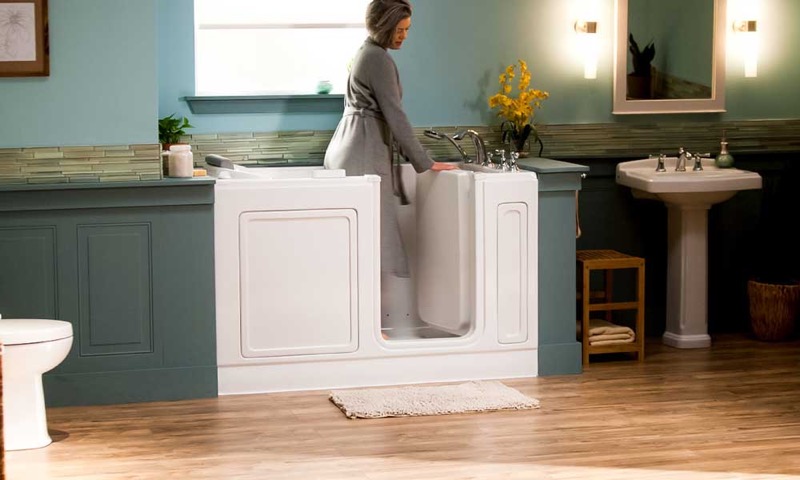 If you go for a soaker, you can pay on average up to $5000 and on average around $2000. Other types such as the Whirlpool are cheaper between $1200 but can also come in a higher standard design with more features and can cost around $20,000. The air designs range between $5000 and $7000 while the hydro models cost a maximum of $5000, some more if you add other features to it.
If you are buying them for your care home, some medical insurances cover part or full payment for purchases of these, and it is best to speak to your financial advisor regarding these. All in all, this is possibly the best thing to invest in as it will keep everyone happy and provide them with a sense of happiness knowing they do not need to worry about slipping and falling or trying too hard to get into and out of the bathtub.