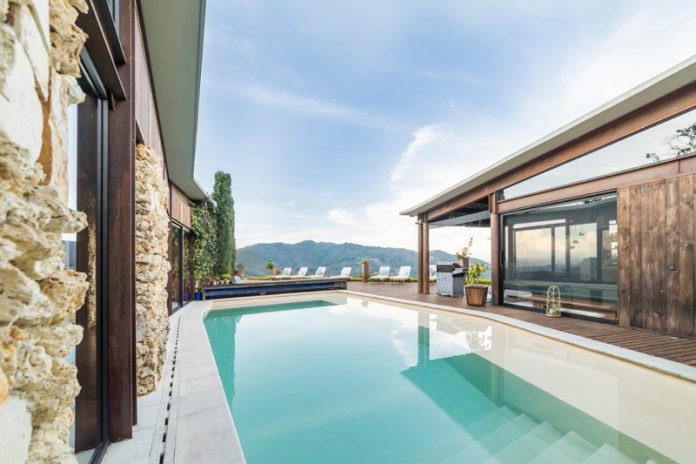 Even though heating a swimming pool consumes a significant amount of energy, many people consider it a good investment due to the increased utilisation the pool will receive as a result.
Solar, heat pumps/electric, and gas are the three basic kinds of pool heating. We've outlined the possible benefits and drawbacks of each to help you decide which pool heater is right for you. The most common technique of heating a salt water pool is with a gas pool heater.
How Does it Work?
Solar pool heating works by heating circulating water with the sun's free energy and returning it to the pool at a higher temperature.
PROS
Eco-Friendly. We should be worried about our impact on the environment now more than ever before, and solar powered heating is the finest option in this regard.
Affordability. For a typical sized pool, a solar heating system can be installed for under $2,500.
It requires minimal maintenance. After it's been installed, there's almost nothing left to do but relax and enjoy the warm water!
Long-lasting. Internal wiring and moving parts are absent from solar pool heating systems. This means they won't rust because there are fewer components that can rust. After a long period, the only damage you'll notice is from the sun, and it's usually easy to heal.
It's simple to set up. Solar pool heating systems are quite simple to set up. You can, in fact, do it yourself. It  requires climbing to the roof and connecting some plumbing, so only attempt it if you're a skilled roof climber! Alternatively, a handyman or a local pool supply business may be able to help.
Low-cost. Solar heating is completely free! The heating will not cost you anything once the setup is complete.
CONS
It is inefficient compared to a gas heater. Solar heating is most efficient when the panels are exposed to direct sunshine, hence it is ineffective at night. Some of the systems have advanced control settings that can help with these problems.
It takes up a lot of room. A certain quantity of surface area is required for this pool heating to perform successfully. Solar panels should cover roughly 260 square feet in a 1632 pool (512 square feet). For other homes, this is simply not doable.
Gas Heating
How Does it Work?
Natural gas or propane are used to heat swimming pools. The gas is consumed, heating copper coils through which the water runs and is then heated before being returned to the pool.
PROS
The initial investment is minimal. In comparison to heat pumps, gas pool heating requires a lower initial investment, and it is often even less expensive than solar pool heating.
on demand heat. Gas heaters heat swimming pools quickly and effectively, regardless of the pool's size or existing temperature.
External weather conditions aren't a problem. Unlike the solar heating or heat pumps, gas heaters are not affected by the weather or other external influences.
You can easily use this for a salt water pool.
CONS
Life expectancy is short. In comparison to solar, a gas heater has a much shorter lifespan. Although regular maintenance and repairs can extend the life of a gas heater, the typical lifespan is five years.
Not good for the environment. Gas heaters are not only more expensive to run since they release carbon dioxide, but they also have a larger environmental impact.
Heat Pump or Electric Pump Heating
An electric pool heater, often known as a heat pump, works by pumping warmed water back into the pool after it has been heated in a heating tank. Your pool is kept warm by a continual exchange of cold and heat. Electric heaters come in two varieties: water-source and air-source. The water-source heater transmits heat from a water supply to your swimming pool water, whereas the air-source heater uses heat from the air.
In a saltwater pool, any of the heaters listed above will work. A heater for a saltwater pool should cost between $1,350 to $9,500 for the average customer. A salt water pool can last upto 15 years.
When choosing a pool heater, the best place to start is determining how frequently and when you'll use your pool, your budget, and what best matches your pool and home. Choosing the correct pool heater should be very simple once you have a basic understanding of these factors.