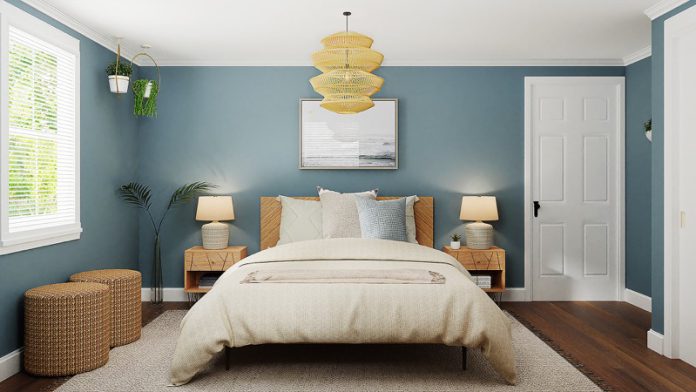 Imagine coming back home after a long tiring day and smashing yourself into a comfortable bed! Most of us must have imagined the scenario because it is one of the most satisfying experiences of human life. So, the bed is the ultimate place for all of us to rest. Hence you have to make the best decision while selecting bed size, design, and price. The bed is the best place to sleep, relax, binge-watch and eat; therefore, it should be of the best design and quality.
Mastering the scenario is not as easy as it looks, as you have to take various considerations before making your final decision. So, to make your job easier, we have listed the seven latest bed design ideas, and we think you will possibly find your right match for bed here. As we all know, there are diverse bed designs available in the market; hence we have compared and mentioned the best ones below.
The ultimate countdown to 7 latest bed designs:
#1: Platform Bed For Asian Style Bedroom:
As the title suggests, the platform bed or low bed design is perfect for everyone who wants to go with Asian style bedroom. If you are moving into a new house or apartment with a low ceiling, the platform bed is the best choice. As the beds are close to the ground, they offer a fantastic look and additional space to your room. You can add a wooden frame and ergonomic headboard to make it perfect.
#2: Storage Bed Design:
Do you always have a complaint about less space in your bedroom? It is the right time to shop for a bed that offers storage under the mattress. One of the best advantages of going with a storage bed design is increasing the glamor factor in your bedroom. Moreover, the headboard of such beds also offers space to keep your favorite book or mobile charger. At the same time, you can also hide various other important stuff under the hood.
#3: Natural Wood Bed Design:
If you are looking for a bed that lasts for ages, nothing can match the quality offered by natural wood. Although natural wood like teak can be expensive, it is worth it to fit into your budget. You can find various latest bed designs in the market with entire frames made from natural wood and treated to prevent pests and termites. So, if you are planning to build a wooden villa for summer vacations, natural wood bed options must be the first to strike your mind.
#4. Engineered Wood Bed Design:
If you don't have issues with the life of the bed and designs, what you prioritize is an engineered wood that will suit your needs. You can go with both storage and low bed designs here, but we recommend pre-installed hydraulic systems, making it easy to lift them. The millennials love to shop for engineered wood beds as they are easy to dismantle and assemble.
#5: Sliding Bed Design:
A sliding bed also called a trundle bed, is ideal if you have two kids who don't want to compromise their privacy or share their comfort zone. Well, the lower part of the bed works like a draw which you can pull in and out. The idea is also appropriate if you have an emergency guest visiting your place. Although you don't get storage options here, trundle bed design can uplift the interior design of your home.
#6: Step Bed Design:
If storage is the reason for rejecting the sliding bed design, we have covered you with the step bed. The twin or triple bunk bed design has steps at the side, making it easy to climb and for your kids to store their favorite goodies. Moreover, the step bed design is available in attractive colors on which your kids would never be disappointed to sleep.
#7. Standard Bed For Packers and Movers:
If your job doesn't allow you to stay in one place and regular changing of beds is adversely impacting your sleep pattern, a standard bed with wheels is your best savior while on the go. Generally, standard beds have metal frames assembled on wheels, making them easy to move from one place to another.
Essential tips to consider while shopping for bed:
An average human spends 6-8 hours per day in bed, surprisingly one-third of human life. Therefore, you must ensure that the bed you select is suitable for your body and suits your needs. Here are some of the best tips you can consider while shopping for a bed.
Frame: You will use the bed for your entire life; hence, you must not settle with cheap materials that can easily chip off. Therefore, you must opt for the best. You can go with teak or engineered wood or even wrought iron as they remain untouched for years because of their durability.
Size: Secondly, the bed you select must provide the suitable space you need. At the same time, the bed must not occupy the entire space of your room. Depending on the size of your bedroom, you shop for a king, queen, or single and double beds.
Purpose: Are you going to only sleep on the bed? Or you want it to be multi-functional where you can sleep, eat, work, and study. You can go with the ones having boxes or customize the headboard according to your needs.
Budget: The last but the essential factor to consider while shopping for a bed is your budget to stay within.
So, those were some of the best designs and tips you can consider while shopping for your den. Apart from using the information mentioned above for shopping for beds, you must also keep the warranty, installation costs, and terms and conditions in mind.
Keep it simple!
Shopping for expensive bed designs and customizations is not the definition of a great design. So, you should focus more on your needs and functionalities than designs. A great bed design stands for beds that take less time and cost to build and maintain.