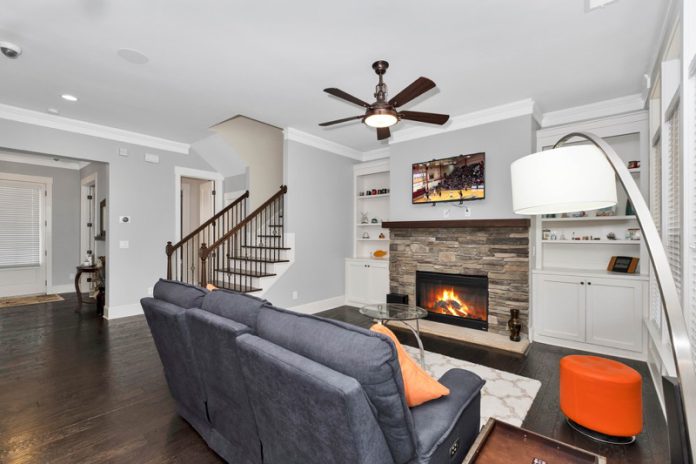 For several years now, and many more years to come, industrial interior decor has been extremely popular, and will remain desirable for years to come. This is a style reminiscent of products that emerged from the industrial revolution–when manufacturing processes produced well-made, strong items from metal that captured a specific look. Today, this design style is loved by people of all ages and further popularized by interior design TV shows on such networks like HGTV. But when choosing industrial decor it is critical to choose products not typically seen in most homes, and this is why you should buy industrial ceiling fans with lights from a boutique company dedicated to craftsmanship and high-quality. This article is intended to give buyers tips on what to consider when buying industrial ceiling fans.
Buy Industrial Ceiling Fans with Lights
While aesthetics are highly important, so too is functionality. This is why you should shop for industrial ceiling fans with lights, and not just ceiling fans in of themselves. But don't just settle for any lighting; choose industrial ceiling fans that can take Edison light bulbs because these bulbs are true to the industrial design aesthetic and provide ample light while looking amazing. Most Edison light bulbs are longer and thinner, so the ceiling fans need to be designed in a manner to accommodate the length of these bulbs.
The Size of the Ceiling Fans Needs to Make Sense
When you go to big box stores like Home Depot, most ceiling fans come in a single standard size. This means if you plan to instal an industrial ceiling fan into a small room, the large standard size will consume the space and dominate it with its enormous mass, and this can lead to a stressed feeling in the living space. Look for companies that make smaller industrial ceiling fans that can be flush to the ceiling, and not expand out in obnoxious width. If you plan to decorate larger rooms, then buy multiple ceiling fans to provide enough light and air circulation while showcasing a cool look.
Choose Industrial Ceiling Fans with the Right Finishing
The finishing of your industrial ceiling fan needs to be right for the room. You should be able to choose from a charred iron finish, galvanized finish, gold, aged brass, matte white, brushed nickel, matte black, and even colors like soft pink. Pay attention to some of the existing finishes in your room; look at window and door hardware, picture frames, decorative items, and choose an industrial ceiling fan with a finish that complements those items. For example, when people install an industrial ceiling fan in their screened-in porch where they barbeque, or in the kitchen, a charred iron finish is popular because it compliments the burners and stove tops.
Don't Overpay
Just because industrial ceiling fans reflect a popular design style and are hard to come by doesn't mean you need to spend ridiculous amounts of money to own a few. The best industrial ceiling fans will be well-made, but also affordable to the point that most people can afford them. A good price point for high-quality and affordability comes in around $350, give or take a few dollars. You should also make sure the company selling industrial ceiling fans has sales so you can take advantage of greater savings.
Get a Feel for the Customer Service
Customer service is everything. The last thing you need (especially if you are a contractor or interior designer) is to get the wrong model or quantity of industrial ceiling fans only to deal with a rude company that won't correct the mistake. Make sure the manufacturer has good reviews and give them a call to get a good sense for their customer service and willingness to answer questions about their products and ordering / shipping process.