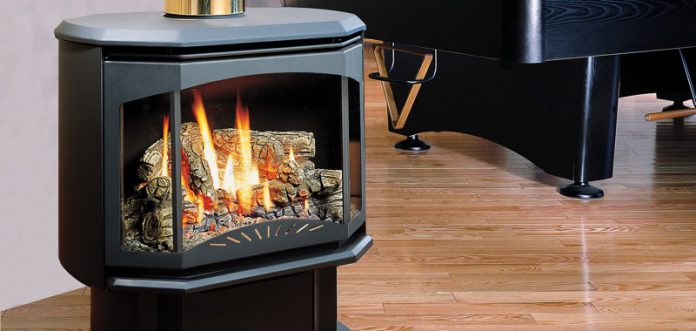 Direct vent gas stoves are another way to add warmth to your place, besides fireplaces. It is an effective secondary heat source for your home, providing the perfect balance between convenience, efficiency, and style.
The direct vent gas stoves perform and function the same way direct vent fireplaces do. The only difference is that the direct vent gas stoves are free-standing, and they don't require any framing. The freestanding setup makes the gas stoves suitable for spaces that aren't enough for installing a fireplace or when you need to cut down the costs of framing or finishing work.
Direct vent gas stoves are a fusion of the high-tech heating performance of a gas fireplace and the traditional, old-world charm of a wood stove. The gas stoves are so versatile that you can install one in virtually any place- a beach house, a cabin in the woods, or a contemporary loft.
How do the direct vent gas stoves work?
With the venting directed outside through flexible vents, the direct vent gas stoves are just as efficient as fireplaces. They are completely sealed units and don't require chimneys. There are neither gas escapes nor drafts from outside. The gas stoves draw the outside air into the firebox by pushing the hot air to vent out.
The radiant heat from the unit heats the indoor air, and a blower improves heat further. Besides, the direct vent gas stoves can be operated even during a power outage, and they ensure you get plenty of light and heating with no electricity.
While the direct vent gas stoves are an energy-efficient, convenient way to provide supplemental heating to your home, they are powerful enough to provide all the heat you need. They are made of materials like integrated blowers and cast iron to ensure plenty of heat when you light the fire.
Advantages:
Investing in a direct vent gas stove is beneficial in many ways.
A direct vent gas stove is easy to install and requires minimal maintenance to function correctly. It saves time and money while enhancing your home in a new, modern way.
Another best advantage of using a direct vent propane stove or gas stove is that it functions even when the power is lost. It's a guaranteed source of warmth if you live in a place prone to power cuts due to storms or other conditions.
Moreover, a direct vent gas stove is affordable and ensures warmth and light. It also serves as means to cook simple meals when the power is off for any substantial period. The traditional style fireplace or gas systems don't provide this facility.
A variety of direct vent gas stoves and direct vent propane stoves are available in the market. Here are the top direct vent gas stoves that boast impressive heating capacity and solid performance. Check them out.
Regency Contura RC500E Modern Gas Stove
Regency Contura Modern Direct Vent Gas Stove is a valuable addition to any home. It gives a light and modern look in addition to the best heating efficiency. This gas stove warms up the place so efficiently that you can sit in any spot in front of the unit to warm up.
This modern gas stove is customizable with either ultra-modern shimmering crystals or a traditional log set. Its curved design lets you enjoy a stunning flame view from three sides.
Features:
Available in the white or black cast with glass door and top
Interior lights to enhance ambiance when the fire is off
Natural gas or propane
Has a variable speed blower
Modulating flame adjustment
Electronic ignition
ProFlame II remote control
Battery backup system to maintain the heat during a power outage
Reversible flue for top or rear venting
Vermont Castings Stardance Direct Vent Gas Stove
The Vermont Castings Direct Vent gas stove is our next top pick on the list. Its thoughtful design, authentic ambers, and cast-iron styling provide a timeless look to the stove. It has multiple finish and control options for your convenience.
Vermont Stardance's beauty and versatility make it one of the most desired gas stoves among many. Choose from the IntelliFire app, wireless wall switch, or touchscreen remote that best fits your home.
Features:
Available in four finishes
20,000 – 28,000 BTUs
100% cast-iron build
Operable doors for an authentic feel and look
Available in two different sizes (Radiance & Intrepid DV) to fit your space
Napolean Bayfield Cast Iron Direct Vent Gas Stove
Napolean Bayfield Cast Iron Gas Stove is another remarkable heating source for your home with outstanding features. Crafted in cast iron, it comes in three colors and will look great in any place. It has a secondary heat exchanger to provide cozy heat and retention.
The Napoleon's direct vent gas stoves have large viewing areas to enjoy their stunning views. Besides, it allows convenient installation in virtually any room with just the push of a button.
Features:
President's Limited Lifetime Warranty
Up to 24,500 BTU's
Standard Safety Barrier
PHAZERAMIC Burner
Heat Radiating Ceramic Glass
Accent Lights
100% safeguard Gas
Control System
Other benefits of this stove include a cost-saving electronic ignition with battery back-up, 50% heat/flame adjustment, standard on/off switch, and exclusive night light, which gives a warm glow even when the stove is not operating.
Empire Spirit Direct Vent Small Cast Iron Stove- Millivolt
Empire Spirit Direct Vent Small Cast Iron Stove is one of the two types of Empire Cast Iron Stoves. Its Millivolt system lights a standing pilot with a pushbutton piezo ignitor. The MV system of the gas stove operates with an on/off switch once the standing pilot is lit.
It is an excellent energy-saving heat source that operates with an optional remote-control system. Available in two sizes and up to five colors – in matte black and rich porcelain plus matte pewter.
The Empire Spirit Direct Vent Small Cast Iron Stove provides heat during extended power outages and easier set-up.
Features:
Has Empire's Slope Glaze Burner system with expanded ember bed for extra glow
The ceramic fiber log set and embers for a stunningly realistic and mesmerizing effect
Ceramic beads within the burner swirl to create naturally swirling flames
4-piece log set & fireplace barrier screen
Majestic Oxford Direct Vent Gas Stove
The Majestic Oxford beautiful Direct Vent Gas Stove brings the elegance of a traditional wood stove and the modern functionality of a gas stove. Its Insta-Flame radiant ceramic burner provides vibrant flames and enough heat to bring cozy warmth to any place. Available in direct vent, it is a perfect addition to any room.
The Majestic Oxford stove has a solid cast iron construction that allows a larger glass viewing area and maximum pleasure. The open style of the front glass panel allows you a clear and unobstructed view of its robust gas flames.
Features:
Insta-flame ceramic burner system
Vibrant, glowing flames
Includes ember bed and split oak log set to provide a realistic fire-viewing experience
Ceramic glass front to offer a spacious viewing area.
Up to 28,000 BTU's
Remote Control ready
Room heater rated – 81% efficiency
Certified safety barrier
4" side, rear, and corner clearances to combustibles
If you're looking for the ideal heating solution that is easy to install and requires less maintenance, these direct vent gas stoves are undeniably the best home addition you need.
While these are some of the top products, Embers Living offers many other beautiful and high-quality direct vent gas stoves that will provide efficient heat and an aesthetic appeal to your home.
With a wide selection and the best prices, you're sure to find the right direct vent gas stove or vented propane stove for you!