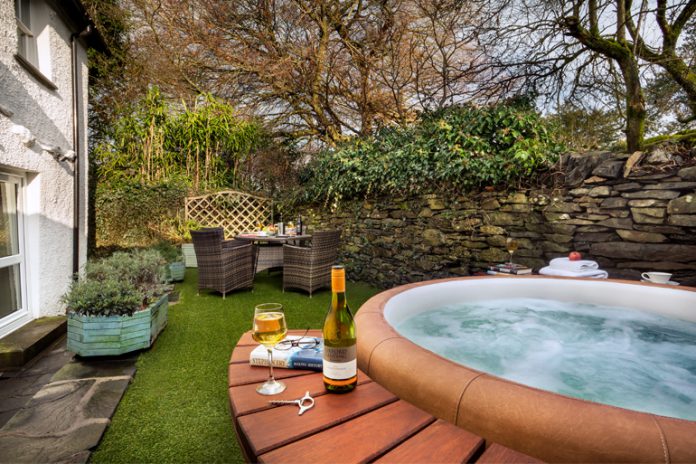 Imagine: after a long day of work you come home, take off your coat and shoes and while you poor yourself a drink you turn on the sauna, run a bubble bath, fire up the hot tub or join the rest of the family in the jacuzzi. Time to relax! Does this sound like a dream? Yeah, I guess it does. For most people, enjoying a spa or jacuzzi is a dream quite difficult to make reality. But there is a way that you can still enjoy a jacuzzi or spa: during your holiday in a holiday park! Have we caught your attention? Then let us tell you why you should definitely book a holiday home with a jacuzzi or spa!
Hello, relaxation!
We're all busy bees. Whether you're a corporate CEO or a stay-at-home mum, from time to time we all need a little break. Booking a holiday home is a great way to escape from the hustle and bustle of your daily life. The Netherlands have great holiday parks to choose from. Do you really want to relax completely and forget about everything for a while? Then book a holiday home with a jacuzzi or spa. The thrill of firing up the hot tub, the anticipation while the water or sauna heats. Trust us, you'll never want to leave! Make it extra comfy and bring lovely bath products to enjoy during or after your spa session. Did you forget to bring your favourite bath products? No worries, most holiday parks have a Park Shop with a small (or sometimes even a pretty elaborate) selection of spa products!
Wellness facilities
When choosing a holiday home with a spa or jacuzzi there's plenty of options. Some holiday accommodations have an indoor whirlpool, others have an outdoor jacuzzi of even both! Many accommodations have multiple bathrooms, so you don't have to queue until everyone has had their turn. From bubble baths to rain showers and sun showers, to different types of sauna, like infra-red or thermal saunas with hot stones. All reasons to book an extra-luxurious holiday home!
Luxury holiday parks in the Netherlands, like some of the Landal and Roompot parks, have special wellness bungalows with a jacuzzi or hot tub that feature everything you could wish for when it comes to relaxing. In addition, there are holiday parks with accommodations that include a private swimming pool. Roompot Klein Vink in the Limburg region and Landal de Bloemert in the east of the Netherlands even have indoor pools inside the bungalow. Definitely on our wish list!
Wellness holiday parks
Perhaps having a spa or jacuzzi in your holiday home will make you never want to step outside and enjoy the rest of the park, but then you might be missing out on even more relaxation! Plenty of holiday parks nowadays offer wellness facilities. Think of an extensive sauna landscape, or a beauty & wellness salon where you can go for a beauty treatment or a massage. An example of such a park is Landal Stroombroek, with its Palestra Wellness resort, and the abovementioned Roompot Klein Vink, which has thermal baths with temperatures of 35 degrees! Simply lovely!
Whichever holiday park or accommodation you choose. We're sure that you will completely unwind and recharge so that when you come home, you'll be ready to take on the world again!