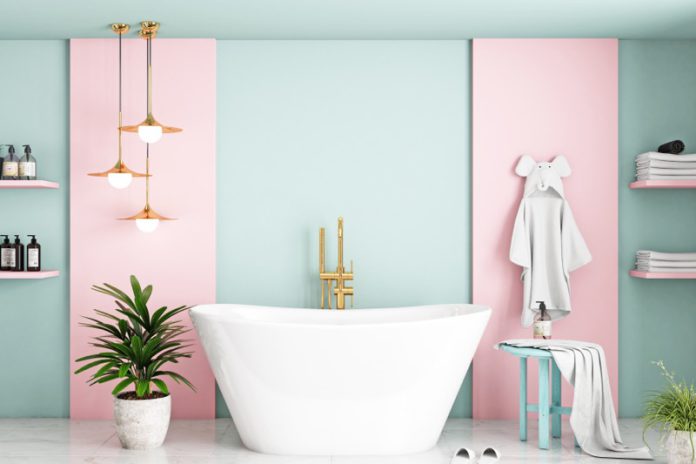 The key to a successful bathroom renovation is to make sure that it's practical, functional, and has safety features at the same time. So, if you want to create a bathroom space that works for you and your kids, then you need to include steps for childproofing.
Continue reading to get more ideas on remodeling child-friendly bathrooms: 
Pick A Fun Theme
Pick a bathroom design theme and go from there. If you have both boys and girls and they have their own bathroom, you can choose a unisex design. Go for an underwater, space, or nautical theme. But if you prefer other ideas and want an expert opinion, learn more here.
This will also apply to those who plan on having more kids in the future. However, if it's a shared bathroom, you can still incorporate subtle kid-friendly designs.
Install Non-Slip Tiles
Installing non-slip tiles is beneficial for everyone, not only for kids. This would prevent bathroom accidents and injuries from happening. Aside from its safety features, it's also low maintenance. It's also easy to clean since you just need a broom and a mop.
There are also many tile designs to choose from, including traditional to contemporary pieces. You'll definitely find one that will match your children's preference or your chosen theme. The fancy tiles can even last for years and withstand wear and tear.
Put Rubber Floor Mats On The Bathtub
If you have a bathtub, you might want to place a rubber floor mat. Kids will likely spend a lot of time in the bathtub. Thus, adding a non-slip floor mat is essential for safety reasons. You just need a vacuum to clean it, unlike a traditional floor mat where you have to wash it with soap and water.
You may put a large bath rug in front of the tub and showers. Small rugs can be placed in front of the sinks as well. These also help prevent slip and fall accidents.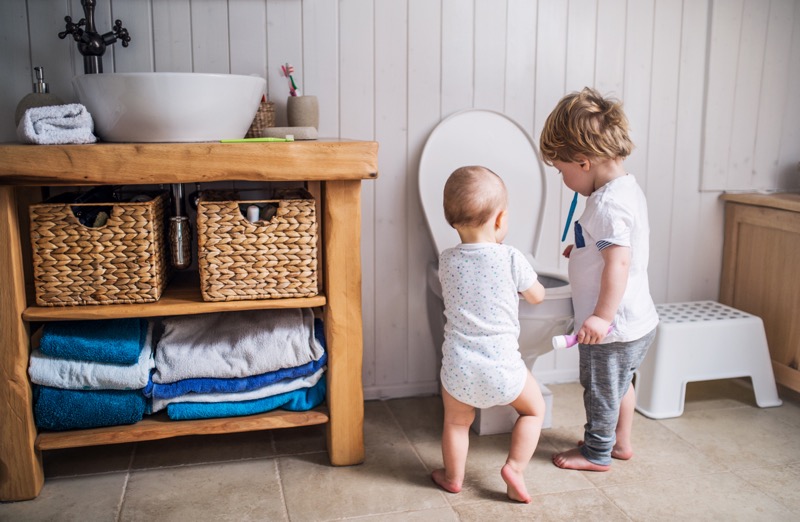 Use Pull-Down Faucets
You can use pull-down faucets on sinks, showers, and bathtubs. It's much easier for kids to reach the sink. Additionally, you can swivel it to the side when kids take a bath in the tub. This prevents kids from knocking their heads on the faucet.
Other accessories to add to the bathtub:
Spout Cover – You may put a spout cover on the faucet for added protection.
Anti-Scald Valve – This regulates water temperature from hot and cold and prevents sudden temperature changes. Also, it's best to add red and blue stickers on the faucet to indicate hot from cold water.
Tub Separator – This sections the bathtub and saves water.
Tub Sling Or Tub Seat – If you have babies that can't sit up yet, a tub sling is preferable, while a tub seat is for much older infants.
Bring The Toilet, Sink, And Tub To A Lower Height
Adjust the height of the toilet, sink, and tub so that your kids can reach them without difficulties. However, if you don't want to adjust the height, keep a step stool inside the bathroom instead. A wooden step ladder is recommended for long-term use and durability.
If you don't like adding a ladder, you can install a secret pull-out step that you can put on the cabinet where the sink is. You can also add a faucet extender to the sink so you won't need to carry your kid every time they wash their hands.
Get A Big Sink With Two Faucets Or Double Sinks
This is for convenience. You need a big space for a sink because you or the kids will share the bathroom. With a huge sink, both an adult and a kid could use the faucet at the same time. This is very useful when the kids are running late for school and they have to quickly wash their face or brush their teeth.
Additionally, your kids should be able to grab toiletries easily. So, make sure they can reach it easily from the sink. You can also place an open shelf under the sink so kids can spot and take what they need effortlessly.
Keep in mind to hide bathroom cleaners and medicines out of children's reach. Put them in high cabinets or lock them in storage cabinets for safety.
Decorate The Bathroom Wall
Bring life to an empty bathroom wall with fun designs and decals. You can also add hooks where kids can easily put their towels after use. You can use hooks that match the bathroom's design, such as animal heads for rainforest-themed bathrooms. But if the interior is minimalist, use their initials as a towel hook. You can also put up bathroom signs to remind them not to waste water or flush the toilet.
Conclusion
The things discussed above are just some ideas that you can apply if you plan to remodel your bathroom anytime soon. Feel free to tweak them as needed. Using child-friendly designs and themes is a great way to encourage your kids to do their business with less supervision.