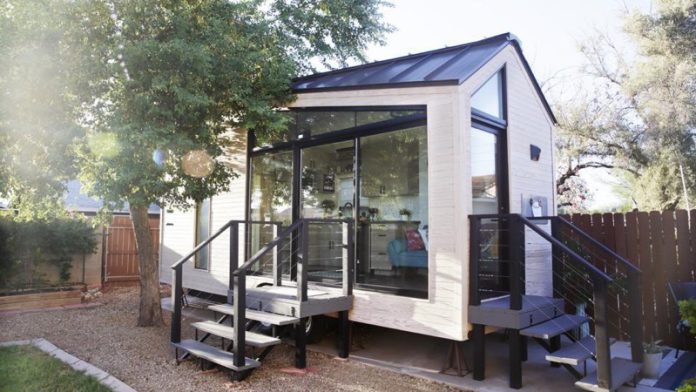 The popularity of tiny homes has been on the rise due to high housing and rental prices. In a recent poll, nearly 65% of millennials said they would consider buying and living in a tiny home. One way that people have begun to transition tiny home living into their lives is by building a tiny home in their backyard.
Tiny homes are advantageous for numerous reasons. They lower your cost of living, you'll have less clutter, spend less time cleaning, and you can lower your carbon footprint.
Tiny homes can also be a great addition to your backyard if you're already a homeowner. Adding a tiny home to your backyard also will increase your property value. Backyard tiny homes can help you expand your current living situation, offering you space for an office, guest room, a home gym, or whatever use you see fit. However, building a tiny home in your backyard is no small task.
Going in without doing the proper research and planning can lead to chaos. Luckily, as the tiny home movement rises so does information being shared about them. There are plenty of tools online to help you learn more about building a tiny home and guide you throughout your build. Below, we've put together five tips that are sure to help when building a tiny home in your backyard.
Check your local regulation
Before getting started with your tiny home construction check your local regulatory guidelines. The rules and regulations for building tiny homes on your property will vary in each city, county, and state. Sometimes there are no restrictions, but in most cases, you'll have to speak with your local government agents. Tiny House Society has an entire portion of their website you can check out that is dedicated to local regulations, which is updated frequently for reference.
Get inspired
Take time to get inspired and excited about your tiny home. If you've never lived in a tiny home before, plan a trip to stay in a tiny home on Airbnb or VRBO. It can be helpful to have first-hand experience or knowledge before starting your build. You'll be aware of mistakes to look out for be more likely to succeed in bringing your tiny home dreams to fruition. Visit and stay in tiny homes and speak with tiny home owners.
Begin curating inspiration. Look into Pinterest boards to find images that will help inspire your tiny home's build and design. If you're an amateur who is building and installing the furniture yourself, think about watching some tiny house-building videos on YouTube or talking to tiny home experts.
Create A Budget
A budget is paramount for building your tiny home. During your build, unexpected expenses can pile up, so it's also suggested to have an emergency budget set aside, in case anything were to go array or cost more than you anticipated.
Think about what you're planning on including in your tiny home. Most of the furnishing pieces for tiny homes will need to be customized, as the dimensions are so much smaller than ordinary install requests.
Electronics, plumbing, and appliance installation can also get expensive without proper planning. If you aren't savvy with building and installing electrical equipment, it's a good idea to start vetting the best backyard tiny home builders in your area. Based on the quotes you get from different vendors, create a budget so you aren't left scrambling to find the money for your project while it's in the midst of construction.
Don't Shrink All Your Spaces
One of the mistakes that amateur tiny home builders make is shrinking everything. Just because you're creating a tiny home doesn't mean everything in your home needs to be tiny. If you shrink your living spaces too much, it will affect the quality of your tiny home. You want to build a tiny home that's conducive to the activities you plan on doing in it and the needs of your family.
For example, make sure to leave ample space in your recreational and cooking area. If you're including a bathroom, take the measurements of your family members' heights to make sure no one is cramped.
Invest In Weather-Proof Materials
Weather-proofing your tiny home is crucial to its long-term survival. Even if you live in an area that doesn't get much rain, you should go above and beyond to ensure no water leaks into your tiny home. Be sure to think about the weight of the materials you choose as well, as most tiny homes need to be below a certain weight.
Take time to install your roofing properly, making sure you have the proper ventilation and insulation installed to aid against harsh weather. When installing windows, try to get laminated glass. Tempered glass is a great alternative to laminated glass, and it's on the less expensive side.