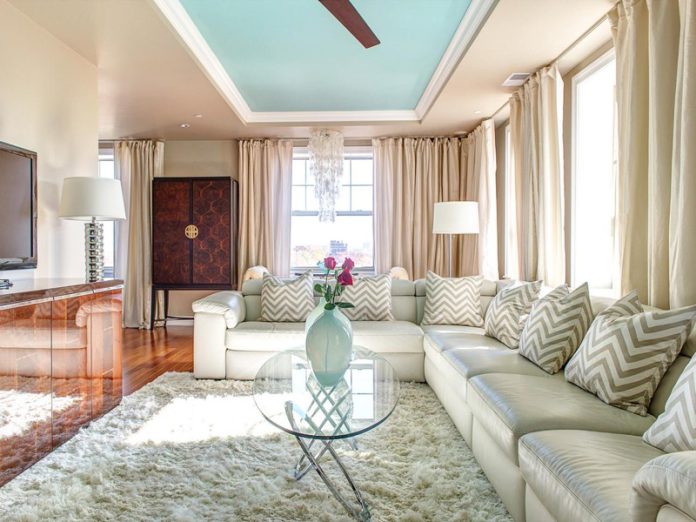 Will you start from scratch with a complete renovation of your living space, or will a superficial cleaning and refreshment do?
Most attention is paid to the living room when you desire to remodel your home on a budget. You can give living rooms more personality by using elements such as sheer curtains, live plants, and unusual wall colours with minimalist furniture arrangements.
Think about changing fundamentals like where the wind blows, where the sun shines, and how much room there is. Get started on your design by looking for ideas and inspiration in home design magazines, especially those that focus on living room furniture and decor. Look around for a more affordable version of whatever you found appealing in the magazine.
Here are some recommendations to help you spruce up your living space without breaking the bank.
Fill up the Walls with Color!
One of the most cost-effective methods to update the look of your living room is to paint the walls.
Despite its relatively low importance in the grand scheme of home improvement, painting is nonetheless labour- and time-intensive project.
Determine whether you want the paint to blend in with the trim and furniture or stand out as a focal point by giving some thought to the colours that make you happy as a family.
Put up some samples on many walls and live with them for a few days to be sure you're getting the colour you want; a single paint colour can look very different depending on the lighting.
Enhance with an Area Rug
Putting down an area rug may completely transform the feel of a room without needing additional furnishings or decorations.
Substituting the rug at the room's foundation can instantly transform it from dull to lively or chaotic to calm. If you don't have hardwood or tile flooring, don't be scared to throw down a rug on top of the carpet.
You should consider the rug's size and texture if you frequently use the floor or have young children.
To avoid making your living room look even smaller, ensure the front feet of your furniture are on the rug. If in doubt, get the larger size.
Revamp Your Lighting System
Improving the lighting in your living room is a simple method to increase the value of your home without breaking the bank.
Having the proper amount of light in the right places can make a huge difference in the atmosphere and functionality of your living space. You may drastically alter the mood of a room by installing a dimmer switch or switching to warmer or cooler light bulbs.
Aesthetically speaking, dramatic light fixtures can function as both works of art and functional lighting, completely altering the room's ambience and atmosphere. There's no avoiding the purchase of a light fixture, so you might as well get one that complements the aesthetics of your living area in addition to its practical needs.
Even if this does drive up the price somewhat, it's still less expensive than knocking down a wall or replacing the flooring whole, and there are many affordable fixture options.
Put up Drapes
Curtains are another low-cost yet effective approach to transforming your living space. Even something as simple as a solid hue will give your room a sense of depth and sophistication.
Your curtains should cover the entire window, from floor to ceiling (or at least halfway up the wall) when you hang them.
When drapes are hung this high, it gives the impression that the windows reach the ceiling, giving the impression that the windows are more expensive and architecturally significant than they are.
Splurge on a Showstopper
One of the best methods to renovate any space on a budget is to invest in a statement piece, as this may change the vibe of the entire room with minimal work. It may be a big picture or a gallery wall, but it could also be a sofa or a bookcase.
Having a focal point in a room helps to create a sense of order and harmony while also allowing you to express your individuality and taste.
Although the price tag may be higher than that of a painting or chair, investing in such a piece is typically more cost-effective than purchasing 30 smaller decorative items.
Recreating Your Living Space: How to Decide What to Do
When you want to rip everything out and start fresh, it might be hard to know where to begin when remodelling your living room. However, a well-thought-out plan is essential for sticking to your financial constraints while getting the desired outcome.
When you begin this procedure, you should ask yourself the biggest problems. The trouble spots in space are the elements that attract your attention and prompt you to want to make alterations.
Is there a part of your living room that seems out of place or overly formal? Can you name an item of furniture that you despise? Is the atmosphere cold and unwelcoming?
After figuring out the most pressing problems, you may consider potential solutions. You may, for instance, hang curtains to soften the area and install extra lighting to make it feel more welcoming if you find it too cold.
Improving Your Living Room's Coziness
Your living space should be of your taste and requirements. It will help if you put more thought into what you like and what would make the area more functional for you than into simply replicating a trendy style you saw on Pinterest.
For instance, if you have young children, you may want to go for a less aesthetically pleasing but softer and easier-to-clean area rug. In this way, your living room can be aesthetically pleasing and comfortable.
Spend adequate time planning so that your living room serves its purpose while also looking great and without breaking the bank.
Consider the mood you'd like to set, the styles you enjoy, the elements you'd like to stand the test of time, and the ones you'd rather see change with the seasons. You can use this information to design a space that you love.