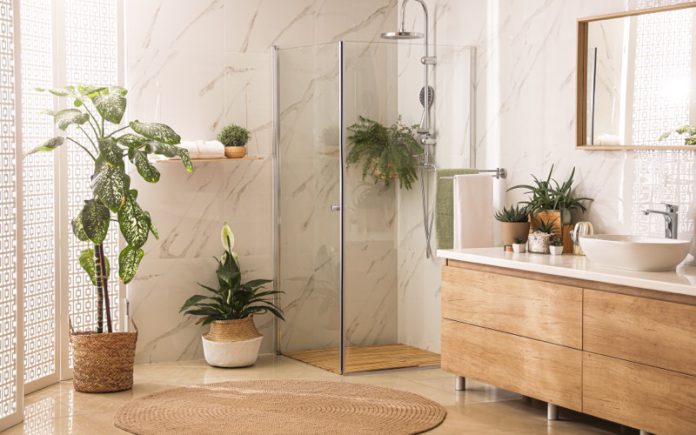 If you want to integrate steam therapy into your life, consider this a signal from the universe. It can be a valuable addition to your routine and provide long-term health benefits. But visiting a commercial steam room every week can get a bit pricey. Also, you might have difficulty adjusting your steam session in your day-to-day routine because of a tight schedule.
Some manual steam showers use a bowl filled with hot stones and boiling water to generate steam gradually. The room then fills with hot humidity, reaching a temperature between 100 to 115 degrees Fahrenheit and humidity levels approaching 100%.
If you love relaxing in a warm, steamy environment but find saunas too hot, consider converting your shower into a steam room. Although steam rooms aren't as hot as saunas, they're much more humid—with nearly 100% humidity. They have several health benefits, including improved circulation, reduced muscle stiffness, and lowered blood pressure. We'll go into more detail down below.
Don't worry too much if you are low on budget and need to harvest the benefits of a steam session; a steam shower installation might be the right home upgrade for you.
Imagine coming home after a long day or a rigorous workout, and you have your home spa waiting for you. You can hit the steam shower and relax after a hard day's work or an extensive session at the gym.
The cost of the steam shower depends on a few factors:
Whether you want to upgrade your existing bathroom into a steam shower or you need an entire steam room is one of the primary determinants of the steam shower installation cost.
Moreover, you also have to consider the shower size and the materials you need to come at a final cost.
A steam shower installation should cost somewhere between $2000 and $7000. How? Let's break it down.
Steam Shower Installation: Cost Breakdown
The key factors that affect the price of steam shower installation include size, installation labor, whether you go with a prefabricated steam shower system or a custom solution, steam generator, and the extra features you need in your steam shower.
Size
Typically a steam shower comes in 3x3x7 dimensions. On average, one square foot should cost you around $70. Building a steam shower from scratch means you will have to spend $70 per square foot. However, if you upgrade your shower into a steam room, the contractor could probably lower the cost by $10-$20.
The cost could go even lower if you install a prefabricated steam shower. But with prefab steam showers, you have to make sure the choice of your steam shower fits your bathroom space. As we mentioned, most prefabricated steam shower solutions are in 3x3x7 size.
Installation Labor
If you buy a prefab steam shower, you needn't worry about the installation cost. You might need the help of a professional to have the steam shower solution installed adequately. But it will not cost as much as installing a custom steam shower.
A custom-built steam shower unit would cost you around $1000 to $6000 for installation. On the other hand, a prefab steam shower will only take $500 to $600 for installation.
Prefabricated Steam Shower vs. Custom Steam Shower
As we mentioned earlier, the prices will change depending on whether you get a prefab steam shower or a custom solution. Let's get into the differences, pros, and cons between them:
Prefabricated Steam Shower
There are many options for prefabricated steam showers in the market. For example, you can find one at your nearest home improvement store or look for one online.
Prefab steam showers tend to be more affordable than custom ones. For example, a prefabricated steam shower should cost around $1000 to $50000. A prefabricated steam shower comes with an all-in-one compact design with all the features of a steam shower.
Some companies also offer installation services along with prefab sauna packages.
A steam shower unit will come with an installation guide to do the installation yourself. You could also hire a professional if you find the direction too complicated. For example, if you choose to hire an expert to do the installation for you, you will have to shell out an extra $500 to $800.
There are a few shortcomings with prefab steam showers too. First, not all steam showers are equal. You have to check them for quality and safety, and service standards. Moreover, with a prefab steam shower, repairs can be quite costly, which you want to avoid in the first place.
Custom Steam Shower
If you are more flexible on your budget, you should go with a custom steam shower. With careful planning, you could transform your bathroom into the steam shower of your dreams. However, a custom steam shower means you will have to do your research. It would help find the most suitable options, from materials to the installation service provider.
A custom steam shower consists of three main elements: the steam generator, the control, and the shower enclosure. The size of the generator will depend on the size of the chamber.
You can get a generator and control package at a price ranging from $1500 to $3500. The enclosure, on the other hand, can be pretty challenging to procure.
You can choose to work with your existing enclosure. You must ensure the cabin is sealed from top to bottom to keep the steam from escaping.
If you are considering building a steam shower from scratch, keep in mind that the cost may go through the roof. Nevertheless, with a custom steam room, you have the option to build your spa according to your preferences.
Regardless of your choice, a custom steam shower could cost somewhere between $4000 to $10000.
Glass Doors
If you are going with a custom steam shower solution, you will also have to consider the cost of a glass wall. Steam showers come with glass enclosures, which helps with keeping the steam in one place. For example, a glass door should cost between $600 to $1200, depending on the thickness of the door.
Tiles
Tiles are another vital part of steam room installation that could levy costs. You need to invest in tiles that can withstand heat and steam without cracks. Moreover, for the floor, you would have to consider installing textured tiles to avoid slipping, and installing steam shower tiles costs between $600 to $14000.
Some Customizable Extras
There are also a variety of extra features that you could add to your steam shower for a more personalized experience. For example, you could install these add-ons in custom steam and prefab steam showers.
Here are a few of the most popular steam shower add on:
Lights: Custom steam room lighting allows you to set preferred lighting fixtures in your steam room. You can control the lighting of your steam room using a remote. With custom lighting features, you can further personalize your steam shower experience and reap the benefit of chemotherapy.
Sound: You can add a sound system to your steam room and enjoy your music while taking a steam shower. An integrated sound system allows you to tune in to your favorite tracks on demand. You can also change songs, shuffle through your playlists, and increase or decrease volume.
Smart Controls: Automated controls make for a more innovative steam shower experience. All you have to do is switch on the power and choose the modifications, and the steam shower will do the rest for you.
Seating: Steam shower sessions can last up to 45 minutes, so you must have a designated sitting area to relax. Depending on your needs and preferences, you can get a wall-mounted seat or a luxurious seat made of teak or redwood.
Here are some Steam Shower FAQs
Steam shower vs. steam room, what's the difference?
Steam showers and steam rooms are quite the same thing. The only difference is the functionality. For example, a steam shower doubles as your washroom, so you can take a shower right then and there once you've finished your steam session.
Steam rooms, on the other hand, are standalone steam session solutions. You go there for a steam session that lasts 30 to 45 minutes.
Can I Build a steam shower myself?
Most steam showers come with installation guides. You can build your steam shower if you are adept at basic installation. However, if you don't know much about installation, you should consider hiring a professional to do it for you.
How do I take better care of my steam shower?
You need to take care of some things to keep your steam shower up and running for years. Small things like draining excess water from the generator, keeping your feet clean while entering the steam room, and ensuring no water collection anywhere inside the shower.
What kind of benefits do steam showers offer?
Firstly, installing a steam shower in your house instantly raises the value of your property. A steam room and a sauna are great investments for any property. About 60% to 70% of homeowners want a spa element in their new homes. Not to mention, sauna rooms are considered a luxury item that can increase the value of a home. Installing a home sauna or steam room can increase the resale value of your property by 29%. Steam showers are also easy to maintain, which could help keep them up and running for years.
In terms of health benefits, steam showers offer similar advantages to a sauna. For example, you can expect a healthier heart, clearer skin, reduced stress, and pain relief.
That's Pretty Much All There Is To It
If you are considering installing either a steam room or a sauna in your home, consider the differences in terms of space needed, installation requirements, materials and overall costs before making a decision.
Both rooms come with pre-cut or DIY installation methods, or you can hire professional assistance to complete the project.
Regardless, a steam room or sauna is a great investment to consider for your home. It is reported that 60 to 70 percent of homeowners request some spa element in their new homes.
Once you've built it, it's quite economical: running a steam room costs $0.05 per minute on average as it uses water and electricity. A relaxing 20-minute session will add about $1 total to your bills.
We hope you found this helpful! Click here to learn more and discover the right option for your home!