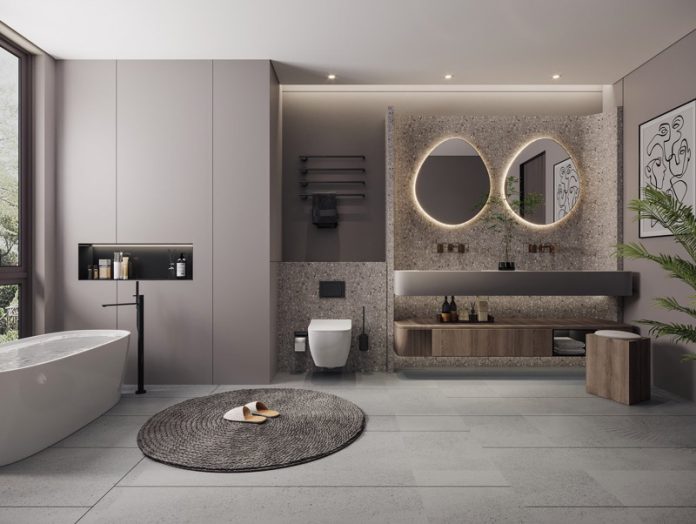 When selecting an LED mirror, you can access an unlimited variety of sizes and designs. Some people choose rectangular shapes, while others try to use circular ones. It's frequently advisable to start by inspecting your area. This will help you focus your search for an LED mirror by serving as your guide to selecting the LED mirror of your choice.
LED Mirror for the Master Bathroom
The master bathroom is a design showcase. An LED mirror enhances male grooming and helps with hair and cosmetics. The bathroom may be kept focused by having a tiny cosmetics station with a medium-sized LED mirror separate from the main sink area.
The LED mirror may be attached to a swing arm or a ball-bearing joint, depending on how far it is from the wall. A big LED mirror over the sink, a medium LED mirror in the vanity area, and a targeted LED mirror on an adjacent wall are frequently found in the master bathroom. This LED mirror helps to achieve the use of avoiding the need to stoop over a sink for final touches. The following are the key points to remember:
Master bathroom ideas with oversized LED mirrors are practical
For each activity, create numerous LED mirror stations
Men can benefit from a tiny LED mirror just as much as women
Installing a bathroom led mirror with backlight will cause a circle of light to be projected behind the mirror that will shine on your face evenly, leaving no shadow areas.
A backlit bathroom mirror is ideal for giving your bathroom a touch of elegance. It can provide your bathroom a more spa-like atmosphere by providing uniform lighting that makes it simple to view your reflection.  Backlit mirrors are a great alternative to modernizing your bathroom on a budget.
The Entranceway's LED Mirror
On arrival, guests might feel the desire to freshen up. The half-bath in the foyer is intended for fast tasks. A terrific method to be hospitable and offer your visitor the chance to touch up their cosmetics after traveling is to install an LED mirror in the restroom near the door. For this task, a tiny circular LED mirror should be placed over the sink. But always remember this few things:
For the entrance, we prefer the round LED mirror designs
By the LED mirror, set up a small table with essential items like toothpaste and lotion
The Source of Light for Your LED Mirror
The most important factor in choosing an LED mirror brand is the quality of your light source. Uneven lighting is an unexpected source in bathrooms. An LED mirror guarantees the correct illumination of the entire face. LED mirror designs from InYouths are lined with custom led mirror with a great lifespan to ensure lifelike, accurate color representation.
Key Takeaway on LED Mirror Selection
LED mirror designs are effective appliances to add to your home. Because LED mirror technology is much more effective than incandescent lights, they exemplify the essence of green living. An LED mirror instantly improves contemporary and modern houses because they are clear and sharp. To fit your environment, the LED mirror is simply a great choice! If you're searching for further design ideas for your bathroom, these bathroom design ideas will undoubtedly be helpful.