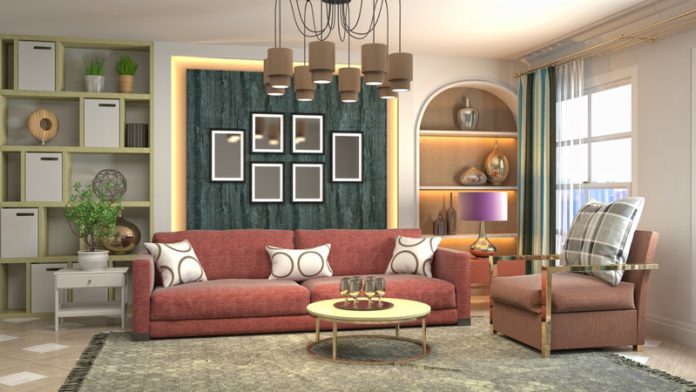 Are you looking to upgrade the look, feel, and layout of your living room but don't want to break the bank? You're in luck because there are plenty of ways to transform your living room without spending a fortune. Paramount Residences presents 5 budget friendly ideas for living rooms to get you started and keep reading about those five budget-friendly ways to make your living room a makeover as well.
1. Paint Your Walls 
One of the quickest and easiest ways to change the entire look of your living room is to paint the walls. If your living room is painted white or beige, go bold with a dark color like navy or black. Still trying to decide whether to commit to such a dark hue? Paint one accent wall boldly and leave the remaining walls neutral. Need help deciding on a color scheme? Consider hiring a professional painter or color consultant to help you choose the perfect paint colors for your space.
2. Rearrange Your Furniture 
Have you ever noticed how different a room looks just by rearranging the furniture? If your furniture looks dated or you're bored with the current layout of your living room, try rearranging things for a fresh new look. Just be sure to take measurements before you start moving things around so that you know everything will fit in its new spot. And remember to consider traffic flow when determining the best arrangement for your space.
3. Accessorize
Accessories are an easy and affordable way to change up the look of any room in your home, including your living room. If your living room feels a little bare, add some personality with well-placed wall art, throw pillows, blankets, and candles. Still, trying to figure out where to start? Take inspiration from your favorite home décor magazines or Pinterest boards. Just remember not to go overboard – less is definitely more when it comes to accessories.
4. Update Your Lighting 
Updating your lighting can greatly impact the overall look and feel of your living room – and it doesn't have to be expensive either! If you currently have builder-grade lighting in your space, try swapping out those boring ceiling lights for something more unique, like pendant lights or chandeliers. Or if you have floor lamps that are starting to show their age, give them new life with some new lampshades. Simply changing out light fixtures and lampshades can transform the look and feel of any room without breaking the bank!
5. Take Inventory
Take inventory of what you have that can be used in your living room makeover project before heading out to the store (or logging on to Amazon). You may have some old picture frames that could be repurposed as wall art, or perhaps a vase or table lamp gathering dust in another room would be perfect for your space. You can save time and money in the long run by shopping your house first!
When it comes time for a living room makeover, there's no need to break the bank! There are plenty of ways to totally transform your space without spending a fortune. From painting the walls and rearranging furniture to accessorizing and updating lighting – these five budget-friendly tips will help you give your living room the makeover it deserves!