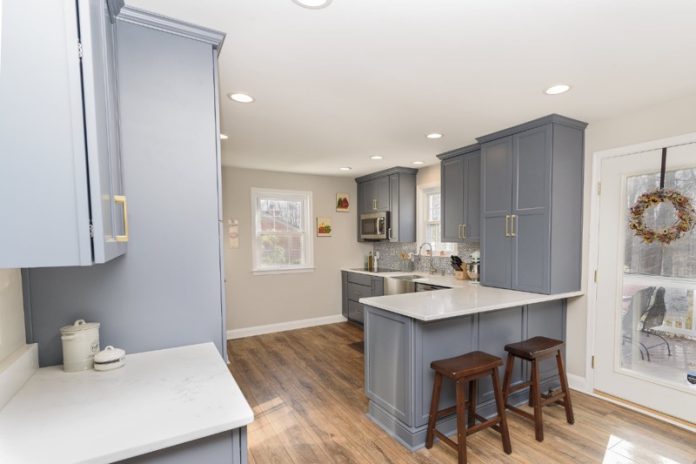 If you want a timeless kitchen, most designers will recommend neutral colors. This is because trends heavily rely on color, and neutrals act as a flexible backdrop. Nevertheless, it is possible to get the vibrant kitchen of your dreams without succumbing to passing trends. Check out these colorful kitchen design tips from O'Hanlon Kitchens.
Use a Limited Color Pallet, Balanced with Neutrals
The key to successfully using color in a kitchen is to utilize a limited color pallet. If you have multiple colors competing for attention, the kitchen may look "themed." Having a themed kitchen isn't inherently bad, but themes tend to align with trends. To achieve a timeless kitchen design, you need to avoid falling into one trend.
As an example, let's say that you really love the color green. You decide to paint your island a rich green color and use accent tiles for your backsplash. If those accent tiles are in a neutral color or have a subtle splash of a similar green, that design should look great a decade from now. If you use blush pink and navy blue in addition to green, you may not like the combination in a few years.
Kitchen design companies will recommend that you balance pops of color with complementary neutrals. Warm wood tones can help the kitchen feel cozy and inviting. Crisp white can make it feel clean and open. The right neutrals will make your colorful kitchen look complete.
Where to Use Color in a Kitchen
Once you choose your accent color(s), you need to figure out where to put them. A good rule of thumb is to create triangles around the room. Example: blue on the wall, blue on the island, blue on the rugs. This draws the eye around the room to create visual interest.
If you think you may change your accent color in the future, use color in areas that are easy to change out. This includes:
Wall paint or wallpaper
Cabinet paint
Hardware
Appliances (expensive but physically easy to change out)
Light fixtures
Accent décor
If you want a stronger commitment, you can use color on in these areas:
Stone countertops
Tile backsplash
Flooring
Sink
Hood vent
You can mix and match where you put color in your kitchen to fit your short- and long-term goals. Better yet, talk to the brilliant designers here at O'Hanlon Kitchens, and we can map out a color plan for you!
Identify Your Focal Point
Most colorful kitchens have a focal point – the feature you want everyone to notice right away. This may be a stunning graphic backsplash or a vibrant copper vent hood. Think about where you want the focus to be and, ideally, use color to draw the eye right there. Adjust the rest of the kitchen design around your focal feature.
Design a Colorful Kitchen That You Love!
We're going to let you in on a little secret. If you love your kitchen forever, that's a timeless design! Who cares how the trends change or how other people feel? What matters most is how you feel when you come into the room.
If your dream kitchen contains every color in the rainbow, then use it. But, if you may want to modernize in the future or you are considering selling later on, stick with neutrals. If you are in the Baltimore or York, PA region – O'Hanlon Kitchens creates custom kitchen designs that are personalized for every homeowner.