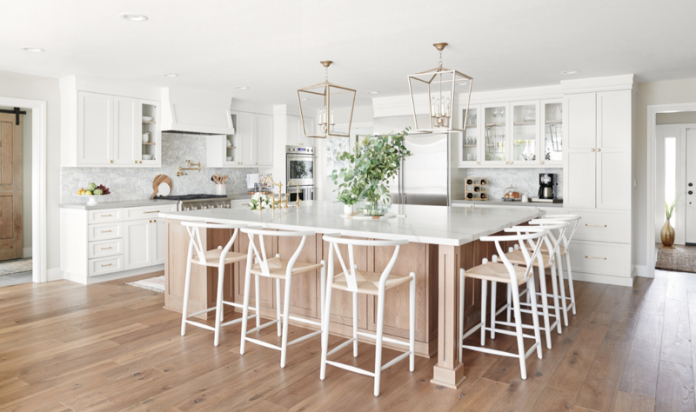 The kitchen is the heart of the home. Aside from making the best meals, the kitchen is where people come together to share stories and make memories. It's important that your kitchen reflects your personality and style. But more than just being aesthetically pleasing, keeping your kitchen updated is essential for a number of reasons. For one, your family might be growing and a little extra space goes quite a long way.
If you're looking to improve the look and feel of your kitchen, there are countless projects you can take on. From making small updates to major renovations, there is something for everyone. Whether you're a DIY enthusiast or just starting out with home improvement, we've rounded up some things to focus on when you're doing a kitchen renovation.
Start With the Basics
Make sure all appliances are functioning properly, check for any water damage or mold growth. Most of the time, the damages that come from water and mold can be the most expensive. From this starting point, you'll have an idea on the things that need the most attention.
Another thing to do is to test all electrical outlets to make sure they're up to code. Aside from functionality, you'll be avoiding accidents and damage to your property. Make sure to test your appliances too, as some may need some repairs or replacing.
Lighting
Lighting is one of the most overlooked things when doing a kitchen renovation. Remember, kitchens are places where a lot of work happens. Without adequate lighting, it'll be dangerous and difficult to prepare meals. Make sure you bring in the right task lights and other improvements in your kitchen.
Sometimes, just even replacing old lighting with brighter LED bulbs can make food preparation safer and more efficient. Natural light is best but if that's not an option, invest in good lighting fixtures(ceiling lights, pendant lights above the island/countertops). Of course, lighting doesn't only make work easier, it also makes your kitchen glow and look better.
Update Your Cabinets
Cabinets are often one of the first things people notice when they enter a kitchen. Painting them can make a big impact without breaking the bank—just be sure to use durable paint meant for cabinets(i.e., semi-gloss finish) so it can withstand heat and moisture from cooking and cleaning.
If you don't want to take on painting them yourself, consider hiring a professional painter or cabinet refinisher who specializes in cabinetry work. In addition, changing out hardware such as knobs and handles can also add a touch of class and sophistication to your cabinets.
Add Some Character
Once you have the basics taken care of, it's time to start thinking about adding some personality! What makes a kitchen a little extra comfortable is the flair that you put in it during remodeling or renovation.
Hang some artwork or plants for color; add texture with rugs or wall coverings; install backsplashes; create an accent wall; try open shelving; swap out light fixtures; put up wallpaper; upgrade countertops; add an island or breakfast bar; the list goes on! The possibilities are endless when it comes to sprucing up your kitchen—so let your creativity run wild!
Conclusion
No matter what type of project you decide to take on in your kitchen, remember that even small improvements can make a big difference when it comes to transforming this room into one that is both beautiful and functional.
Don't be afraid to get creative with colors and textures —after all, this is supposed to be fun! With these tips in mind (and maybe a few others), you'll be well on your way towards creating the perfect space that reflects who you are as a person while also making mealtime more enjoyable than ever before! Good luck!