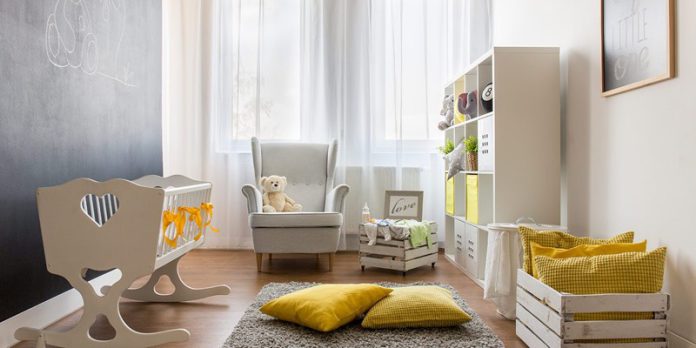 Expecting a new arrival? Congratulations! This is an exciting time in your life, but it is also a stressful time. A lot needs to be done before the big arrival, and one of the most important tasks is creating a nursery for your bundle of joy. It is vital that you have a suitable space for your baby; creating this space is challenging, especially if it is your first! This post will offer a few tips for creating the perfect nursery that will hopefully be a space that makes looking after your baby and helps them to sleep.
Opt For A Neutral Theme
People often get carried away when decorating a nursery and choose bright colors with lots of decoration. Instead, this should be a calming and peaceful space, so you are much better off opting for a neutral theme with soft colors. You can add color through decorative touches and toys, but the general color scheme should be neutral so that it is a space where your baby can be calm and hopefully get to sleep!
Start With The Essential Furniture
You also want to avoid clutter in this space so that you have enough space to move around comfortably and to create a calming space. This means that you need to start with the essential furniture, which will include the following:
Crib
Changing table
Armchair
Wardrobe
If you have space, you can add any extra items you want, but be careful to avoid adding too much.
Buy High-Quality Bedding
Following this, it is vital that you have high-quality bedding for your baby. You should buy everything that you need from a specialist company like Snuz. Places like this provide key items like cribs, mattresses, sheets, throws, and pillows that will create a comfortable sleeping environment for your baby. Sleep is an essential part of their development, so you need to have items that will make it easy for them to sleep. Having the best bedding could make all the difference when it comes to getting them to sleep through the night.
Consider Light, Air & Noise
You also need to think about light, air, and noise. You must be able to get the space dark, so blackout blinds are a good option, and dimmable lights are helpful. Ventilation is important, but you need to keep the crib away from any windows in the room. In terms of noise, thick rugs and curtains can absorb noise, and you can use a white noise machine if noise from outside is an issue.
Make It Personal
While a neutral theme is important, you still want to make it a personal and special place for your baby and the whole family. This means that you should add decorative touches like family photos, soft toys, and family heirlooms.
Designing a nursery is one of the trickiest tasks when expecting a new arrival, so this post should be helpful and allow you to create the perfect space for your bundle of joy.