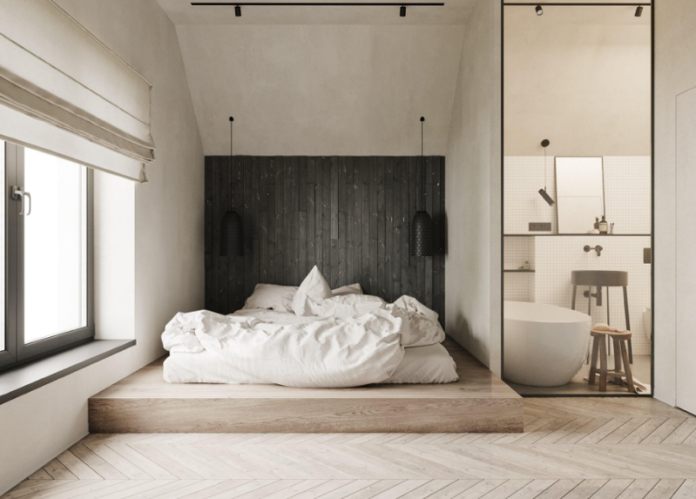 Ivory colour exudes subtlety. It reflects a sense of calmness, elegance, coziness, and comfort. The colour is a world-class definition of sophistication, style, and minimalism. It's the kind of hue that brings out the poise in you and compels you to bloom into creativity.
Our favorite part about Ivory as a wall paint is how convenient it is to deck up. You do not have to beat your head around too many ways to amp up your bedroom. With an Ivory wall colour combination for bedroom, it only becomes a cakewalk. Here's how!
1. A Pop Of colour
Ivory is a simple colour. If your bedroom is mostly swarmed with Ivory walls, you might want to break the monotone with a pop of colour. Aesthetic pastel colours such as Rose Gold, and Lavender are some of the greatest matches for Ivory. You can also break the monotone with a subtle splash of Red and Orange. Go as bright and bold as you would like. The more artistic you are, the better. Let the creativity flow out of you while you accentuate your bedroom space like a pro.
2. Add The Right Planters
Greens are the perfect matches for your Ivory bedroom. When these wall colour combinations for bedroom are minimalistic, and you want to keep the mood going, adding Greens can be a great idea. For this purpose, installing plants at every corner of your home is a wise call. We especially recommend the Areca Palm plant. Don't shy away from installing any other plant of your choice.
3. Aesthetic Photo Frames
A touch of warmth and coziness can instantly spruce up your bedroom. All it takes is to do it right. Aesthetic photo frames can help make that happen in no time. You do not have to stop at your personal photo frames to make your bedroom prettier. You can also add other 'Pinteresty' photo frames to amplify the Ivory colour walls of your bedroom. Vibrant photo frames with good scenery in the background are our favorites.
4. Go Ahead With Ivory Art
Never underestimate the power of art in your bedroom. It is not just a functional decor piece for your living room. When you are short of ways to spice up your hall, Ivory art can perform its magic in your private space as well. Take a risk and invest in the right Ivory art pieces for your bedroom. A pop of vibrant colours hurt nobody!
5. Include A Statement Piece
A statement piece is one decor piece that pops. Amidst all your Ivory walls, your bedroom may become dull. Although minimalism is earthy, humble, and beautiful, it can also become boring soon.
To spice things up, we highly recommend a statement piece in your bedroom. It could be anything. We are in special awe of statement wall art or sculptures that can be installed in one corner of your bedroom. The way they go all out without you spending too much time is a smart move in itself.
Primp It Up!
Your bedroom has a massive role to play in defining your personality. Why let it go? Adopt these exciting tips to create a cozy yet enlivening Ivory bedroom space, and watch how it works for you.