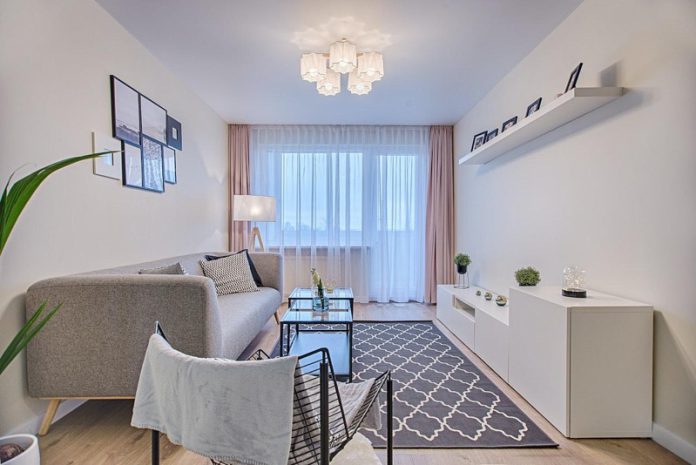 There are a lot of small room hacks out there that typically involve placing mirrors for the room to look bigger, but I guarantee you that in this article, we will be doing a bigger room illusion besides doing that because mirrors in living rooms typically don't apply to all.
Since mirrors need to be big to have an impact, and not everybody has the space or the savings for them, in this article we will stick to the essentials with less decor and tell you many ways to make your living room look bigger.
Let's assume we have a small living room of 7 to 10 square meters, so the question is, how can you make the room look big?
Well, you just need to change six things.
Floor Lamps
As much as possible, you have to keep less furniture on the floor. Well, of course, there's no such thing as a floating sofa, but it just so happens that hanging lights exist. If you don't want to change your lamp then place your lamp strategically.
Drawers and Cabinets
If you have lots of doors and cabinets, then try to lessen them and replace one or two with wall shelves or floating cabinets.
By using the floor and the ceiling for your drawers and cabinets. It'll create the illusion of height in the room as our eyes trail vertically and we really know there's just more space on the floor.
Put Carpets
If there's no carpet in the living room, it makes your furniture look scattered. By putting a large carpet under it, it will create the illusion of pulling everything together.
For small spaces, stay away from patterned carpet. Your best bet is a carpet that is light and neutral.
If it's large enough, then all the legs of your furniture must be sitting on top of it; if not, just the front legs will do.
Replace Bulky-Legged Furniture
Bulky-legged furniture takes so much space, and they create the illusion of a bigger space.
A bigger room is all about a sense of movement and openness in the room. Furniture with long, slim legs allows light and air to pass under it. Choose furniture that has thin legs and is as light as possible in color.
Light Wall Colors
Next, you should pick light and soft tone wall colors. This will actually create a huge impact since this is the biggest part of the room, and there's actually a scientific reason behind all the lightness: light and bright colors actually reflect light while dark colors absorb it, so we should go for light.
By reflecting natural light, this will make a space look more open and airy. Here are our color suggestions.
Classic white
Soft green
Lilac
Soft gray
and vanilla blush.
Sofa
Next is this sofa, and we won't be changing it to something smaller. We'll just have to change the upholstery into something lighter and neutral.
Another tip is that you can match the color of your sofa to the wall so it blends with the space.
Curtains
Lastly, if you are reading this article, you should know by now that in order to create the illusion of a bigger room, it's all about light, and what's the best way to do that? Get rid of your dark-colored curtains and replace them with sheer ones to let the light in.
If your living room has all the points checked and still you feel that you need some extra space for your living room, then it is the best time to shift to another house. Utilizing a mortgage calculator can help determine the affordability of the investment.
There are various online tools available that take into account factors such as down payment, interest rates, and loan term to give an estimate of monthly payments. Before taking the plunge and investing in real estate, it's important to do your research and ensure it fits into your budget.