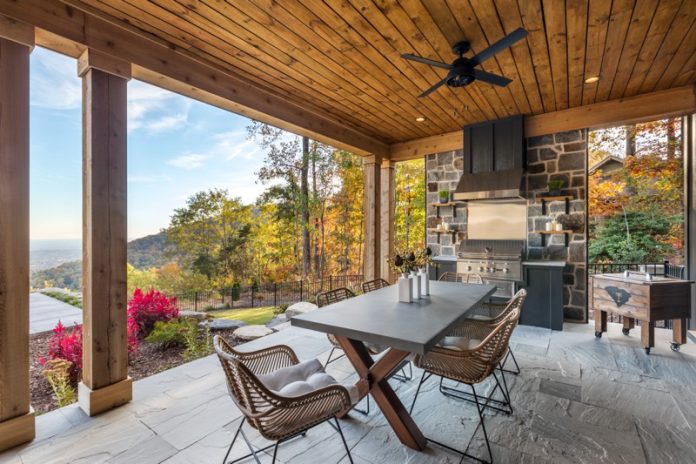 Warm weather means it's time to start thinking about your outdoor living space. Whether entertaining guests or relaxing with your family, a well-designed outdoor living space can be a luxurious extension of your home. Here are some ideas and inspirations for creating a luxe outdoor living space for your luxury custom home.
Create a Comfortable Seating Area
A comfortable seating area is the foundation of any outdoor living space. Consider high-quality outdoor furniture that is both stylish and comfortable. Choose pieces that withstand the elements, such as weather-resistant wicker or teak furniture. You can add softness and texture by incorporating outdoor cushions and throw pillows in luxurious fabrics such as linen, velvet, or Sunbrella.
Add Ambiance with Lighting
Proper lighting is an essential aspect of any outdoor living space, as it creates an ambiance that can be practical and aesthetic. Outdoor lighting can not only extend the functionality of your outdoor space beyond daylight hours, but it can also enhance the overall aesthetic appeal of your space. While considering lighting options for your outdoor living space, you should consider the space's design, functionality, and mood you want to create.
There are several options to consider when it comes to outdoor lighting. String lights are a classic and affordable option that can add a romantic and whimsical atmosphere to your space. String lights come in various shapes, sizes, and colors, allowing you to choose a style that complements your outdoor design. Additionally, installing sconces around the perimeter of your outdoor space can provide both ambient and functional lighting, illuminating the area and enhancing its safety.
Incorporate Water Features
Water features are a great addition to any outdoor living space. They provide a sense of luxury and tranquility and create a serene and calming atmosphere that can help you achieve relaxation after a long day. Fountains, ponds, and waterfalls are all popular options for water features in outdoor living spaces, and each one can be customized to fit your unique style and preferences. A small fountain can be the perfect addition to a small patio or deck, while a larger pond or waterfall can add drama and visual interest to a larger outdoor space.
Many options are available if you want to add a water feature that doubles as a swimming pool. You could opt for a traditional swimming pool with a sleek and modern design or a more natural-looking pool with rocks, waterfalls, and other features that mimic the look and feel of a natural swimming hole. Whatever your preferences, a water feature is a great addition, providing beauty and relaxation and a fun and functional place for you and your family to enjoy. If you want to create a luxurious and serene outdoor living space, consider adding a water feature to your design plan.
Create a Cooking and Dining Area
Creating a luxurious outdoor living space for entertaining guests requires careful consideration and planning. This involves creating a dedicated cooking and dining area to take your outdoor fun game to the next level. To achieve this, a well-designed outdoor kitchen should is equipped with high-quality appliances such as a built-in grill, a refrigerator, a sink, and storage cabinets. A state-of-the-art grill is an essential addition that can cater to all kinds of dishes, whether a casual barbecue or a gourmet meal. Consider adding a separate prep area or a serving station for easier cooking and entertaining.
When it comes to dining, adding a large dining table that can comfortably seat your guests is essential. You should choose a durable and weather-resistant material such as teak or wrought iron and complement it with comfortable chairs that have plush cushions. Adding a canopy or a pergola can protect from rain and sun, making the dining experience more comfortable for your guests.
Incorporate Landscaping and Greenery
Incorporating landscaping and greenery into your outdoor living space is visually pleasing and provides several benefits. Trees and shrubs can provide privacy and shade while adding a natural feel to your area. Consider planting native species that require minimal maintenance and adapt to your climate. These plants are more likely to thrive, meaning less work for you and more enjoyment of your outdoor living space.
Flowers can also be used to create a colorful and inviting atmosphere. Choose a variety of blooms that will bloom at different times of the year to ensure a long-lasting display. Consider incorporating a mix of perennials and annuals for year-round interest. Potted plants and hanging baskets can add texture and color to your outdoor living space in a more portable way. You can move them around as needed, bringing them indoors during colder months to extend their lifespan.
Add Entertainment
Now that we're comfortable and ready for a meal consider adding entertainment options to your outdoor living space. Install an outdoor television or a sound system for music and movies. You can also add a game area with a pool table or a ping pong table for fun and friendly competition.
Don't Forget the Details
The details can significantly impact your outdoor living space's look and feel. Consider adding decorative elements such as outdoor artwork, sculptures, or a custom-built fireplace or fire pit. You can also add decorative accents such as outdoor rugs, curtains, and table settings to create a cohesive and luxurious look.
In conclusion, creating a luxe outdoor living space for your luxury custom home is an investment that can significantly improve your lifestyle and increase the overall value of your property. Whether it's a comfortable seating area, ambient lighting, water features, cooking, dining area, or entertainment options, there are endless possibilities to make your outdoor living space truly unique and inviting. Add landscaping and decorative accents to create a cohesive and luxurious look. Incorporating these elements allows you to create an outdoor oasis that seamlessly blends with your indoor living space and enhances your overall living experience. With these ideas and inspirations, you can transform your outdoor living space into a luxurious retreat you and those you care about the most can enjoy for years. So why not use the warm weather and build your dream outdoor living space today?