Roohome.com – Combining pastel colour and pattern for your apartment will be great idea. Apartment has been second home for those who want need a modest place without having any space inside. So, in selecting a colour is very necessary to be combined with the pattern. That is why, try to use different colour and pattern from previously. Build your own dream apartment start from now!
Pastel colour and pattern for apartment design
Having a limited space in apartment does not mean you are able to decorate it. What if there is a chance to enchant your apartment becomes luxurious and classy? Ievgeniia Biriukova brings the chance for you who have a problem with having a small or limited space in apartment. She tries her best in designing each room by using pastel as the main material for her work. If you like collecting some unique ornaments, she will help you to arrange it without making much space of it.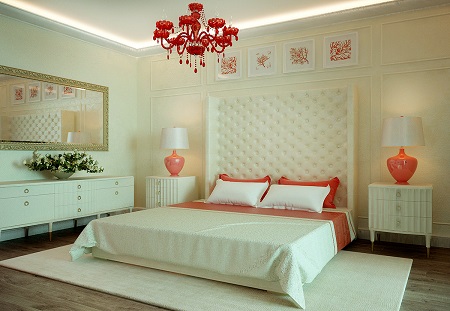 First of all, the master bedroom is designed like a king and queen's room. She starts use pastel colour from a whole wall inside the room because she wants a bright shade and soft. Interestingly, red lamp is hung on the roof while the colour of roof is white. Yet, it does not damage a softness inside the room. The two red lamps are also put above two white nightstand beside the bedstead.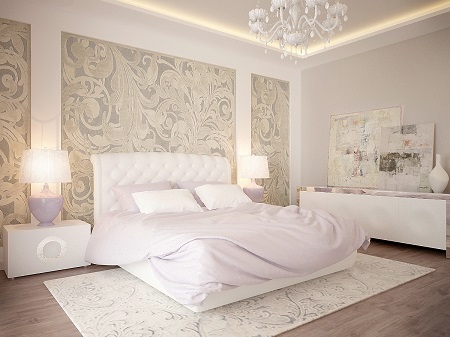 Move to guest room there is no red shade in this room but a classic pattern is found on the wall. For this room, white and pastel are combined in order to make the guest feel cozy to take a rest. In addition, two white nightstand are suitable with the bedstead which full with white interior.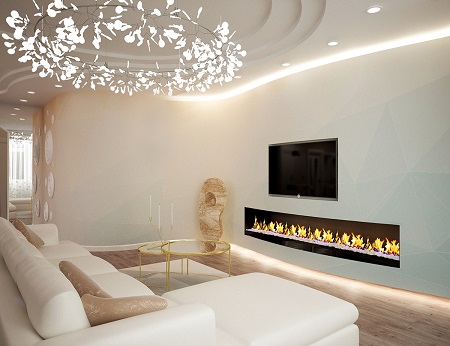 In living room there is a white sofa againts television. The use of pastel colour can be seen a whole wall without any ornaments to decorate this space. A gold round coffee table is combined with sofa in order to create luxurious view along with an unique lamp which is hung on the roof. Interestingly, there are many lamps which is put along the roof. This apartment design by combining pastel colour and pattern is suitable for you.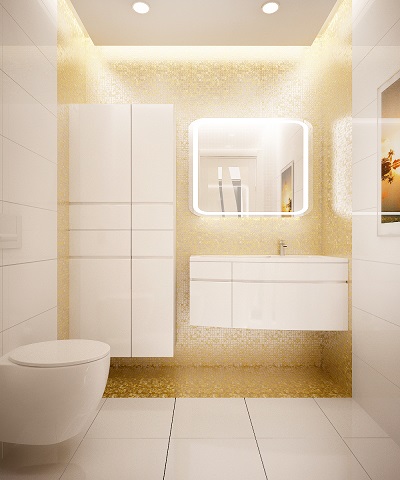 For the restroom, Ievgeniia Biriukova paints some parts of the wall with gold. She picks gold because she want to create the room alive despite the name of this space is restroom. But it does not mean she cannot put any ornament such as a mirror above the washing stand.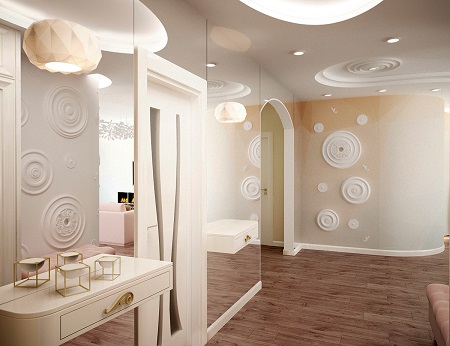 Last but not least, this entry room is designed unique as well. If you entry firstly, you will know if this is an open floor so make you entry to any space directly. The ornaments of this room is glass that be the point of this space. Designer decorates this room by putting lamps and drawers inside the glass. What an amazing idea!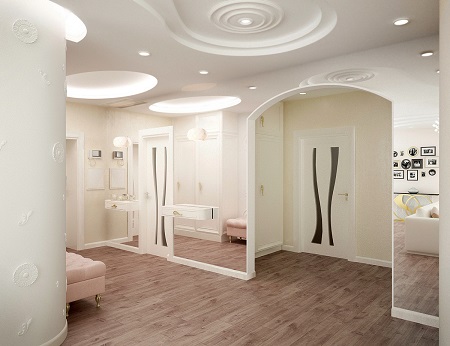 From now on, you will try apartment design by combining pastel colour and pattern. Do not hesitate to decorate your own apartment anymore. This design is also suitable for you who like collecting unique ornaments. If you want to find other awesome design, just visit and check here.