Roohome.com – You do not need to be worried applying a modern Scandinavian style in small apartment decor anymore. This design below has some brilliant tips as well which will inspire you to create your dreaming small apartment decor. Scandinavian style has many variations in helping you to arrange its interior inside your apartment. The concept will solve your solicitudes due to having a modest apartment space. The designer shows you if use another decoration like greenery can build a good atmosphere as well. Do you want to see? Let's check this out.
Small Apartment Decor With Modern Scandinavian Style by Line Sandberg
Line Sandberg is interested with Modern Scandinavian Style because the concept is quite stylish and fabulous certainly. This is a small apartment which only has some certain spaces in it. Yet, the designer divides the room one by one perfectly. This is started with the living room which is the center room of this small apartment. The living room is filled with a combination of light gray, dark gray, and white colors. The room itself reflects a shade of semi-monochrome.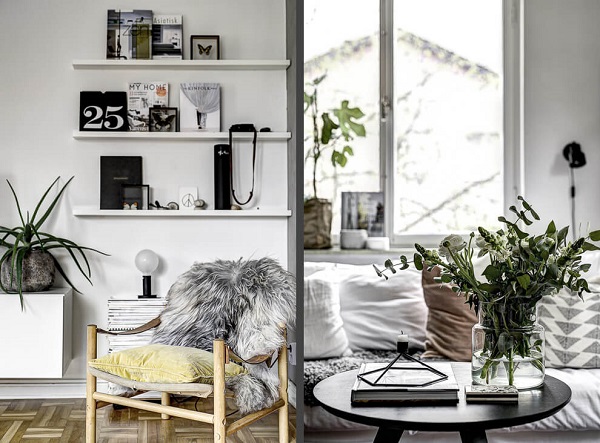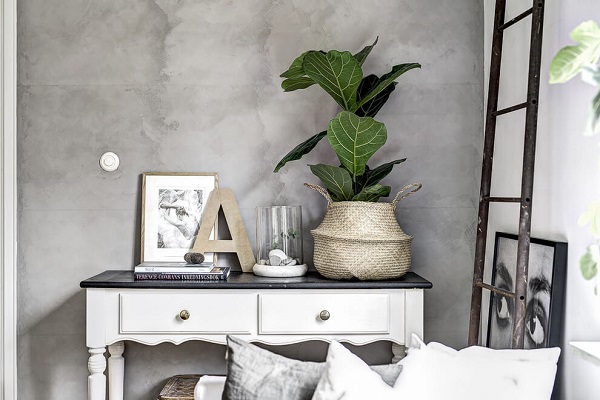 The designer uses some useful storages such as a bookshelf, a mini white drawer, and others. Do not forget, the designer places Scandinavian decorations around the living room.
Small Apartment Decor with Cute and Sweet Arrangement in Kitchen and Dining room
Move to the kitchen and dining room areas. For the dining room itself, the designer places a white wooden dining table along with four contemporary wooden dining chairs against a big window. This is because to spread natural sunlight through the window into the dining room. A cute wallpaper can be used to make the dining room more enticing and interesting. If you see, the designer puts some greeneries not only in the dining room but also the previous area, living room.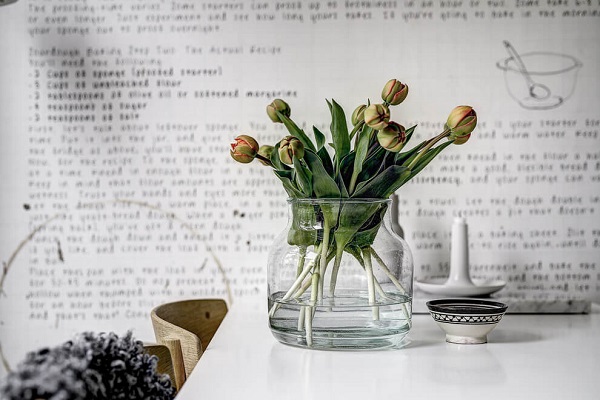 For the kitchen itself, the designer gives a small space to make you more comfortable in cooking meals for your family or yourself. A white kitchen set is suitable for the main concept. White color makes your kitchen cleaner and brightener. Do not worry if you have many things in the kitchen because Line Sandberg will use some useful storages in the kitchen as well.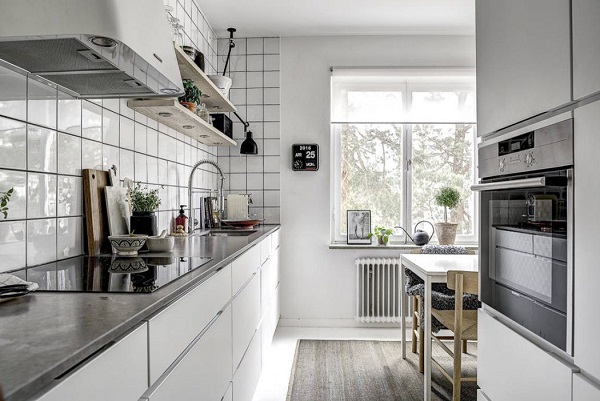 Do you want to know some helpful tips for small apartment decor and be applied in your apartment?
Small Apartment Decor Which Uses Modern Tips in Bedroom
If you have a small bedroom space but you want to display some decorations, do not be worried because here some helpful tips for you. Firstly, places your bedstead against the wall which is decorated with lines pattern is the best idea as well. It can be better if you choose the wall pattern as same as the concept of your small apartment decor. Arrange the interior in a good position as well. Line Sandberg uses a white floor reading lamp instead of having two table lamps in your bedroom. Afterward, put some greeneries to make your bedroom livable. Do you get inspire from these small apartment decor tips?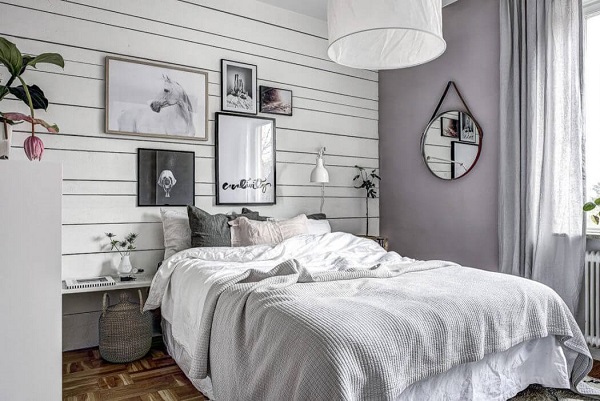 Do not waste your time. It is your turn to have your own small apartment decor after seeing the design by Line Sandberg. If you want to see other designs, just visit and check here. Have a nice day!