Roohome.com – If you have a large residence and you do not know how to decorate it well, discover luxurious home design ideas in here. The design below is designed by a professional interior designer who combines luxury items with contemporary interior ideas. The designer creates an ordinary house previously becomes luxurious and modern in the same way. Do not miss to see the arrangement and the application which will discover a lot of inspirations as well. Are you curious? Here there are.
Luxurious Home Designed With Contemporary Interior Ideas by A.D. Architecture & Design
This awesome and luxurious house is designed by A.D. Architecture & Design. The designer proudly shows you a great result of home design. First of all, you can see from the living room which is decorated by contemporary interior all over the room. This house has a large space which facilitates the designer to arrange the living room. For the basic color of this room is a bright white. You can choose white as well if you want to make the room wider and cleaner. The designer also does not place any cabinets around the living room in order not to generate a poor air circulation. The designer places a gray couch against the TV cabinet. Behind the couch, there are two purple couches along with a glass coffee table. The designer is creative in utilizing a large space in the living room by placing three coaches with a different application.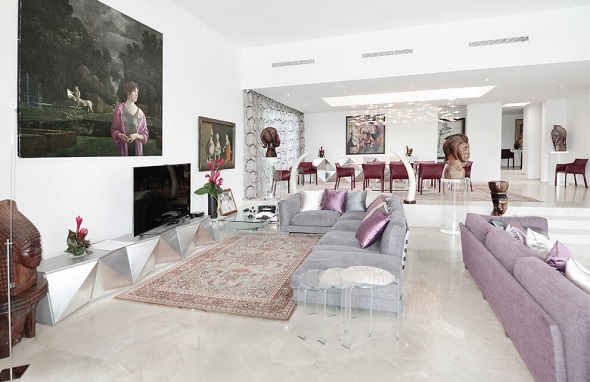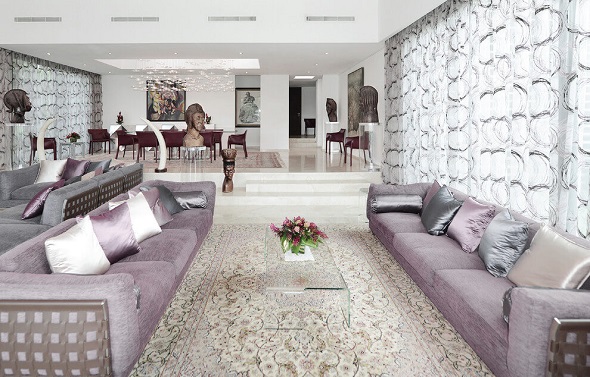 Luxurious Interior Combined With Modern Arrangement Provide A Cozy Bedroom and Bathroom
Move to the bedroom which is filled with a soft white color makes you do not want to leave this room forever. The designer places a big glazed door near the bedstead. A crystal chandelier also is chosen by the designer in order to beautify the bedroom. You can call it as a luxurious interior which is suitable for luxurious home design ideas as well. Two white armchairs are also placed near the bedstead. Meanwhile, the bathroom is decorated with a modern arrangement. The floor and the wall are beautified with ceramics vertically. Although the bathroom does not have a spacious space you can get a stylish bathroom using this arrangement and interior.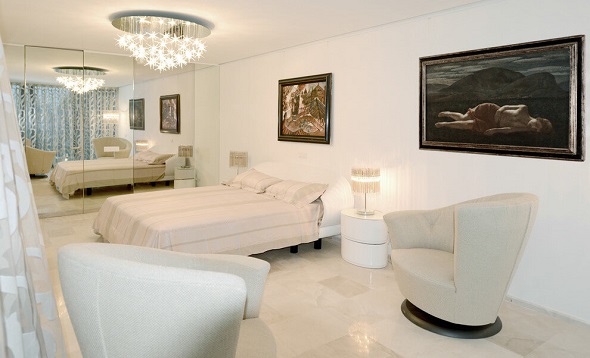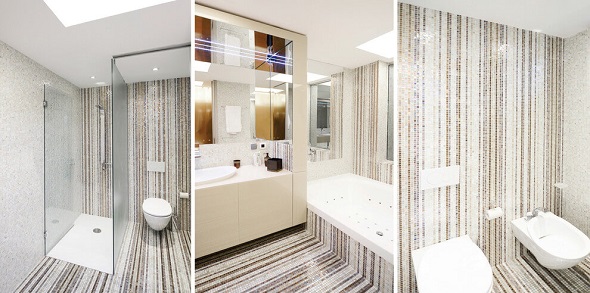 Luxurious Dining Room Beautified Classic Ornaments Bring An Artistic Value
Move to the luxurious dining room is beautified with classic ornaments. The designer chooses classic ornaments in order to generate an artistic value in it. You can spot there are some statues near the dining room along with some pictures. A crystal chandelier is hung up on the ceiling above the dining table. For the dining table itself, the designer chooses a glazed table along with red dining chairs. A.D. Architecture & Design has been successfully combining classic ornaments in this artistic dining room. Therefore, the result is nice and chic.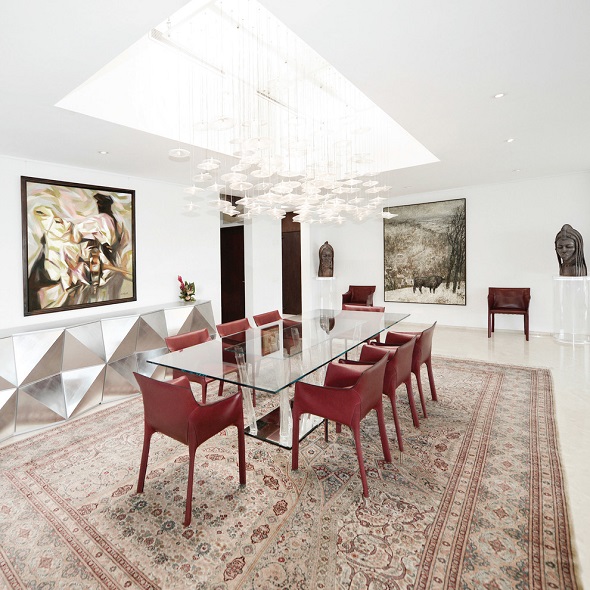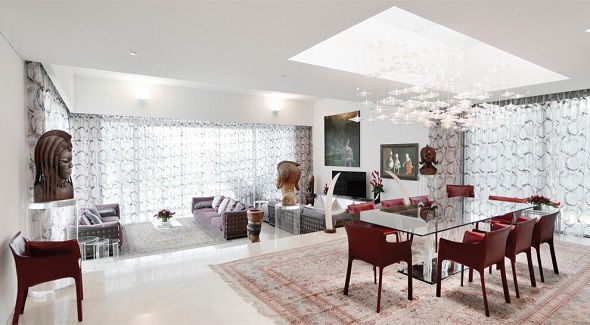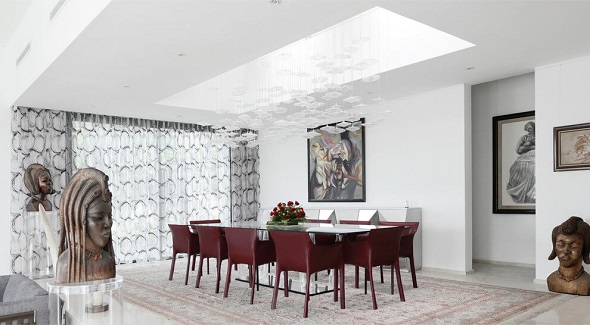 You are lucky because get a lot of inspirations from these luxurious home design ideas which is designed by A.D. Architecture & Design. The designer helps you a lot in decorating a large house becomes stylish and modern in the same way. If you want to see other designs, just visit and check here. Have a nice day!