Roohome.com – Having an apartment with a modern design is expected by many people. You have to see these 3 modern apartment layout makes our dwelling look more contemporary and trendy. It can be the coziest place in the world that would ask you to stay all day long. The beautiful living room design and the other interior concept from the designer will be perfect for your apartment also. An industrial inspired concrete wall panels that used around the space reflects an eclectic design. Take a look for the modern apartment interior design below!
Modern Apartment Design with Industrial Inspired Concrete Wall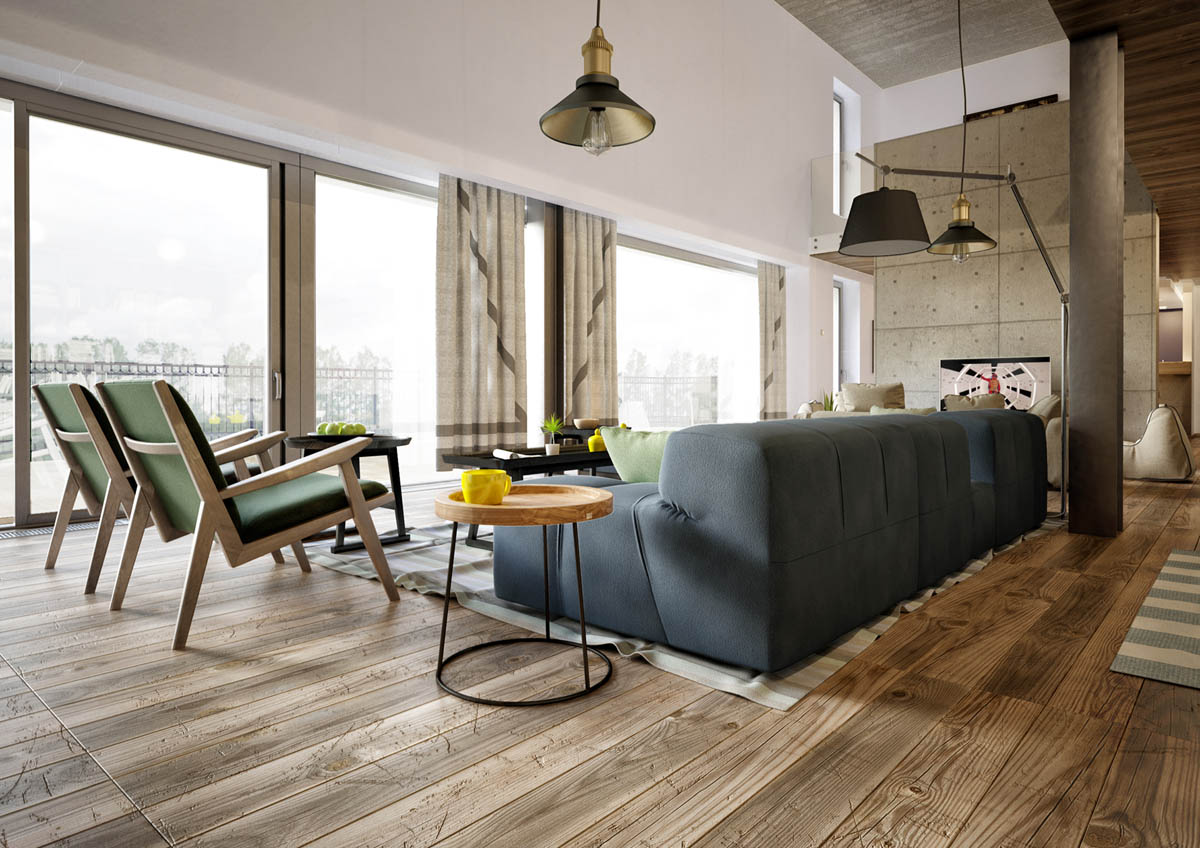 The beautiful interior design in this modern living room is very soft and cushioned. Pastel color scheme that designer use is also simple and look sleek. The use of concrete, richly colored wood, but also soft texture, makes for a welcoming and versatile home.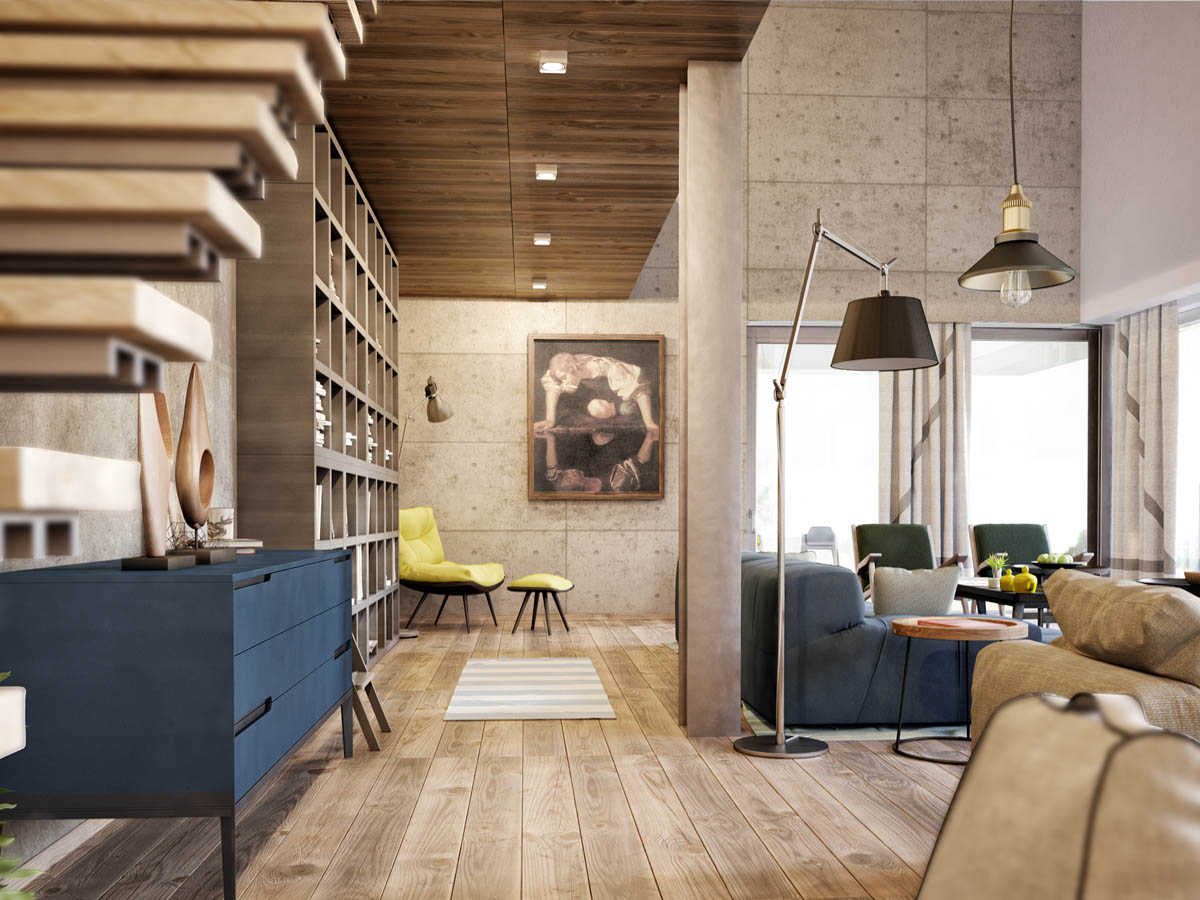 A wooden ceiling for this modern apartment interior design very appropriate to bring out a modernity impression that combines with the concrete wall panels inside. Floor lamps and other trendy furniture around this room, it would support a modern concept of space.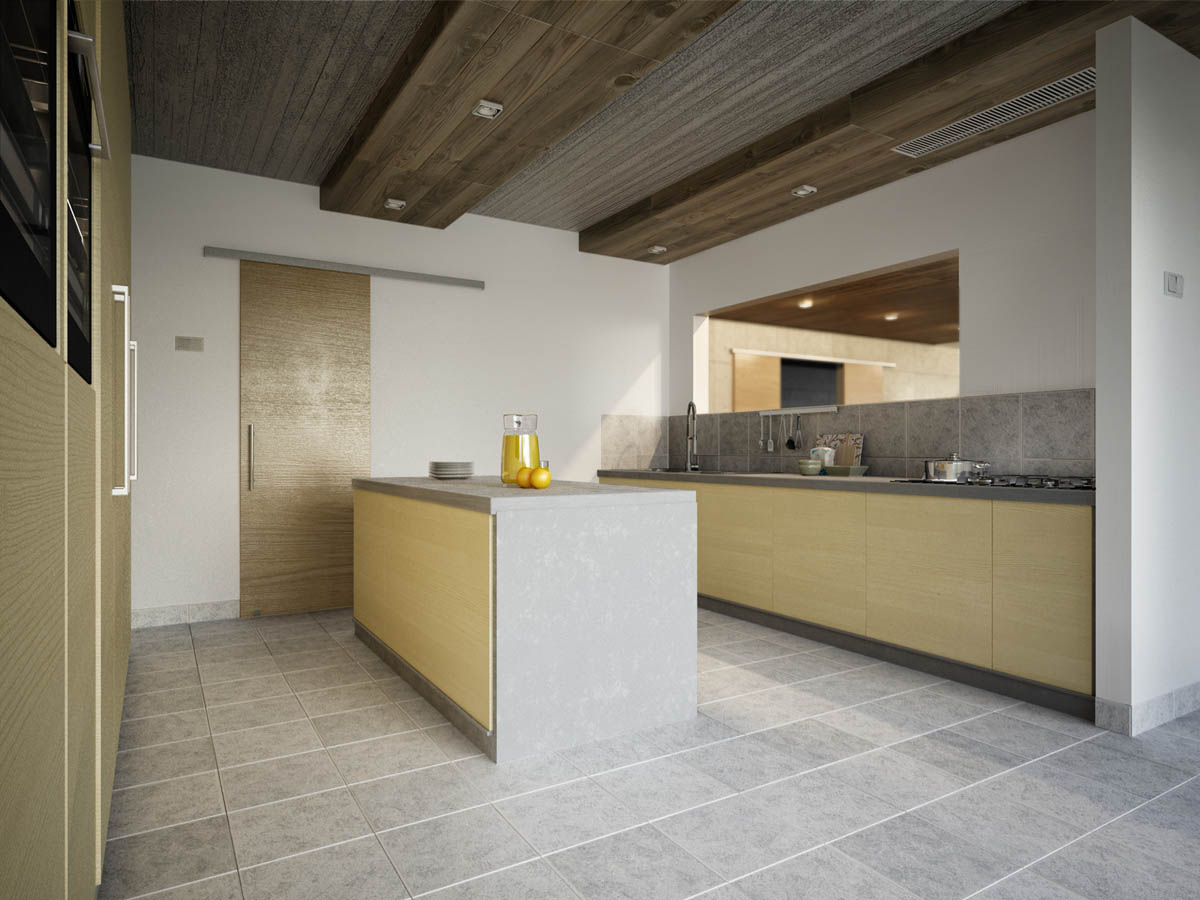 Concrete gray, soft wooden, and wooden ceiling for the kitchen make space does not look stuffy but those will make a beautiful and simple look around in.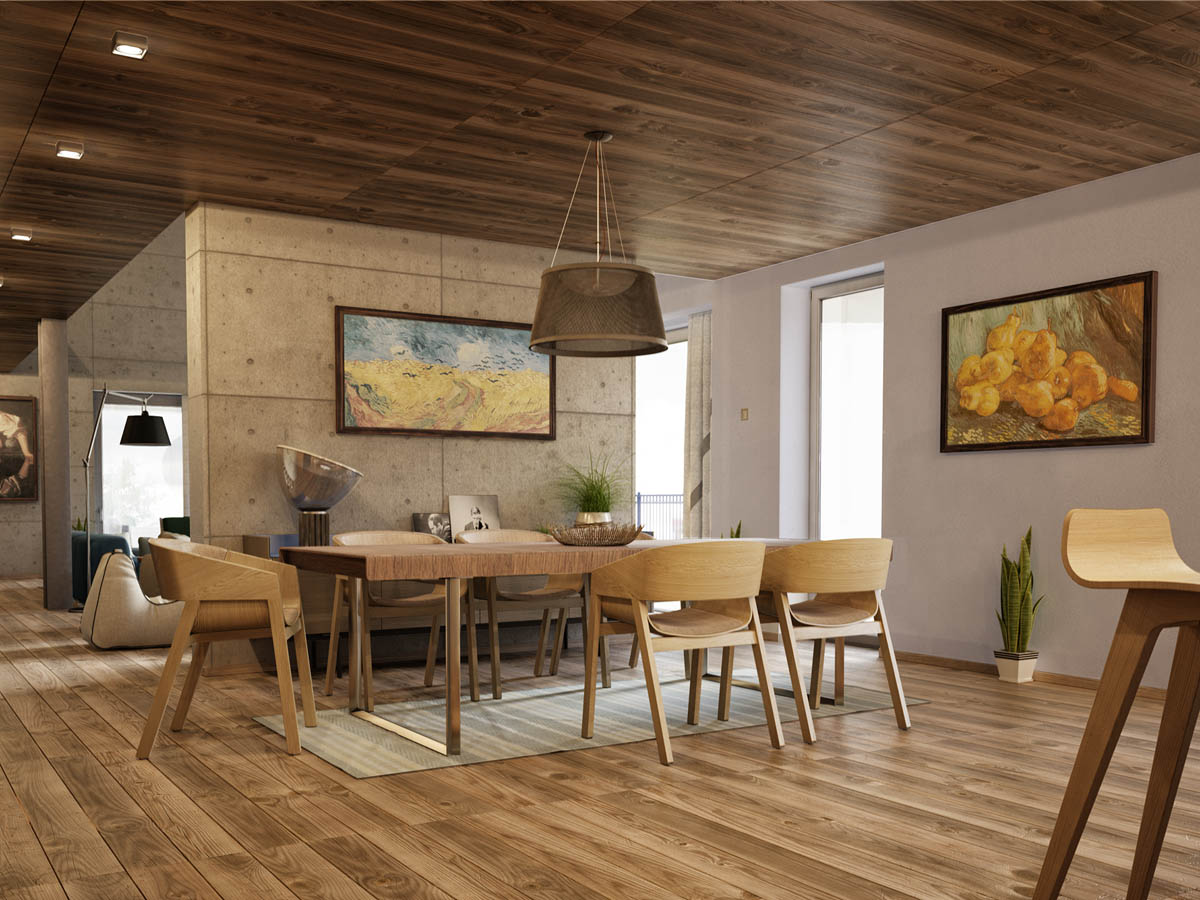 Modern dining room the return of the warm and soft wood is sure to get ready for enjoying your meals. Scandinavian chairs that using for this dining area looks perfectly to beautify the modern apartment layout itself.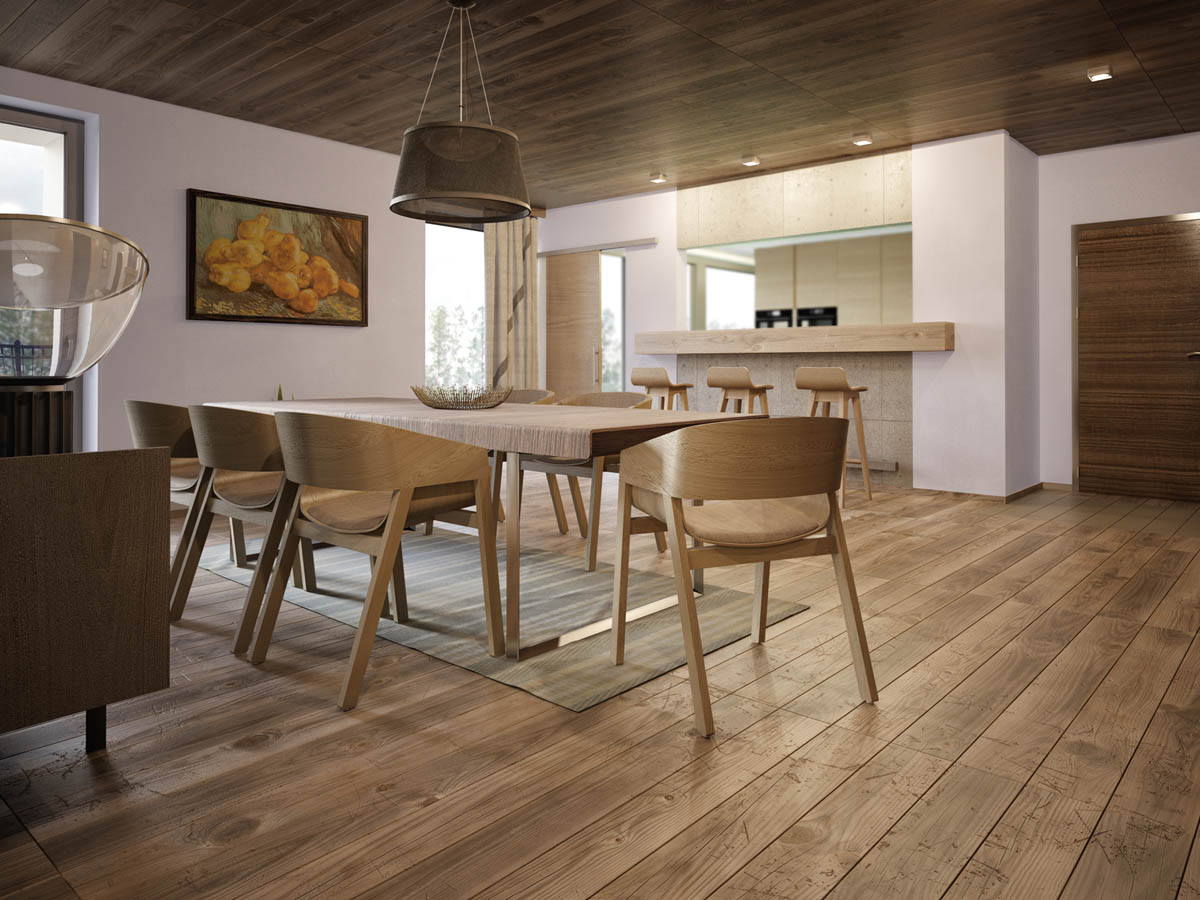 The kitchen might come off as a little cool. Trendy chair for the kitchen bar stools reflects the room into a contemporary nuance. A beige color that applies inside is blended perfectly with the soft wooden that used in.
Modern Studio Apartment with Eclectic Decor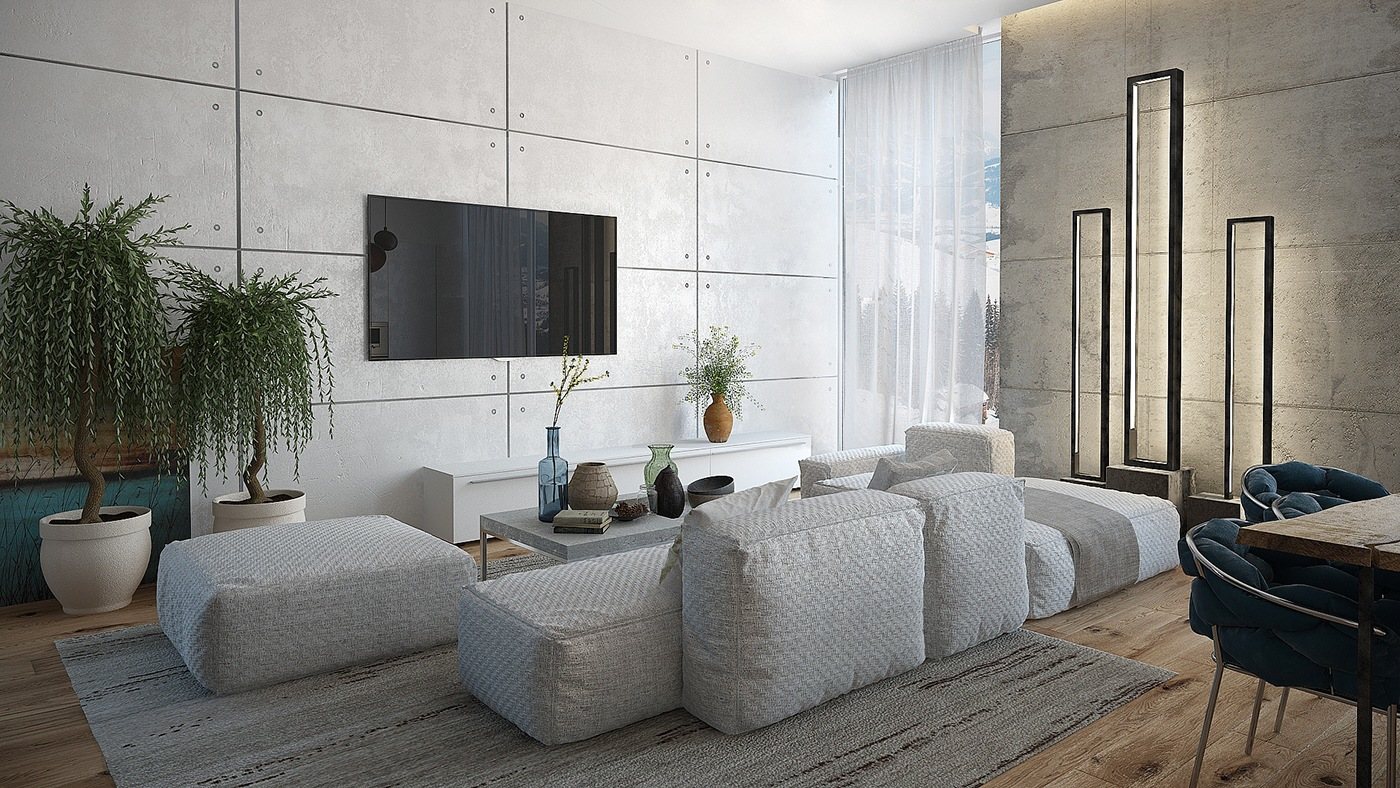 A modern style for an apartment with gray and white color combination for concrete wall panels make this room more stylish. Unique floor lamps and indoor plants around this room bringing a fresh serenity and make this room more alive.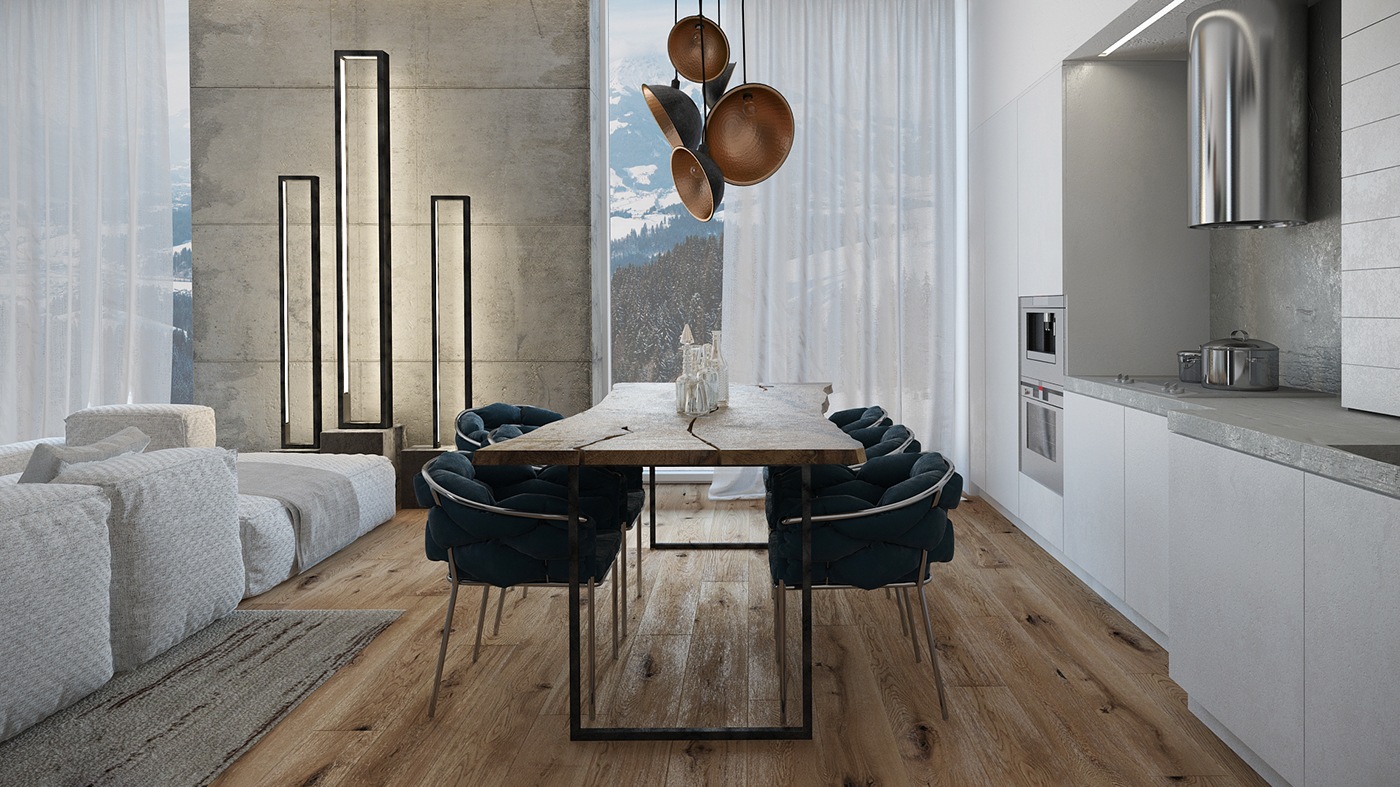 Whimsical chair and an industrial feature for the dining room set is quite chic and stylistic.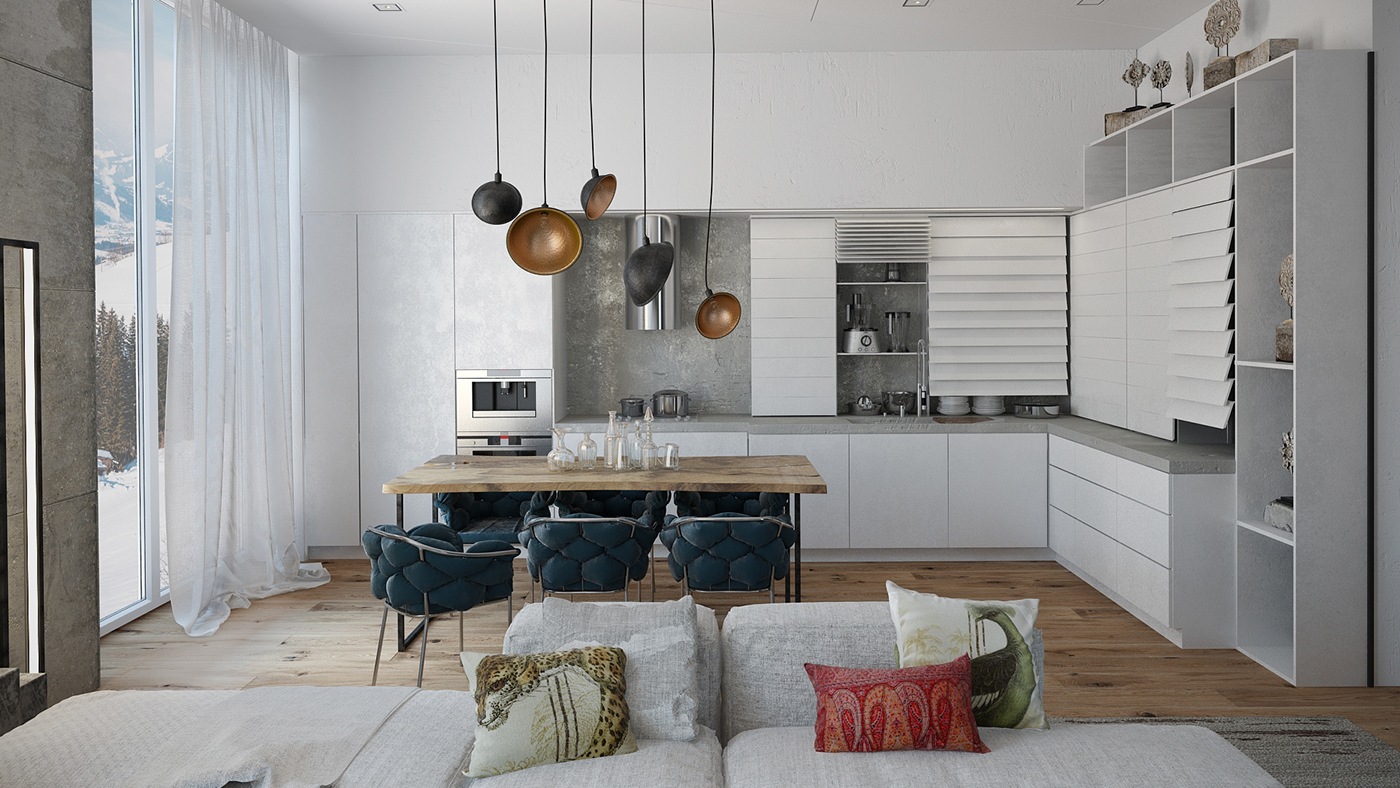 Unique pendant lights, white and a bit gray color shade for this modern open plan kitchen make an eclectic visualize to this modern apartment layout.
Modern Apartment Ideas with Industrial Feature and Concrete Wall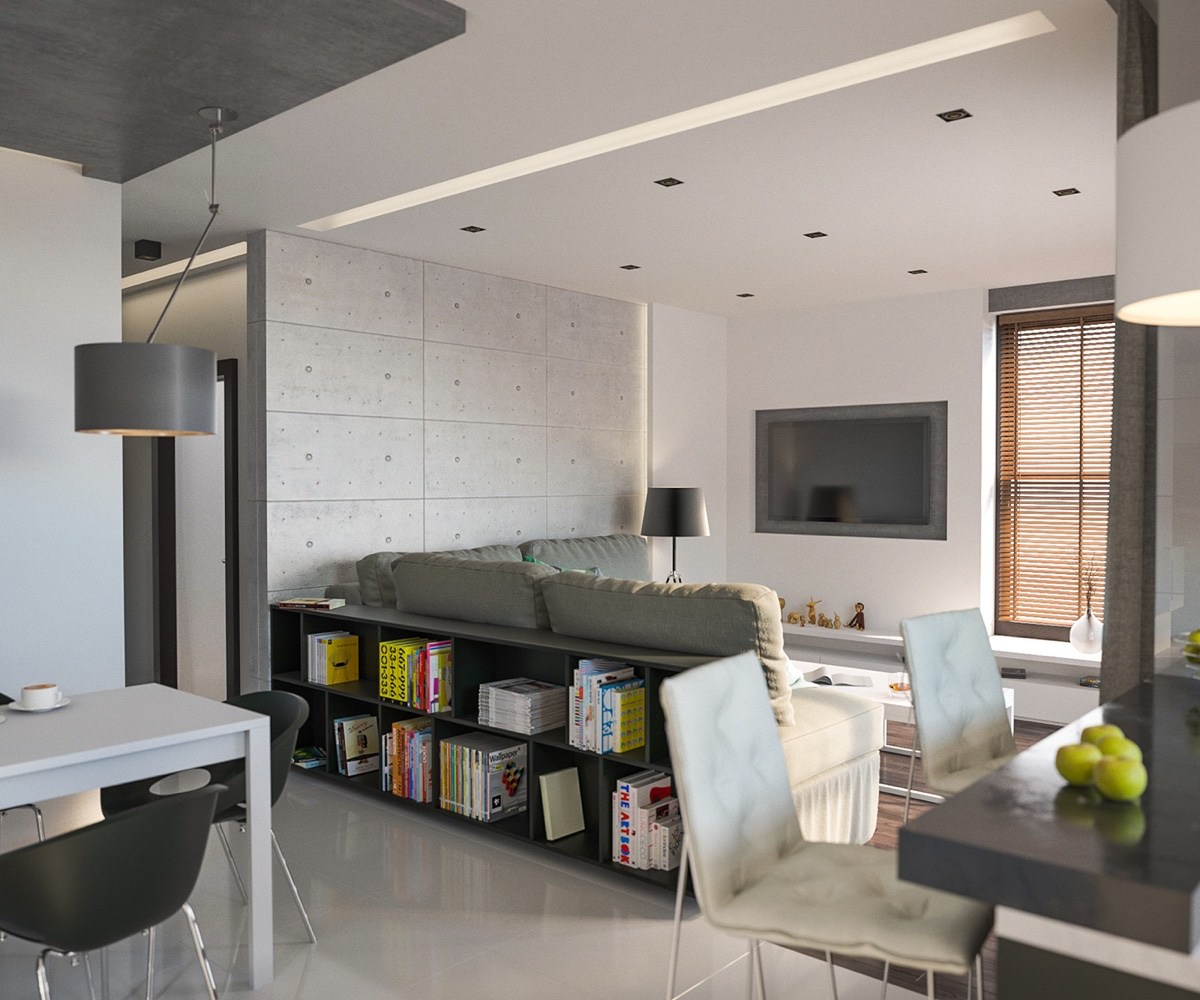 The soft living room design by using gray and white color would welcome anyone who comes to this space. Even you have a small space, but you can add the decoration by using an industrial concrete wall panel or put some unique lamp that might create the cozy feel.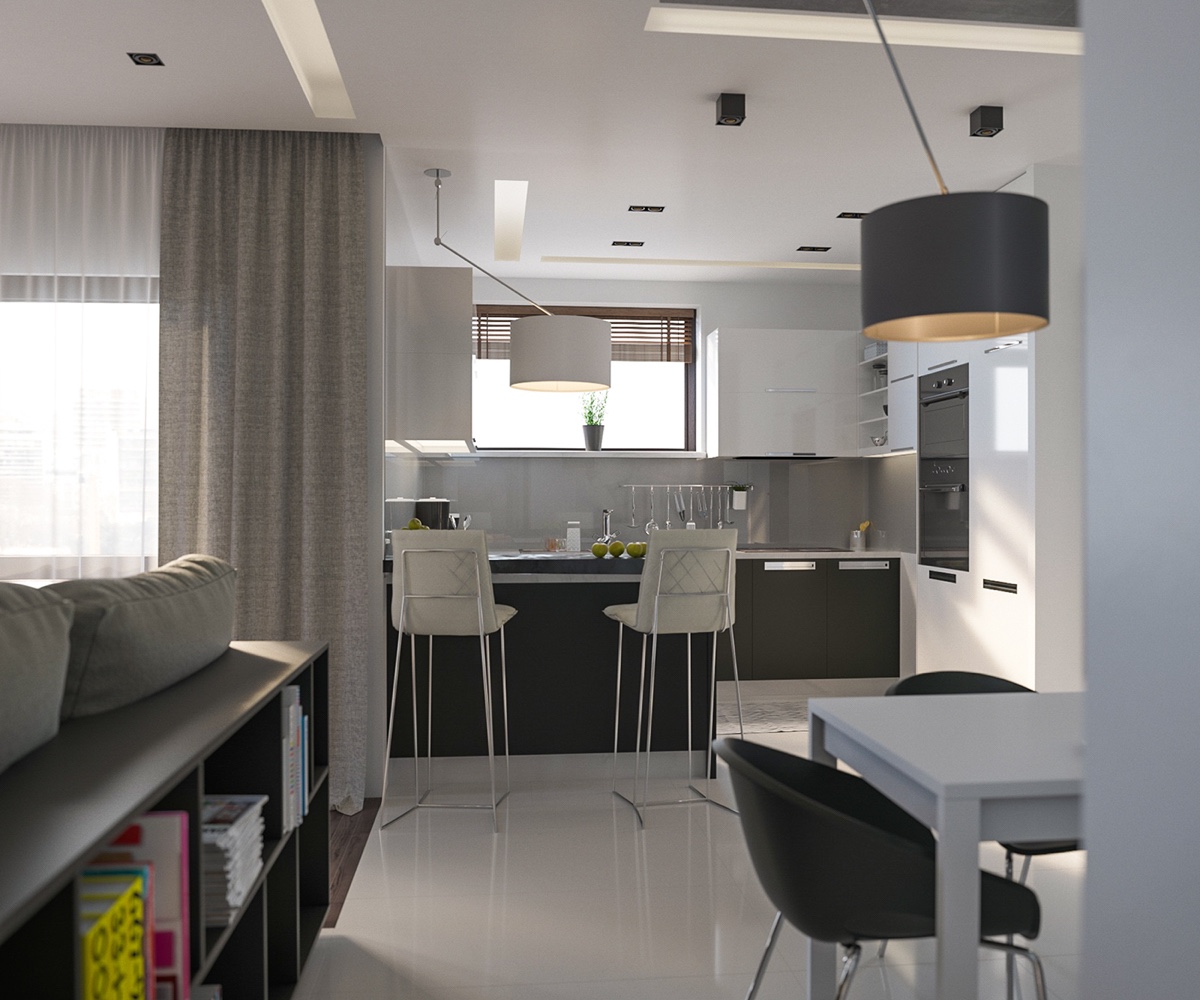 The kitchen which places in front of the window makes this room is bright and warm naturally. Industrial feature for the dining adding a trendy impression inside.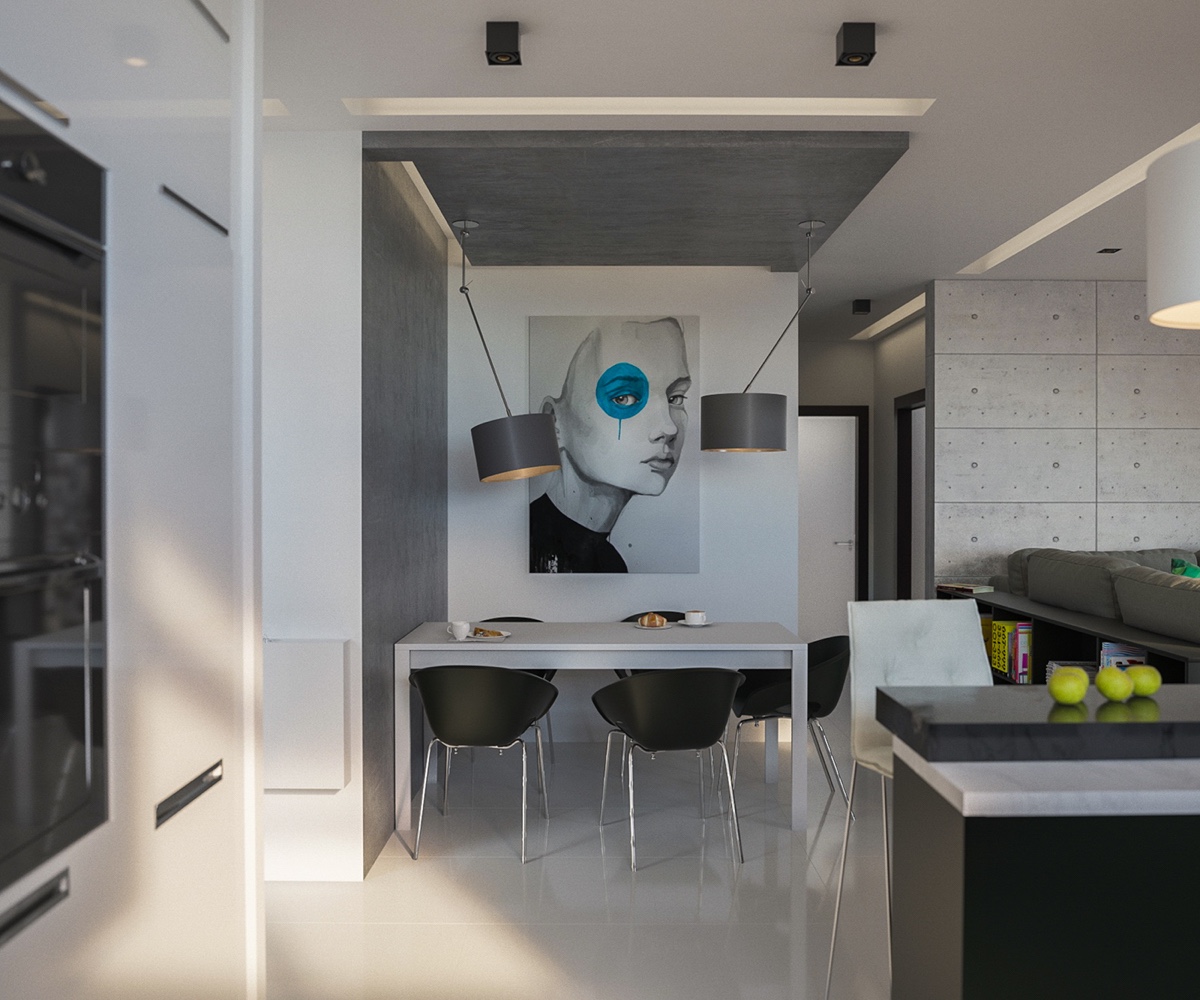 For the dining area, back to the gray and white concept are making the space more beautiful. An artwork design might cover the plain wall and show off a stylish look inside. So, which an eclectic apartment with a modern design you like?