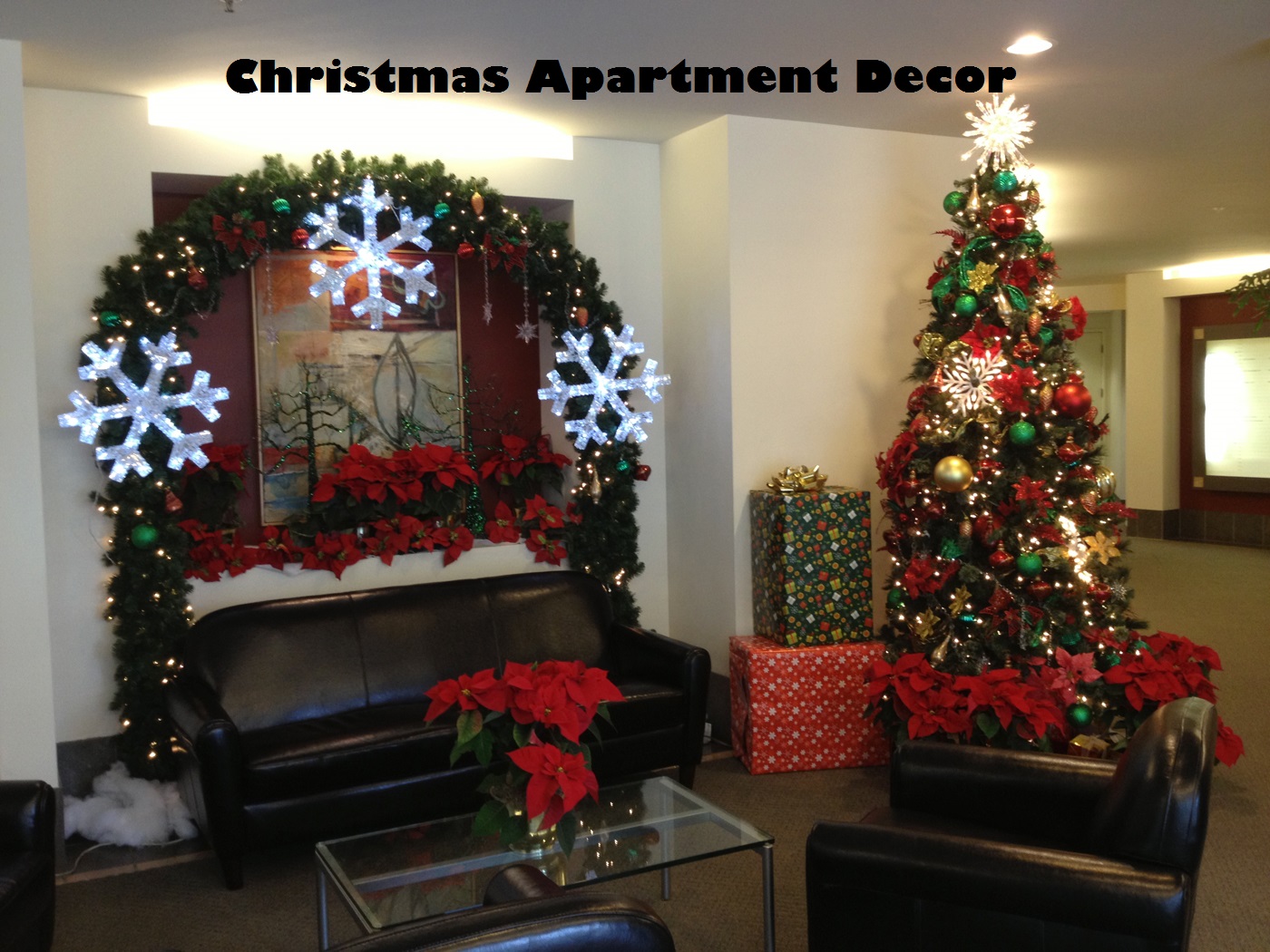 Ho Ho Ho Christmas is near… The day that many people are waiting for is really near. As this once a year event almost comes so it is the time for us to redecorate the rooms in our apartment with a Christmas theme. And lucky for you to see our article because we are here to help you to create your own Christmas apartment decor. We will guide you by giving you some examples and recommendation that you can follow.
Christmas Apartment Living Room Decor
Now let us start to redecorate your apartment living room with the Christmas theme first. As we know, this room is the one which people love to decorate the most. And below here, you can see some examples of Christmas apartment living room decor.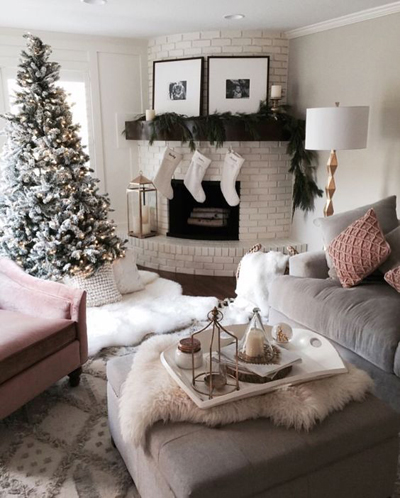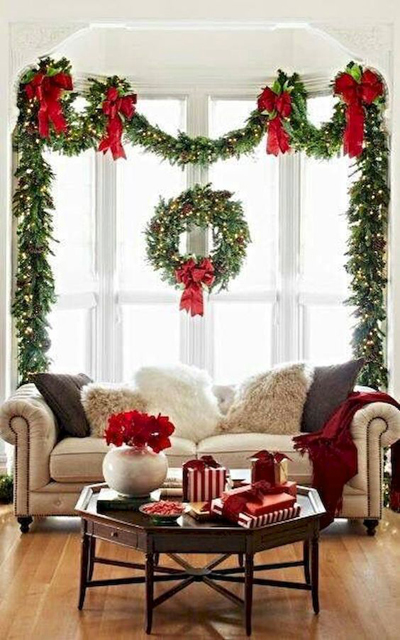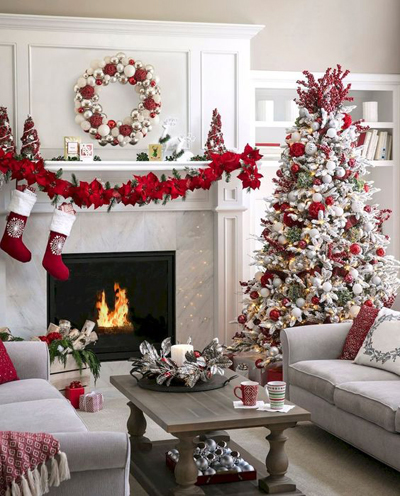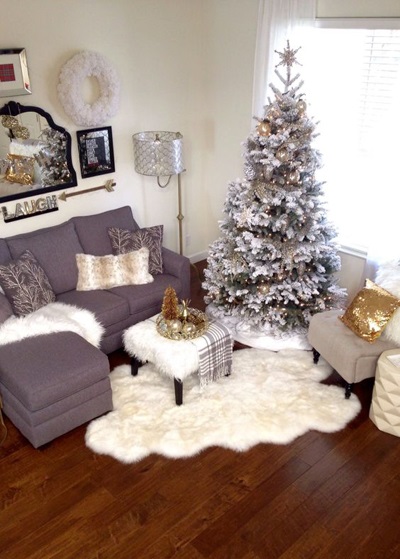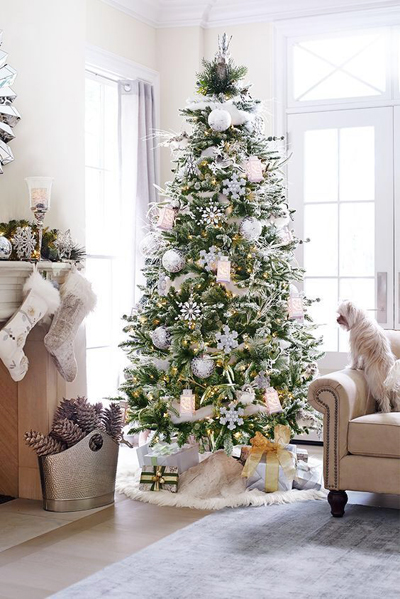 To create a Christmas theme in your living room, you can make an apartment decor like the example pictures that you can see above. The decor is really simple where there are not many decorations that placed in the room.
A Christmas tree often placed near the fireplace. As we can see, the first and third picture shows you where you should place the tree. And it would be better if you place it in the corner which has a window. But, if you have a small studio apartment, make sure to choose a smaller tree to adjust with the room size.
We can also decorate the fireplace with a greenery wreath and Christmas socks which hang on the top side of the fireplace. The example can be seen in the first and third picture as well. And you can choose which color that you like, the green one or the red one.
If you have a large window in your living room, you can also use the Christmas wreath to decorate it like the one in the second picture. Then, add some gift boxes to decorate your living room table. Surely, the Christmas atmosphere will be increasingly felt.
Christmas Apartment Balcony Decor
Now, it is the time to see the outdoor Christmas decorations for your apartment balcony. During the Christmas, we will see a lot of gorgeous apartment balcony which decorate by the owner. So, do not be left behind and take an inspiration from these apartment balcony Christmas decorating ideas below.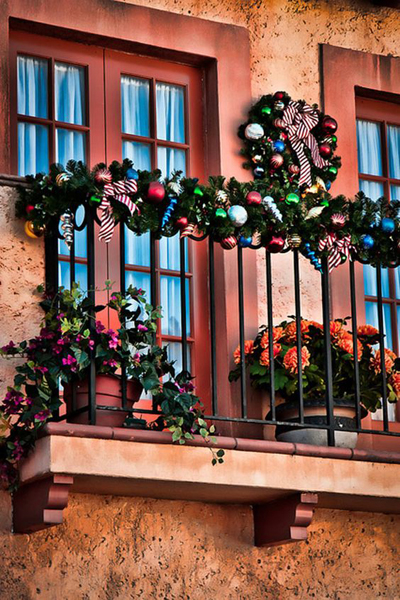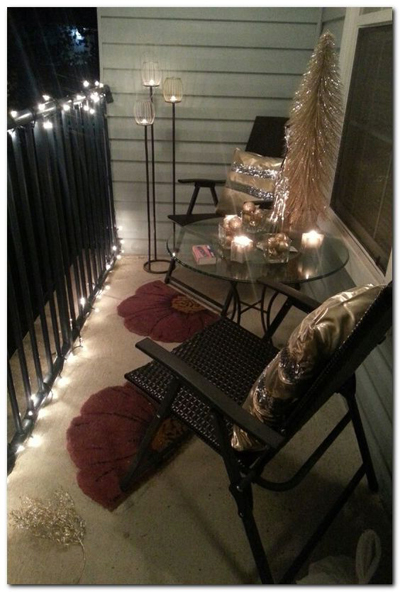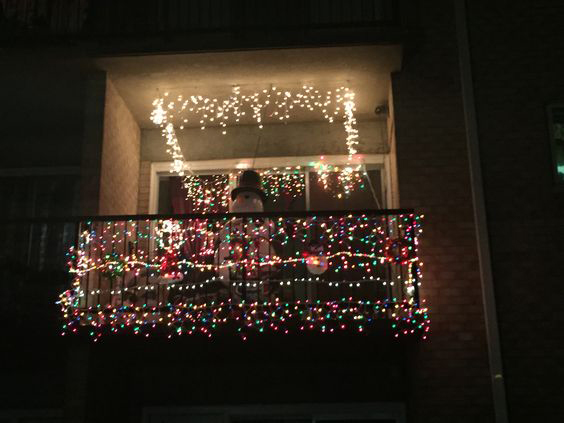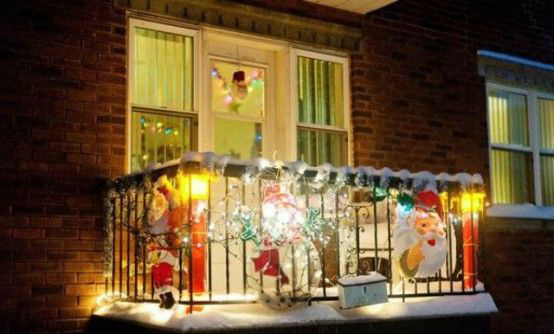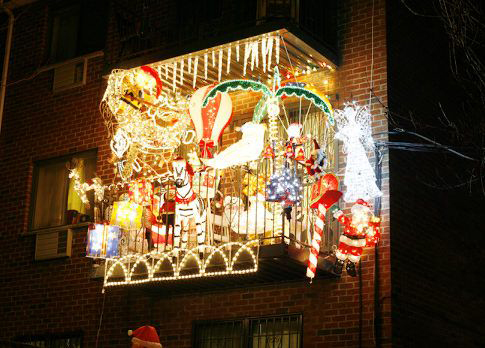 We do not need to confuse in order to decorate our apartment balcony as there are a lot of things that we can use to decorate it. From the three example pictures above, we will see what are the things that we can use.
First, we can use the Christmas wreath which made of greenery and places it on the wall and the balcony's fence. Then, beautifies it with some colorful balls and ribbon to make your balcony looks gorgeous. And you can also put some flower pot around it.
Or you may follow the second example where we can use the Christmas light to decorate the balcony's fence and a small Christmas tree to create the Christmas atmosphere. The decor is quite simple actually, but, it would be perfect to welcome this once a year event.
If you do not like a simple one, how if you try to use a lot of Christmas decorations and lights like on the third, fourth, and fifth picture. Of course, your balcony will look wonderful and different than the others.
Tips to Decorate Your Apartment
Now we are going to give you some little tips in decorating your apartment. Check out our tips below before you start redecorating.
First, if you want to buy a Christmas tree, make sure that you adjust it with your apartment room's size. If you have a simple small apartment, just buy the smaller one. If you buy a large one, your room will become narrow and not suits well.
Second, as we have mentioned above about Christmas tree placement, make sure to place it near the fireplace if you have as it can increase the Christmas atmosphere. Or, you can place it in front of a window.
The last, do not think that we need a lot of decorations in decorating the rooms. It is totally wrong. Using fewer decorations can still look good as well. So, it all depends on our taste.
Closing
That is all that we can share the Christmas apartment decor. May this article will be useful for all of you who want to redecorate your apartment in order to welcome the Christmas event.