Everyone wants to own a home that looks worth a million dollars with elaborate moldings, intricate architectural fixtures, and oversized windows. No wonder, American homeowners spend thousands of dollars in home improvement projects, making their home look luxurious and eye-catching.
In fact, according to a recent LightStream Home Improvement Survey, 58 percent of Americans are ready to undertake home renovation projects this year. Further, nearly 45 percent are willing to spend more than $5,000 to own a luxurious house that wows their guests.
However, the fact is you don't have to spend thousands of dollars to make your home look expensive. A little bit of smart planning, elbow grease, and stylish home décor accessories can work wonders in transforming your abode into a luxurious living space.
Read on to include these home décor accessories in your dwelling to add a sense of charm and character to it.
Incorporate Plush Textures and Patterns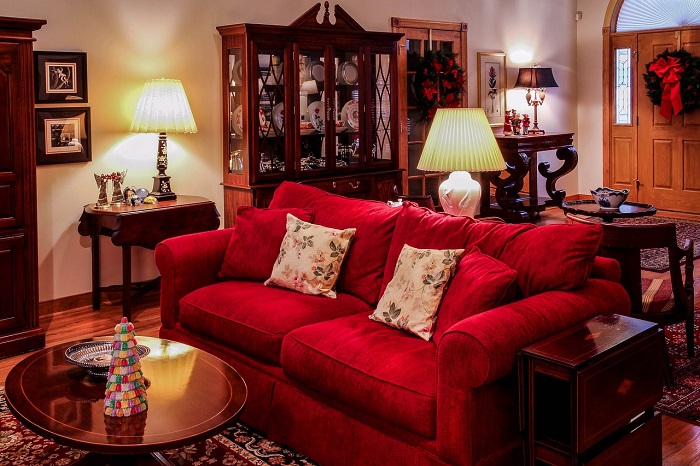 (Source: Pixabay)
Patterns and textures look striking, offering the eyes something interesting to look at. They are not only attention-grabbing, but also add depth, dimension, and richness to the interior décor. Here are a few ways in which you can add texture and pattern to your rooms, making them feel cozy and complete.
Upholstery: Add visual interest and instant coziness to your home interior by using luxurious and textured fabrics for upholstery. Fabrics like velvet, suede, silk, damask, faux fur, faux leather, and brocade render an expensive appeal to a room. Invest in kilim pillows, velvet tapestries, silk linen bedding, and sheepskin throws to add a lavish texture to your rooms.
Floor Accessories: Textured floor accessories like area rugs or carpets can add a flair of opulence while offering a hint of your personality to your rooms. Choose rich textures and patterns that complement the overall design scheme of the room, rendering an element of lavishness to the décor.
Architectural Elements: Intricate moldings and ceiling medallions not only add depth and character to a room but also make it look regal. Couple these with a chandelier, and voila, you have created the ultimate luxurious living space for yourself!
Embellish with Statement Furnishings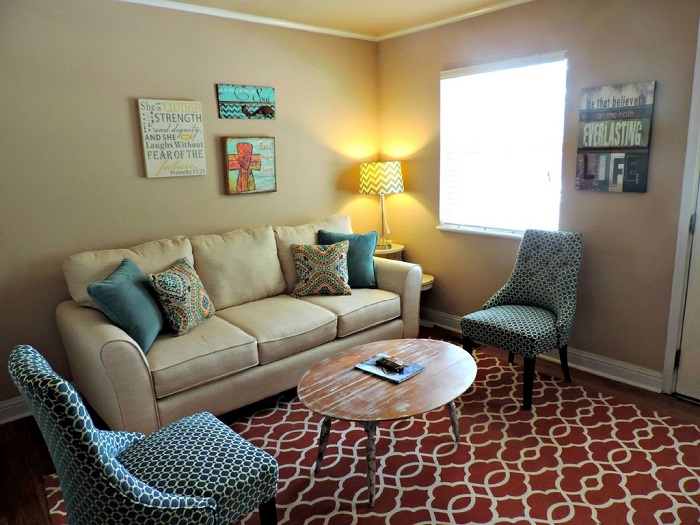 (Source: Pxhere)
If you own a statement piece of furniture, such as a designer couch, an oversized coffee table with a crystal top, or a four-poster bed with an attractive headboard, consider highlighting it with an attractive home décor accessory. For instance, draw attention to your signature sofa by placing layers of bright cushions, thereby rendering an opulent appeal to your room.
Similarly, you can transform your bedroom into a deluxe space by draping the four-poster bed with silk or satin curtains and placing large bedside tables on each side.
Invest in Lavish Lighting
Ever paid attention to the lighting in five-star hotels? Most luxury hotels employ an abundance of lavish lighting fixtures like chandeliers, wall sconces, mood lights, lampshades, pendant lights, and side lamps to light every corner and create a soothing ambiance.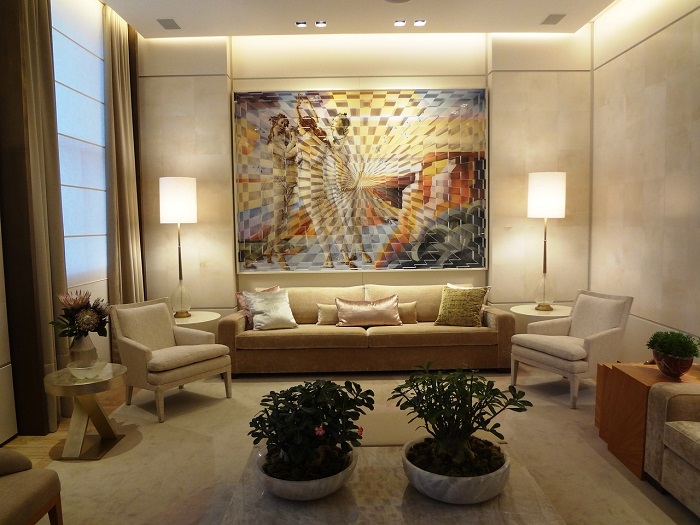 (Source: Pixabay)
Lighting is one of the core aspects of home décor. Invest in a variety of lighting fixtures to make your living space feel warm and cozy. Further, use accent spotlights to highlight the architectural elements and wall decoration pieces, artworks, and family photographs, attracting your visitors to these illuminated areas.
Mood lighting can add depth to the room, giving an understated rich appeal to the home décor. Add dimmer switches to create a relaxing ambiance and make your home feel like a luxurious hotel.
Glitz It up with Metallics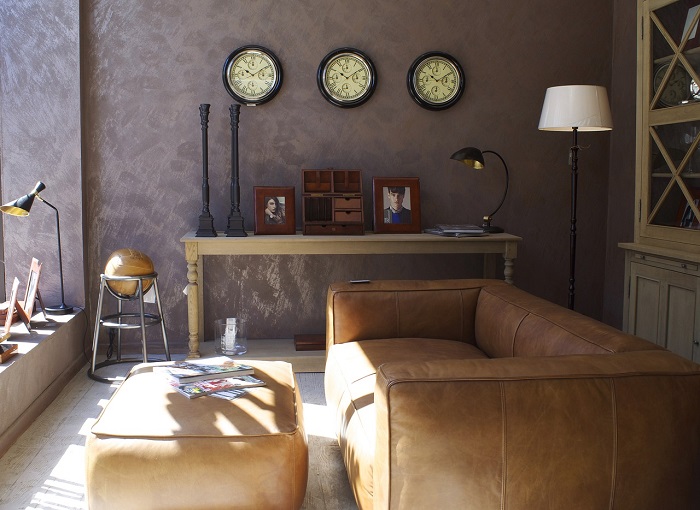 (Source: Pixabay)
Nothing adds glamor and extravagance to the home interiors like a touch of glimmering metals and mirrors. Mix metallic pieces with soft textures like wool, velvet, leather, or silk to neutralize the striking presence of these accessories while giving an understated charm to your living area.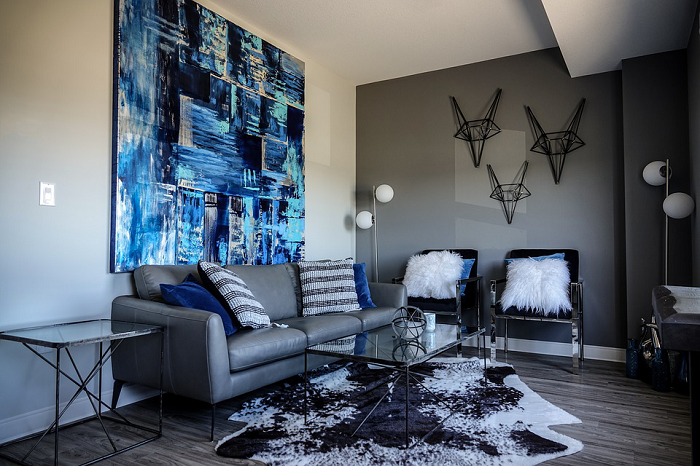 In the above image, you can see how metallic accessories like the lamp, the wall pieces, and the body of the armchairs and coffee table exist in perfect harmony with the leather couch and the faux fur cushions.
However, too many glimmering pieces can make your home look flashy and distasteful. Make sure you don't go over the top with metallic home accessories. Aim at creating a balanced and sophisticated look.
Camouflage Household Eyesores
Old cabinets and appliances, muddled television cords, awkwardly-placed light switches, ugly air vents, radiators, and utility meters can spoil the look of your home. Use your creativity to refurbish or camouflage them to create a neat and attractive look.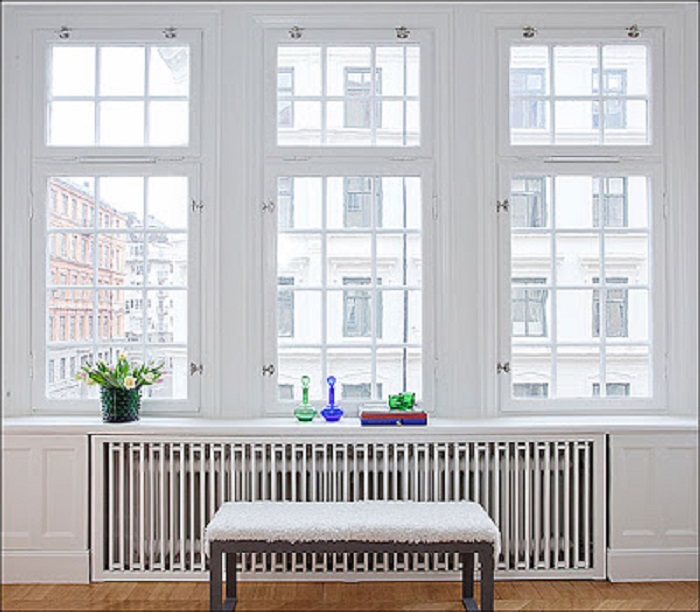 (Source: Annehem)
For instance, radiators are an excellent source of warmth in the house, yet they prove to be an eyesore in the non-winter months. Use a decorative screen that's easily available at all hardware and home improvement stores, converting it making it into an aesthetically-pleasing home décor element. Alternatively, you can use a few DIY hacks to make a striking radiator cover that complements your interior décor.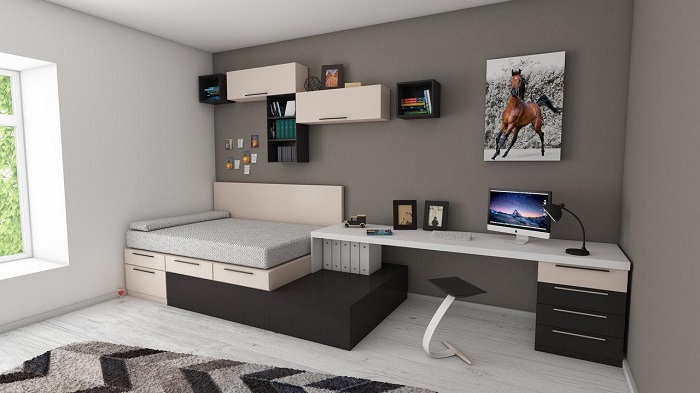 (Source: Pexels)
Similarly, utility components that support your central heating system, namely the heat flow meter, thermostat, wires, and air vents can be blended into the background or covered with an attractive casing or a bookshelf, giving your home a smart and luxurious appeal.
Invite the Outdoors Inside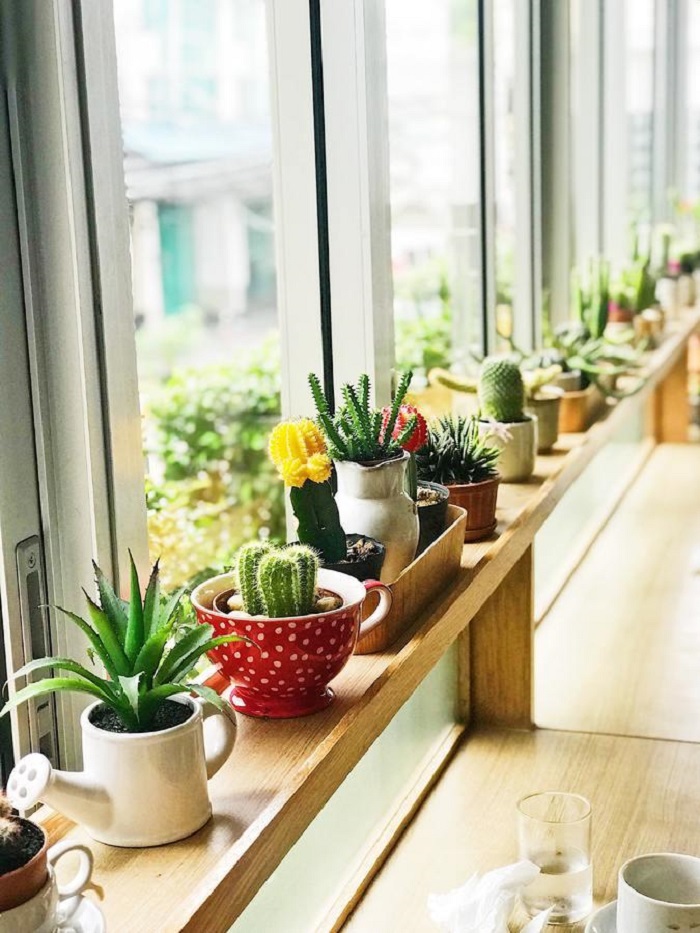 (Source: Pxhere)
Nothing says luxe like the presence of fresh perennials, succulents, and flowers inside your room. Invite nature into your home by placing plants and bouquets on mantels, coffee and dining tables, and bathrooms, elevating the look of your interiors. Plants render a sophisticated yet earthy appeal to a living space, livening up the room for all those who visit you.
If your fingers are far from green, consider mixing faux plants with a few low-maintenance live perennials, making a stunning visual impact. Artificial plants and flowers also add a pop of color and freshness to the room without much need for maintenance.
You don't always have to undertake an expensive home renovation project to make your home look luxurious. Using the right home décor accessories and placing them aptly can help you infuse a dose of luxury into your living space. Go ahead and try the aforementioned tips to create a dwelling that impresses your visitors.
Author bio:
Ann Neal (twitter: @Ann_G_Neal) is a freelance writer who covers technology, home decor, and fashion. She is passionate about music and loves to play guitar in her free time with her cute pooch listening quietly 😉