Are you in the quest to find a versatile and stylish flooring option for your home?  There is, however, a lot of types that could fit into those descriptions. You can have hardwood floors, tiles, or, of course, carpets.
Carpets are often chosen by homeowners for both their functional and aesthetic factors. The primary beauty of having them at home is how they provide comfort, cushioning, and a warm surface under one's foot. In the making of carpets, a type of fiber is looped through a certain backing material, just like sewing a button into a shirt.
Before you ask questions, like, "Which color should I get?' or, "Where can I find carpet stores near me?" there's an important factor you might've forgotten—the types. A carpet's style and type must be suited to the room you intend to put it in. Fortunately, there's quite a number excellent types of carpets to choose from.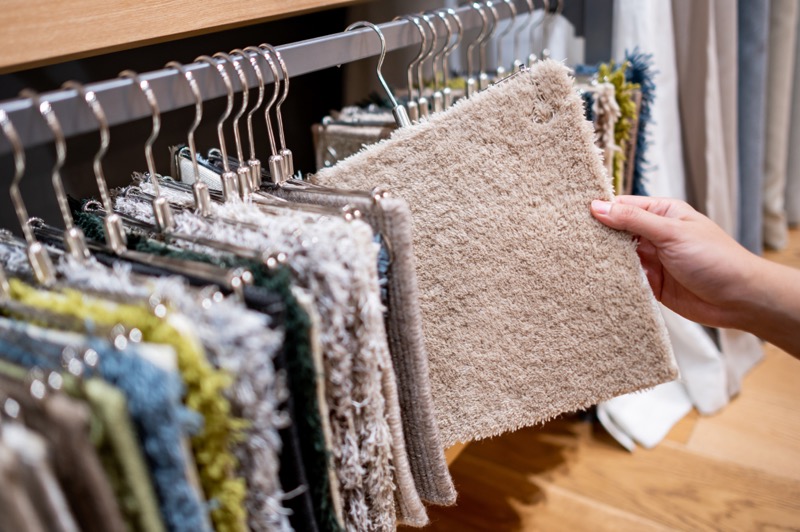 Here's an in-depth overview of each type for you to make better decisions for your home's flooring:
1. Nylon
Nylon-fibered carpets still continue to be a standard option among households. Nylon was manufactured as an alternative to silk. If you're to ask a salesperson about nylon carpets, they might show you wo types—6 and 6, 6. These numbers refer to the carpet's structure, but, regardless, both are highly durable. As long as they're treated well, they could last for about 12 to 15 years.
Nylon carpets have fantastic benefits, too. These include:
Strong and resistant to grazes, crushing and wearing, and growth of mildews and molds
Easy to maintain
Versatile when it comes to styling
Durable
2. Polyester
Known for its dazzling appearance, great resistance to stains, environmentally friendly aspects, and inexpensive costs, a polyester-fibered carpet is another excellent choice. The super soft polyester carpets have a delightful selection of colors and styles. They'd be perfect if you're into a 'greener' option because they're made of recycled plastics.
Polyester carpets aren't resistant to crushing. They still might wear down and lose their texture, especially when placed on high-traffic areas of the house. So, if you want them installed, be sure it's in a room or area where there's not much traffic.
3. Olefin
Similar to the previous types of fiber, an olefin carpet, also called polypropylene, offers excellent resistance to stain. It's a synthetic fiber that can resist moisture, so it's best placed on a balcony or porch. This also leads to the belief that its colors won't easily fade when exposed to sunlight, bleach, or other harsh elements.
However, olefin-fibered carpets may not be as durable as the other types. They tend to tousle quickly, and since they attract oils, cleaning them would be a challenge. Still, on the bright side, they're one of the most affordable carpet fibers in the market.
4. Triexta
If you want something new and fresh in the marketplace, check out the triexta-fibered carpets. These have two other names—PTT or polytrimethylene terephthalate and Sorona since they're partly made of renewable corn sugar.
Moreover, triexta carpets have the following advantages:
Made to resist stains
A lot cheaper than nylon-fibered carpets
Can resist moisture, mildews, and the growth of molds
Can be planet-friendly due to the corn glucose
Offer a squishy soft feel underfoot
5. Wool 
Wool is a natural, classy, and tough material. Not only that, but it also has multiple benefits:
Naturally resistant to soil
Renewable and eco-friendly
Doesn't cause allergic reactions
Offers a soft and luxurious feel when touched
Resilient and durable enough to withstand high-traffic areas of the house
Expected to resist flames
Genuine wool carpets are manufactured without additives or chemical elements, making them suitable for those who are allergic or sensitive to chemicals. But, along with that advantage is their susceptibility to fading when exposed to extreme sunlight, as well as low resistance to stains and chemicals.
Furthermore, since they're natural, they might be susceptible to damages caused by molds and mildews, which are known for consuming organic substances. Therefore, they're not a good choice for areas of the house that are frequently moist.
6. Acrylic
The texture and appearance of acrylic carpets resemble a wool's, but cheaper. They're made out of acrylonitrile, a clear plastic, and are often advertised as synthetic wool carpets. Like the other fibers, they're resistant to moisture, stains, fades, and static electricity. However, they're not as durable, particularly when placed in high-traffic areas.
Final Thoughts
When it comes to choosing a carpet for your home, understanding what it's made of will make a significant difference. Hence, take your time, consider where you'll be placing it and what its ultimate purpose is, learn about the many fibers in the market, and look for the right retailers. Doing things step-by-step and with the right knowledge will allow you to select a carpet that's suitable for you and your family.