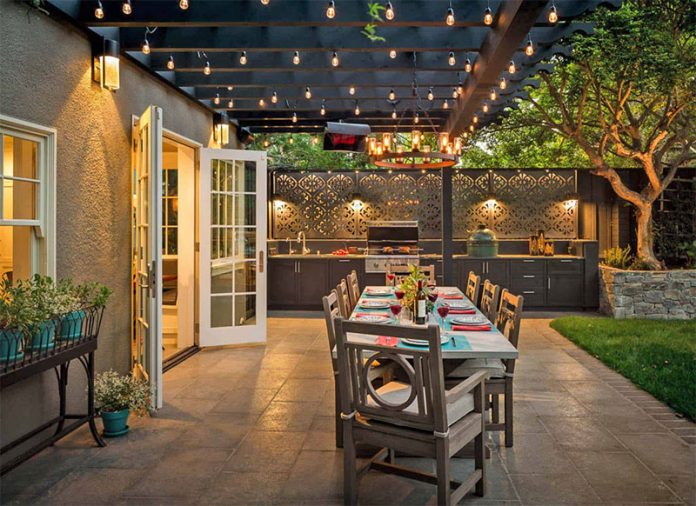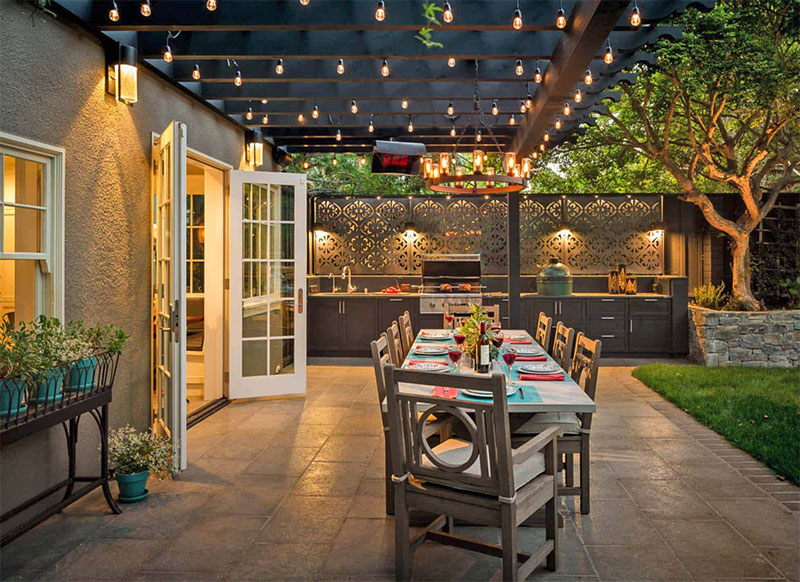 Roohome.com – Giving an attractive impression into your home is very important because the appearance of the house will affect the mood of the people in it. If you have a beautiful back garden in your house, making an outdoor dining room can be used as an option to bring an attractive impression to the house. In addition, by making the dining room in the backyard will make this place feel comfortable to gather.
For those of you who are interested in it, here we have provided the best ideas of the outdoor dining room that can you follow. So, let's check it out!
Beautiful Outdoor Dining Room Idea with Plant Roofs
A backyard or garden certainly does not escape from fresh and green plants. You can use this to make the outdoor dining room look attractive. As seen in the picture below, roofing plants can be a solution to make a dining room look beautiful. Green color seems to surround this place and make it look fresh.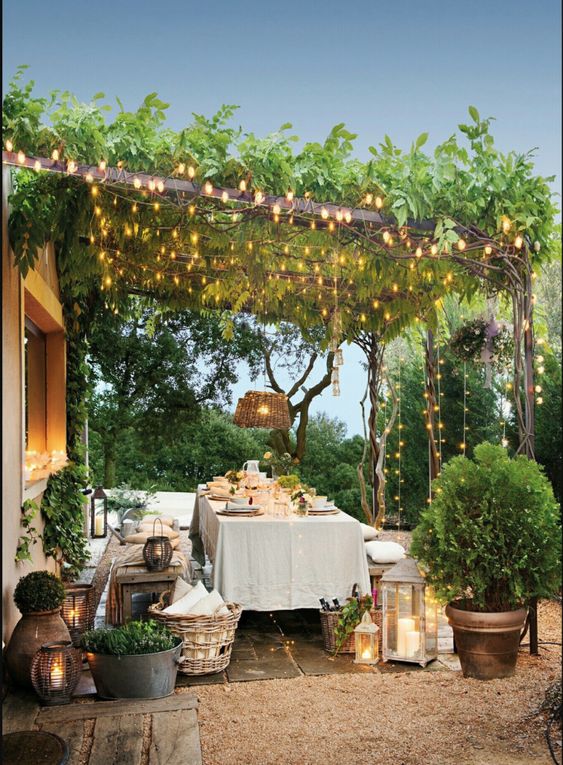 Beautiful Flowers Make an Outdoor Dining Room a Romantic Place
Want a romantic dinner with your partner? This time you no longer need to rent expensive restaurants or go to far away to get a beautiful romantic moment. The outdoor dining room can also be used as a romantic dinner spot.
Flowers with beautiful colors on plants can be used to bring a sweet nuance to the dining room. The use of beautiful pots also adds to the beauty of this outdoor room. In addition, the flowers make this place smell nice so that you and your partner become relaxed.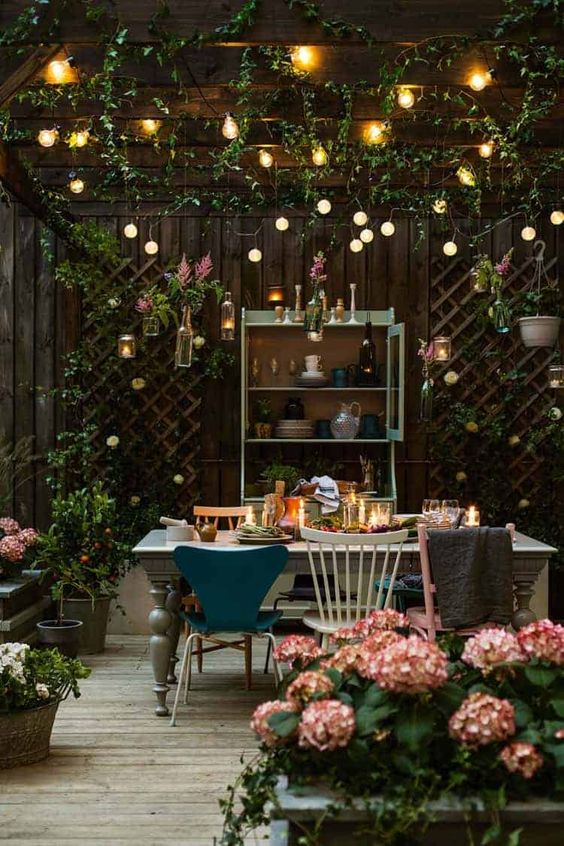 Attractive Outdoor Dining Room with Items You Can Find Easily
No need expensive equipment to make outdoor dining rooms look attractive. With the tools around you, you can use it to make this place look beautiful.
As shown below, the ladders and the hanging lamps are enough to make the outdoor dining room look beautiful. Hang ladders with ropes on strong tree branches. Then add some hanging lamps there. Warm lighting from the hanging lamp brings a warm atmosphere to this place so that the outdoor dining will be comfortable.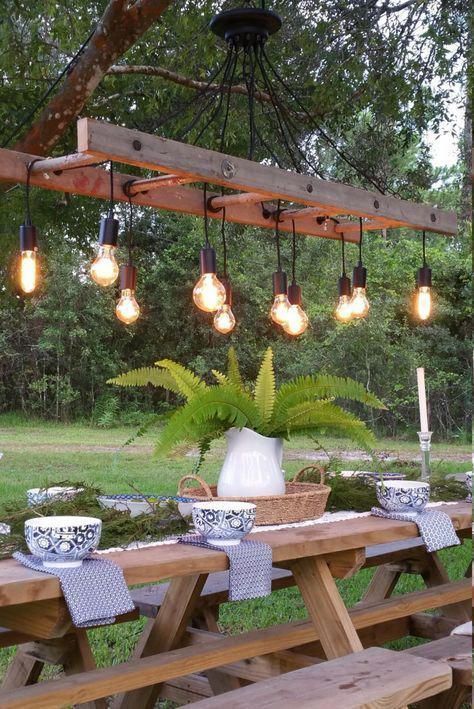 Beautiful Outdoor Dining Room with The String Light
Lighting becomes important in the room, including open space. In addition to making the room look bright in the dark, the use of proper lighting can also add a beautiful look to the place itself.
The string light in the outdoor dining room makes it the right item to use. Hanging string light on the roof makes this place look beautiful and sweet. A warm impression can also be felt even though the dining room is in an open place.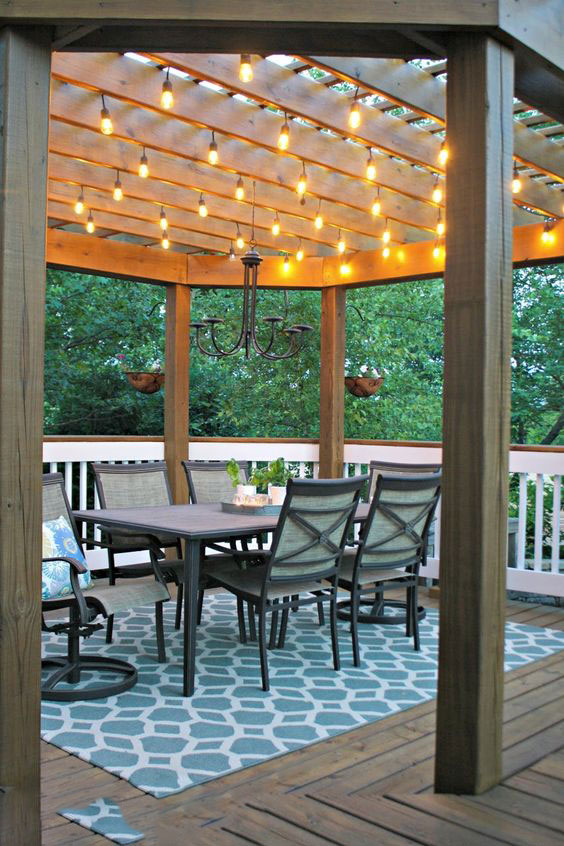 Breakfast Accompanied by Sunlight
Sunlight is very important for the health of our bodies. Getting sunlight in the morning can also help improve mood so that we can go about our daily activities with enthusiasm.
Creating a dining room on the terrace of your home garden is a very appropriate idea. The use of a soft dining room chairs adds to the comfort of this place. The presence of benches given a soft mattrass makes it look attractive. Simple pendants can also be used as decoration for this place so that the outdoor dining room will look beautiful but simple.