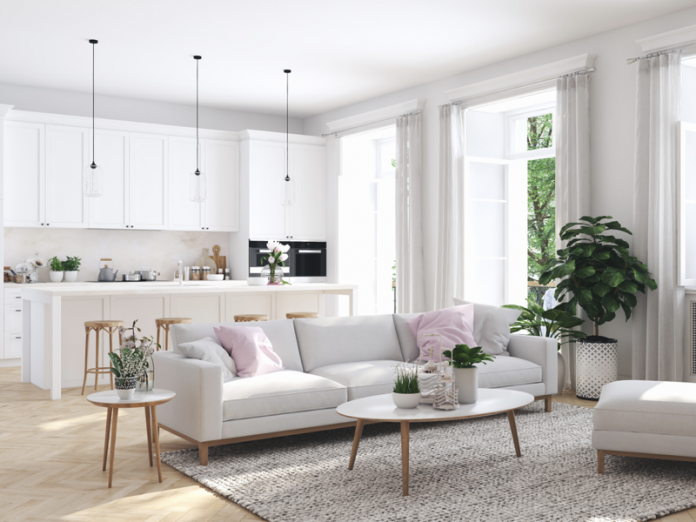 Whether you are lounging in the living room, working in your home office or resting in your bedroom, nobody wants to feel cramped or claustrophobic in their home. Unfortunately, even an average-sized room can feel small if there's a lack of natural light or you've decorated the room with dark colors.
Countless interior designers and magazines have endeavored to assist the typical homeowner in making a small room feel larger. Central to achieving this illusion is natural lighting. We've all seen the picturesque rooms with large windows and glass doors, but not every home has these helpful features. Adding additional light sources like pendant lights, a wood veneer chandelier, wall sconces and floor lamps in the right spots can enhance the appearance of your room's actual size.
Use Bright Lights to Mimic Natural Lighting
Even if a room has plenty of windows, if they aren't facing a direction that allows natural sunlight to flood the home, you can still end up with a dark room that feels and looks small. To counter this, you need more than a single light bulb in a ceiling fixture.
Lighting has come a long way in recent years. With LED lights, you can choose from a variety of colors with varying levels of brightness. If you want to mimic the brilliance of natural light, look for LEDs with higher lumens.
Another great way to brighten up a room and make it appear bigger is with hidden lighting strips. Consider running a hidden strip around the ceiling of the room to give the effect of more height. You can also place strip lights in the frame of windows that don't receive much sunlight. Even if natural light is not shining through, the lighting strips help brighten the room.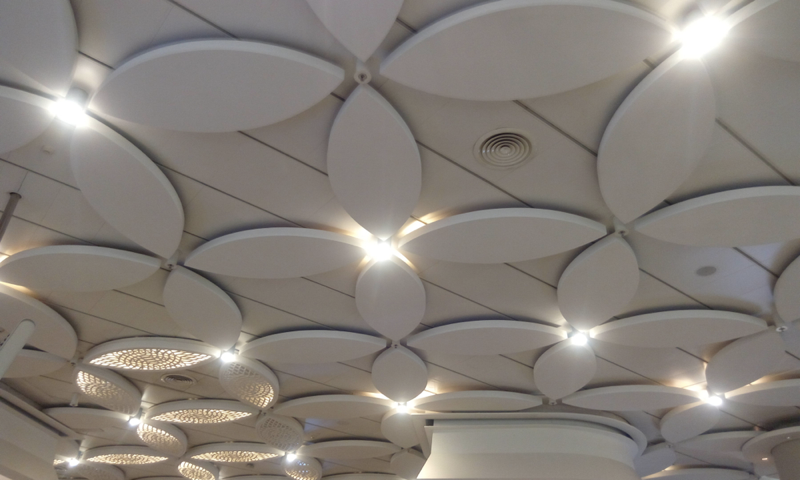 Choose the Right Ceiling Lights
Utilizing the vertical space in a room can also impact how large the room feels. The distance between the ceiling and floor should be considered when choosing lighting for the room. Most rooms in a house have a single ceiling light in the middle of the space. While they're meant to illuminate the entire room, it's often not sufficient or casts an orange glow that feels dim. To make the room appear larger, you need to choose a ceiling light style that improves the way light is cast on the space.
Pendant lights, recessed lighting and flush/semi-flush mounts can all impact the vertical space of any room. In kitchens, recessed lighting often increases how large the room feels by creating more open space. These lights fit into recessed areas in the ceilings instead of hanging down and taking up ceiling space. Because these lights are not encased, the illumination radiates out from the bulb in all directions, providing more light.
To create the illusion of a larger entryway, it's vital to add lighting. However, you don't want to put a pendant light in your foyer. Instead, a flush or semi-flush light with LED bulbs is the answer. The daylight color temperature of this light will give the impression of a spacious entry and make all those who enter feel welcome.
Light Up the Corners
Every corner of every room has potential. Without adequate lighting, dark corners only take space away from your room. To combat this, add lighting to your corners with floor lamps. Choose tall, slender lamps to avoid losing floor space in your room to the lighting source.
Alternatively, if you can't sacrifice any floor space, even in the corners, you could consider adding wall lighting to the area instead.
Add Wall Lighting
When space is limited, you can't waste any of it, and your walls are a perfect example of this. You might not have the floor space in your room to add a long spindly floor lamp. Instead, try adding a couple of sconces to the wall. You can even incorporate them into your gallery wall or use a couple of wall lamps to highlight your home's art pieces.
Use Glass and Mirrors
Nearly every interior decorator will tell you to use mirrors and glass to make a room look and feel larger. These reflective materials are perfect for brightening a room and adding depth, texture and space.
If you are adding a table lamp, choose one that has a clear glass base. Not only will the light refract off it, but being able to see through the glass will assist in visually opening up the room.
It's common practice to place mirrors across from natural lighting sources such as windows. However, if the room doesn't allow for that, consider placing a mirror across from your wall lighting, such as sconces.
Mix and Match
It should come as no surprise that having a consistent color scheme and theme can impact the feel of not only your rooms but the entire home as well. When looking to maximize space and make a room feel larger, a light, neutral color scheme is the best route to take. These lighter colors are less likely to absorb light, making the room seem smaller than it is.
If your room utilizes vintage hardware and lighting, one option would be to use light-colored shades on your lamps.
While you want to stay consistent with themes, it is suggested to mix your lighting sources. Don't stick with just one light source in a room. Try adding an accent lamp to go with your wall sconces. The additional lighting will brighten the room and create the sense of a large welcoming space.
Make Your Vision a Reality
Whether you are staging your home for showings or planning to entertain guests, making any room in your home feel spacious is important. Lighting plays a critical role in creating this illusion. Assess the darker, smaller rooms in your home and determine where to add more lighting or alter your light source to create the impression of a larger, more open space.
A few simple changes like adding a mirror, incorporating glass elements into the space or adding wall-mounted lights enhance how big your room feels.