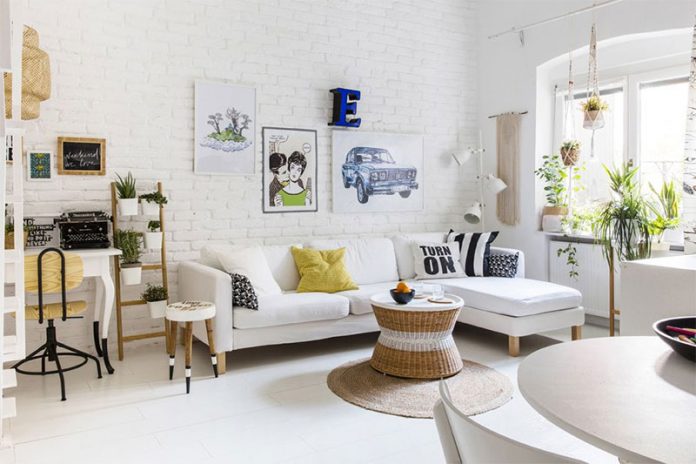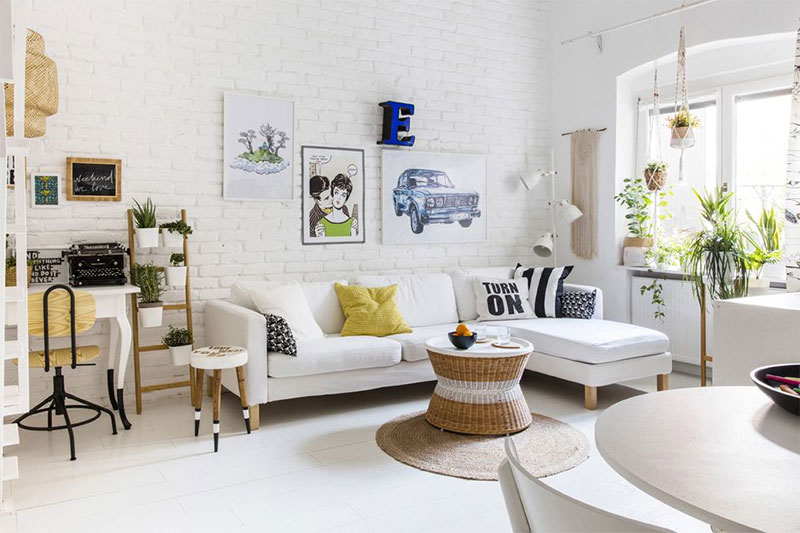 Roohome.com – Having a small living room doesn't mean we can't make it a comfortable and stylish place. It takes creativity and more effort to make a small living room look beautiful, it is because we cannot use the things we want. In addition, the right decorations are also needed to beautify this small room.
Here, we have provided Decors & Ideas of Simple and Attractive Small Living Room Design that can be your references. So, let's check it out!
Modern Small Living Room with a Traditional Touch
Traditional style in the room is indeed a practical way of presenting warmth and comfort. Some wood elements on the floor, ceiling and some minimalist furniture give this room peace. Bright neutral colors are the right choice for this living room.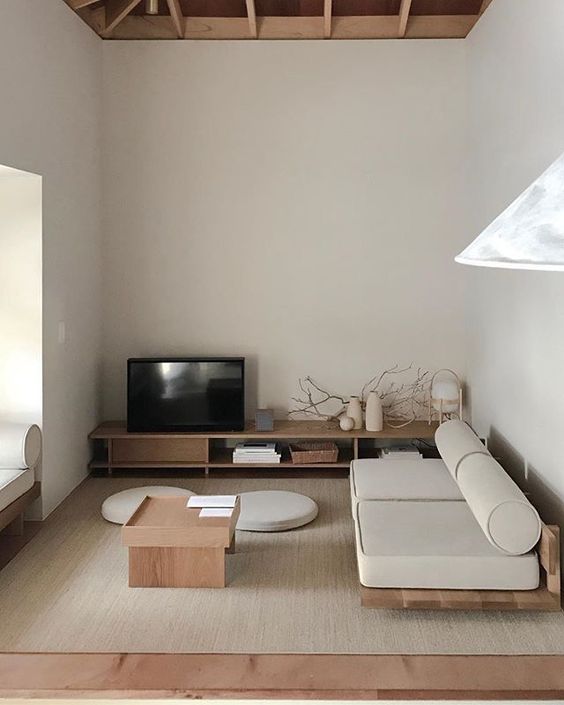 Scandinavian Make This Room Simple
Scandinavian style is the most fitting style to be applied in a minimalist living room. A simple and calm impression can be felt in this style. In addition, the use of neutral colors makes a narrow living room look sweet. The furniture used in this style is also important furniture, so will be much space in the room which makes this room feel more spacious. Some simple decorations like painting and plants make the room look fresh.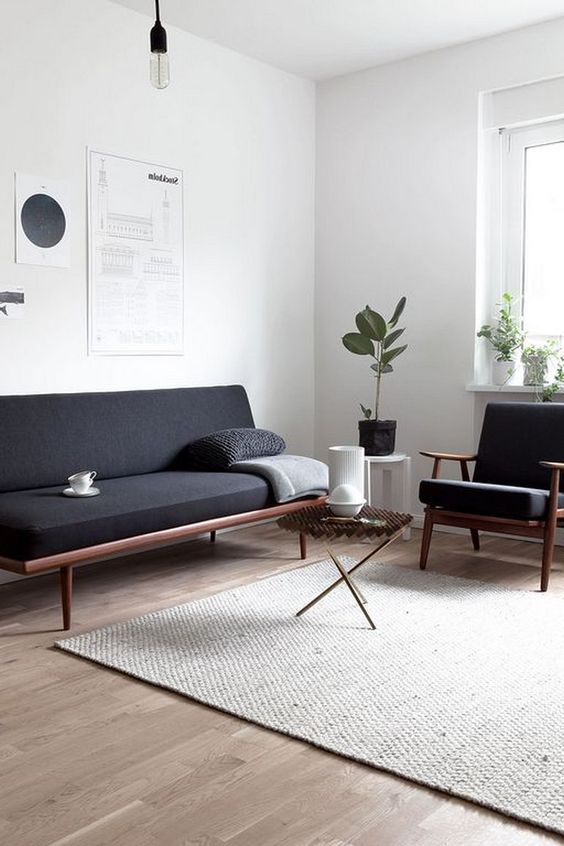 Low-Profile Furniture
Because the room is small, of course, it needs adjustments for every piece of furniture used in this room. To make a small living room not feel cramped, use low-profile furniture, especially for tables and chairs in the living room. White colour is the right color to be applied to both of these furniture.
Simple and Elegant Simultaneously
Who says an elegant look can only be presented in a large room? Small rooms can also be made to look elegant. The white color in the entire living room makes this small space feel relieved. The elegant appearance can be felt by the presence of the Chester mattress which is used as a seat. The right decoration in the form of soft rug and cushion with a darker color to sweeten this room.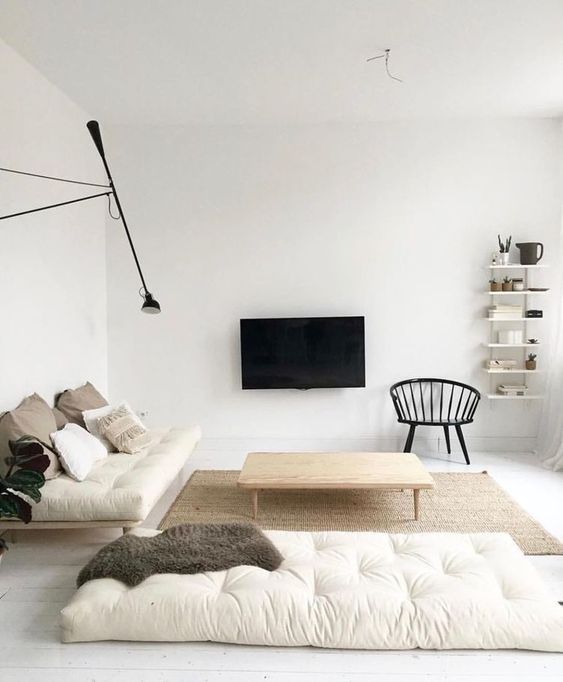 The use of carpet can also be regarded as a living room decoration. However, for a small living room, the function of the carpet not only makes the living room look beautiful and more attractive but also makes this small room look more spacious.
Some touches of black in the room provide a soothing sharp contrast display so you can feel elegant and simple together.
Mirror in The Corner of The Room
Brightness is needed for a small room to make it feel more spacious and not cramped. Use the mirror as a living room decor is a great idea. The light entering the room through the window will bounce off and make the small living room brighter. In addition, the mirror will reflect the shadow of the room and make your living room look large.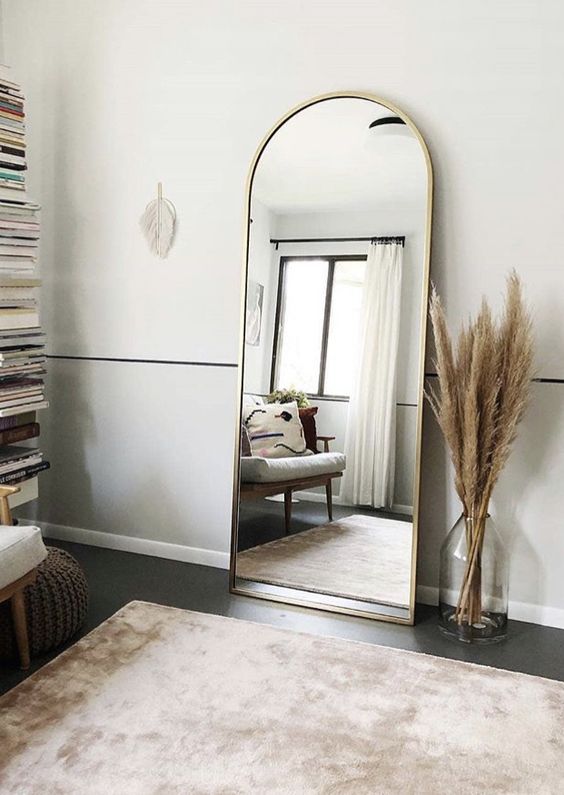 To make the living room look attractive, place a medium-sized plant next to the mirror. Beautiful vases or plant pots are added to give this simple room a beautiful appearance.