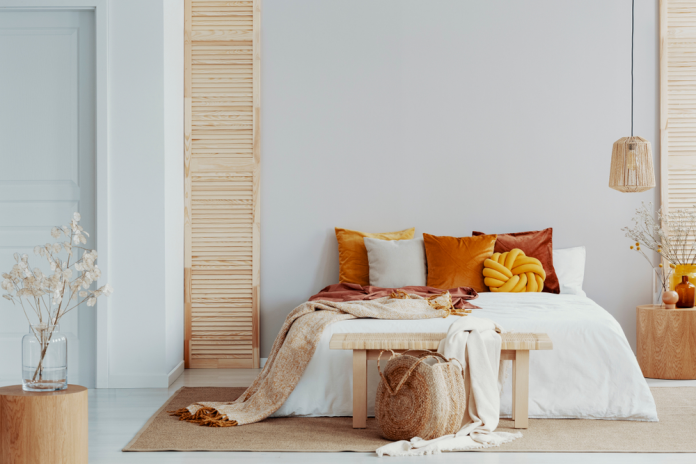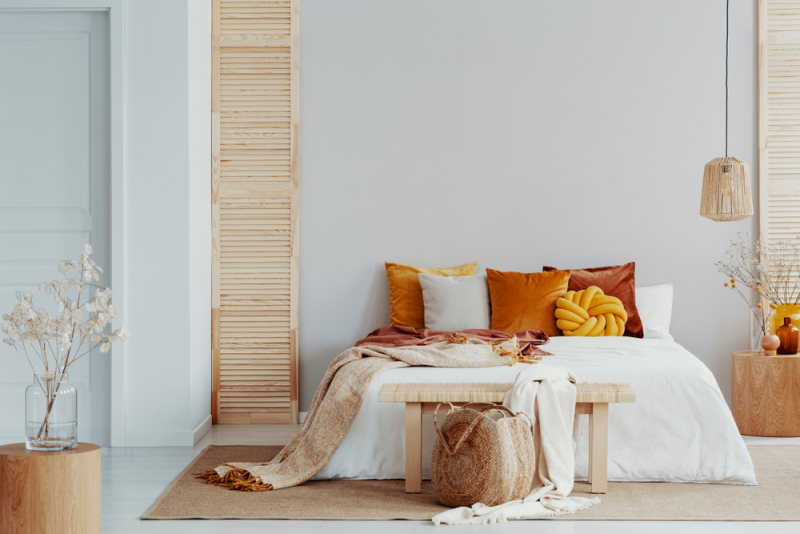 Typically, if you have extra cash to spare on home design, you should devote that money toward spaces that will repay you later — in your kitchens, bathrooms and outdoor areas. Devoting your budget to fixing up these spaces will increase the value of your home, and because guests more often spend time in these areas, deluxe design in shared spaces will not go unnoticed.
However, that doesn't mean you are stuck sleeping in a low-quality bedroom. A little money can go a long way toward improving the look and feel of your bedroom, as long as you know where it is appropriate to splurge. Here are a few ways to spend on your bedroom wisely to make your sleeping experience high-end.
Your Mattress and Pillows
Considering that your mattress and pillows are hidden behind whatever decorative duvet and throw pillows you choose, you might be tempted to buy budget bedding and spend more money on the fun, aesthetic elements of your bedroom design. Unfortunately, you do this at great risk to your psychological and physical health. Cute blankets and accent pillows usually don't contribute to improved sleep, but a poor-quality mattress and old, lumpy pillows will certainly interfere with your ability to rest and recover properly. Thus, you absolutely should splurge on a sustainable mattress and pillows.
You should take the time to research your options regarding mattresses and pillows, to be sure you are investing in the right sleep solutions for your unique sleep situation. You should factor in various aspects of your sleep habits, like the position in which you prefer to sleep and whether you are sensitive to allergens or air quality. You should also take full advantage of free trials, which will allow you to test out mattresses for a prolonged period to help determine which bed is the perfect bed for you.
Your Dresser or Armoire
The next most important splurge in your bedroom is the furniture you use to store your clothing — a dresser or armoire, depending on your storage needs. Not only is your dresser a major piece of furniture within your bedroom, but it is a piece of furniture that sees daily use. You shouldn't downplay the frustration that can arise from an armoire with doors that don't stay closed or drawers that are too shallow for your clothing or accessories. What's more, such a large piece of furniture can dominate a room's design, so it is important to choose something that fits your aesthetic hopes and dreams.
It is possible for inexpensive dressers or armoires to look appealing, but they usually aren't terrifically practical. Often, they are too small, or their hardware is shoddy, which can make using drawers and doors a serious pain. The manufacturers of more expensive dressers tend to consider the practicality of the products and invest in solutions that improve longevity. If you are on a notably tight budget, you should scour consignment stores for a designer dresser that suits your style.
Your Window Coverings
The human body follows an internal clock that aligns roughly with the path of the sun through the sky. When your eyes detect sunlight, your body wakes up, and when that sunlight disappears, your body prepares for rest. Thus, having window coverings that allow you greater control of when your bedroom gets light and dark will ensure you a more restful sleep experience.
The type of window covering you choose doesn't matter so much as that your window covering suits your needs. Draperies tend to be elegant solutions that fit most aesthetics, but you can also opt for high-quality blinds and shutters if that is what you prefer. Design experts tend to recommend splurging on custom window treatments that fit the dimensions of your windows perfectly. This will help your window coverings fit seamlessly into your bedroom's design, and it will ensure that your window coverings function as they should to block or permit the light as your needs dictate.
Bedroom Components Undeserving of a Splurge
Short and sweet, here are the elements of your bedroom where you can conscionably save money:
Nightstands. Nightstands are essential, but they are also hardworking, often getting knocked, scratched or stained. Most people would prefer to replace a cheaper nightstand showing wear than invest in a designer nightstand that will look shabby for most of its life.
Lighting. While improper lighting can interfere with sleep, the right lighting doesn't have to break the bank. You should stick to simple light fixtures and warm-toned 40- to 60-watt bulbs, which don't interrupt your natural circadian rhythm.
Accessories. Smaller decorative elements, like throw pillows and knickknacks, tend to follow rapidly shifting trends. To keep your bedroom looking fresh and stylish, you should swap decorative accessories with the seasons, which means keeping these elements budget-friendly.
You want a luxury bedroom, but you don't have a luxury bedroom budget. Fortunately, if you know where to spend your money, you should end up with a beautiful bedroom that helps you sleep soundly, too.