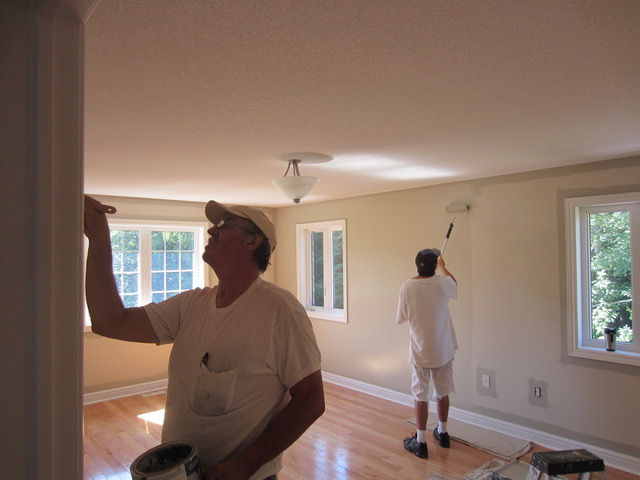 The qualified Toronto home painters should have the ability to take on a home painting project that has many different aspects to it. The painter can be required to paint anything in your home or office, from straight wall painting to kitchen cabinet painting and even popcorn ceiling removal.
Since this painter will be visiting your home and working it, painting the walls or kitchen cabinets, you want to make sure that they are honest and trustworthy; you wouldn't want to discover they have been stealing your property or harming it.
It is always nice to have a friendly and courteous house painter that shows up on time. And while they are there working on your home, it is good to communicate with them. The idea here is that you explain what painting you want to get done. Then the painter will review the project and come up with their questions and ideas. This is why it is good to have a painter who is an excellent listener to your requests.
Many home painters / Toronto house painters, and even commercial painters don't care as long as they get the paint on the wall or trim. Ultimately they think that once the paint is on and the right color, the job is done. There are a lot of things involved with painting.
The professional painting incorporates specific techniques and cleanliness not to create any mess on any person's or homeowner's property. You can tell refined painter who does a beautiful job also when you look at them, they look clean and not covered in paint. Professional painters can do a quick and clean, accurate paint job very efficiently. That is why they are successful in the house painting business.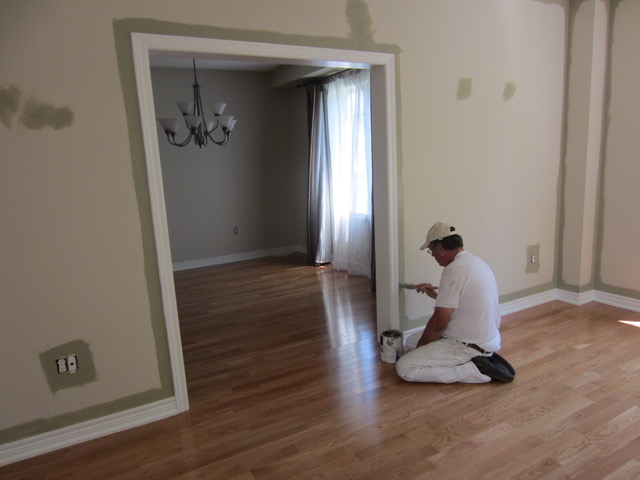 On your search for the perfect house painter, we can advise you on some things to consider
Nowadays everyone is looking for someone to paint the house probably called two or three painting companies. Sometimes the homeowner might go on referrals from their friends or people they now have had painters working in their homes.
Questions you will need to think about and ask them are the amount of effort that will be supplied in the preparation of the house painting.
Many homeowners will ask such things as do you have drop sheets and how will you protect my floors and furniture? Any top-quality house painter has an ample amount of drop sheets and plastic to protect the floors and furniture. This is the first thing a painter will do when entering the home, getting it ready for painting.
If the owner is not looking for perfection, less preparation will be necessary, thus less cost. Preparation is a big portion of wall painting and trim painting. Drywall repair is an essential part of this type of work. Likewise, if the customer has a popcorn ceiling and wants to make a smooth ceiling. It is imperative that the drywall repairs are done smooth and flat. This ensures that when the ceiling light hits, it does not cast imperfections and shadows. This is where a truly good housepainter excels. He will be able to identify bad drywall.
Making your deal on your house painting project
Now that you are satisfied with the credentials of your painting contractor and want to hire them,It is important that a contract and agreement is drawn up stating what will be performed and done. And then also, a payment schedule can be established. In some cases, 50% down and 50% on completion on smaller and larger jobs that take over a week can be split into three payments. This gives each party a comfort zone. The homeowner doesn't worry about paying for non-completion and the painting contractor doesn't worry not getting paid at all.
So drawing up an agreement and both parties signing it is beneficial to everyone.
From the standpoint of the painting contractor, the painters in Toronto should be able to be mobile to get to the house painting or condo painting job and some commercial work. They will usually carry with themselves tools of the trade for painting and drywall repairs. A good house painter will have at least one stepladder, most probably a 5-foot ladder. 5 foot ladders were quite well in most conditions. Their truck will be equipped with drop sheets to protect the floors and furniture, along with plastic sheets to go around delicate areas. They will have a couple of green or blue tape roles that are not as strong bonding, so it won't damage the walls from peeling the paint. And a box cutter knife to be able to cut the plastic or tape. And, of course, all the necessary painting tools such as paint rollers and paintbrushes and possibly an extension pole depending on how high the walls are.
In some instances, the preparation work also involves having different plaster repair knives. Also, we recommend a 20-minute hot mix and either fiber tape or paper tape to repair any cracks or open joints or even just possibly to smooth out dings in the wall.
After the repairs have been done or you are ready to start painting it is advised to sand the walls with 120 grit sandpaper to remove any rough parts. Sometimes, the dust gets into the paint as it dries, creating slight roughness here and there on the wall.
After the house painting is done, a good, conscientious housepainter will clean up possibly even better than the house initially was before the paint job.
Good luck