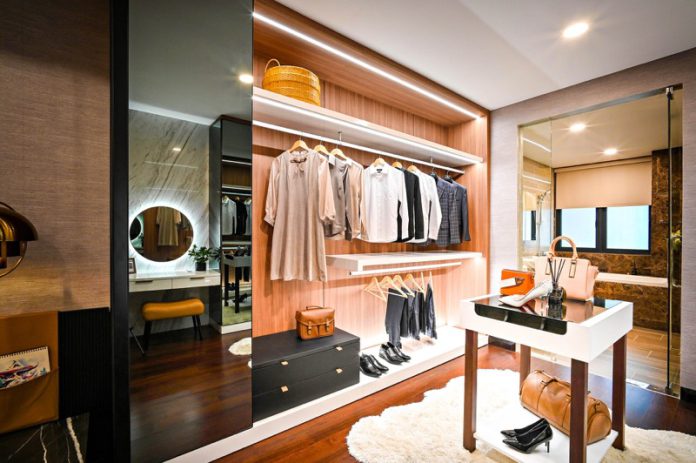 Some people are prone to the floordrobe phenomenon. No matter how often you declutter and rearrange your clothing, it always ends up in a pile on the floor. You need to find an organisational system that works for you and your lifestyle. You might need to simplify your system or store seasonal items, like ski gear, elsewhere.
You can design your dream wardrobe with your home and clothing in mind. Here are a few benefits of having a bespoke wardrobe.
Maximise the space
You can design your wardrobe to reach from the ceiling to the floor. You can build it into the awkward corners of your home and make use of all the space available. You can use the space up high for things you don't often use, like Christmas decorations and sentimental treasures.
Add lighting
You can add lighting to your wardrobe with LED strip lights on the interior shelves. Your shelves will be illuminated when you open your wardrobe doors. You can see everything in the wardrobe – instead of shuffling around in deep drawers and shelves. Genius, right?
Think about your lifestyle
A complex organisation system with tiny drawers and dividers might seem like a good idea. It will make your wardrobe look Instagram ready and keep everything separated. However this sort of organisation is impractical and unrealistic. You need a system that works for your busy life to maintain it in the long run.
You could separate your wardrobe by event. For example, work clothes in one half and weekend wear in another. Keep it simple and think about the demands of your life. You could have a drawer for your outdoor gear, like women's thermal tops. Leave some space for your shoes at the bottom or have a separate cupboard for them altogether.
You might need to split the wardrobe with your partner. You can add different organisational features to each side of the wardrobe. Your partner might need more hanging space, while you need a few shelves.
Add your style
Your built-in wardrobe can be practical and beautiful. Finish off your design with beautiful brass handles and sleek touches. You could add a pop of colour to your bedroom with a pastel wardrobe – or keep it classic with a wooden finish. Your wardrobe should complement your bedroom design and add a little style.
Make the most out of the space available in your home with a built-in wardrobe.