Do you want to enjoy clean windows but don't have the resources to clean them? It's common for homeowners to feel this way as windows require specific cleaning tools. And while DIY hacks might seem like a great option, taking this route will only do more harm than good.
If you want to have clean windows fast without wasting any resources, hire professional window cleaners from your area. Companies that offer window cleaning Los Angeles and other locations worldwide are common today, and hiring them is the key to enjoying spotless windows all year long.
Follow the tips below to choose the best professional window cleaners ASAP:
1. Ask Around
Windows are essential for both commercial and residential properties, so expect to find a handful of professional window cleaners in your area. Sure, having options is good, but when you're bombarded with too many, you'll be clueless on how and where to start your search.
If you have a friend, relative, or colleague who recently had their windows professionally cleaned, ask for recommendations. Inquire what they liked most about the cleaners and what you can expect once you hire them.
Conversely, ask from your social circle which window cleaners to avoid. The experience of other people can save you from being a victim of scams or paying cleaners who don't walk the talk.
2. Look For Online Reviews
The internet is a goldmine of information as it gives you access to any information you want. Simply type in your query on your search engine, and you'll have answers within seconds.
Harness the power of the internet when choosing professional window cleaners. Start by searching for cleaners or companies in your area and look for online reviews. Were customers happy with the service provided by a specific window cleaner? Or did they regret hiring them?
Use online reviews with a grain of salt as window cleaners can't possibly satisfy every single customer they have. Different customers will want different things, and it'll be challenging for a single professional window cleaner to meet all of these.
3. Assess Their Experience
Your windows are fragile, and hiring someone who doesn't have experience cleaning them will put money down the drain. Aside from not getting the job done on time, inexperienced window cleaners can also cause damage to your windows.
When choosing professional window cleaners, always consider their experience. Reach out to one of their representatives over the phone or in person and inquire how long they have been cleaning windows. Ask if they also have experience cleaning the type of window you have at home.
The experience of professional window cleaners is an important deciding factor as it speaks about their efficiency. Experienced window cleaners can clean your windows fast without compromising quality. Most importantly, their experience will allow them to find solutions when problems arise.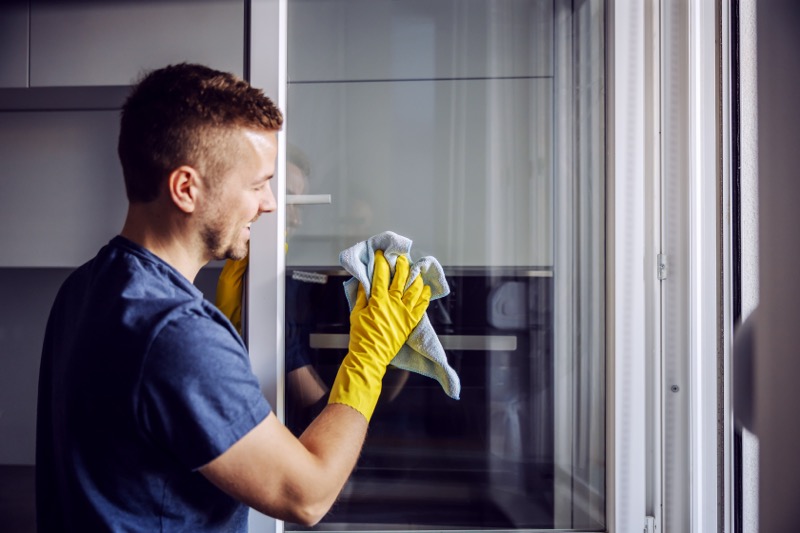 4. Consider Their Safety Measures
Aside from requiring the right cleaning tools, cleaning windows also need proper safety gear. It is especially vital if your windows are located two-story-high or in hard-to-reach areas.
Never hire professional window cleaners unless they present documents for their safety ratings. These ratings indicate how well the cleaners follow safety protocols set by the industry. Only work with professional window cleaners who have satisfactory safety ratings as this shows that they consistently wear safety gear and follow safety protocols when working.
5. Inquire About The Cost Of Services
Cleaning your windows is an ongoing responsibility. You need to ensure that your windows are regularly maintained to remain functional for years. The cleanliness of your windows also impacts the curb appeal of your property. The cleaner your windows are, the more appealing your exterior becomes.
If you're looking for professional window cleaners who can keep your windows spotless for years, inquire about the cost of their services in advance. Ideally, you should hire professional window cleaners with services you can afford long-term. It will save you resources from frequently finding and hiring another cleaner when you realize your windows are filthy again.
Ask for price estimates from at least three professional window cleaners, so you can assess which one suits your budget. Don't forget to inquire if they'll require a down payment before cleaning your windows. This information will help you prepare your finances early and avoid stress.
Choose Carefully
Your ability to enjoy clean windows will depend on the window cleaners you'll hire. You'll end up feeling more stressed and spending more money if you hire inexperienced window cleaners.
To get the best bang for your buck, use this article as your guide when choosing professional window cleaners. The information here will help you comb through your options, so you can hire professional window cleaners who can provide high-quality cleaning services!