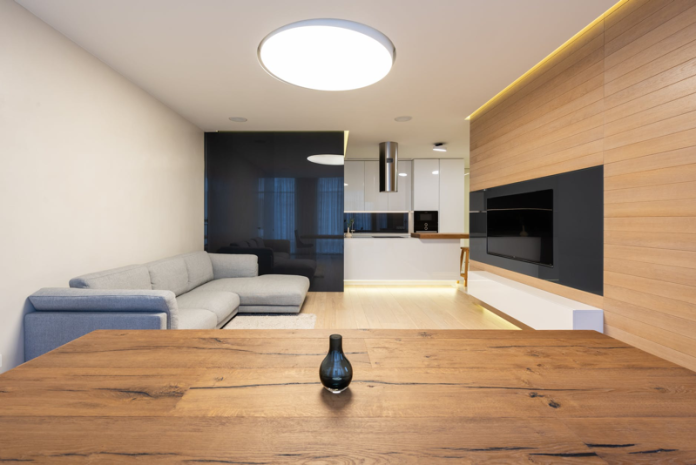 We all dream of a picture-perfect home, where every single item is put away in its designated space without ruining your home decor. In a perfect world, we would have easy access to them without compromising the decor of the house. One of those things is a TV. It's usually right out there in the living area or your bedroom. The size and shape of it make it very visible.
After your Netflix and chill session, you just want to magically camouflage your TV. You're obviously looking for savvy ideas for your TV to be less in-your-face. Therefore, we have gathered ten clever ways for you to hide your TV according to your style.
Incorporate it into Your Home Decor
If you have invested in the walls of your home, your ideal option is to choose the wall to hang your TV and decorate accordingly. The best way to turn things around when you have decided to hang your TV is to use it as a center focal point.
Select a wallpaper or wall color that complements the frame of your TV. Perhaps add some plants or decoration pieces around it. If you use the right background for your TV, it will make a seamless addition.
On an Electric Lift
An electric lift is the best possible fix if you want to literally hide it. The purpose of a TV lift is to store your TV and only to bring it out when you are going to use it. You can place furniture in front of your lift for it to be less visible.
All you need to do is press the button for it to rise from the ground or move your TV vertically or horizontally out of furniture, ceilings or partition walls—technology at its best. The other upside of having an electric TV lift is that it is a fantastic space-saving accessory, making your room look less cluttered.
Hide it Behind Framed Prints
This requires a little bit of planning and a DIY attitude. Hiding your TV behind framed prints or wall art is a good option that ideally needs framed pictures to be mounted on your TV wall. Firstly, you have to mount the pictures (it's best if they are identical) onto the hinge of MDF panels.
The next stage is to fix the batons to the wall, and voila! You have your personalized TV cover. Usually, the TV goes above the mantle, and if you are clever about choosing modern lightweight art, your TV space will end up looking stunning. All you have to do is slip it off to remove the art and you're ready for your movie night.
Place It Behind Curtains
This is a very simple way of hiding your TV. You will need an extra set of window treatments on top of the existing ones. You have to place the additional one over your TV. Just keep the curtains closed when you're not watching TV.
You have the option of floor-length curtains or blinds that come down from the ceiling. Both are great options. Remember to mount your TV screen on the wall first, and then hand the curtain rod on top of it.
Hidden TV Cabinet
Get a TV cabinet for your TV. They are available at home appliance stores. You can also build one yourself. They are usually called an entertainment center where your TV can be placed inside a cabinet. You can keep the doors of the cabinet shut, successfully hiding your TV. All you need to check is the height of the TV after placing it inside the cabinet. It has to have a good viewing height—you can check the height by sitting down on your bed or sofa.
A quick tip to make things easier for you: Make sure you go for a four-way socket bar that goes inside the cabinet behind the TV. You have to make room for your cable hole in the cabinet before you install your TV. The hold needs to be about 5cm square for the plugs to go through.
Inside an Armoire
Another cool way to make your TV disappear is to store it inside an armoire. Simply keep it closed when you're not using it. You can buy it according to your home decor too.
If you are a bedroom TV person, you can get one that also has additional storage options for pillows, clothes, etc. Or you can place it in the living area and use it as furniture. Whatever you choose, you'll at least be happy that the big screen is not dominating your decor.
Hang a TV Mirror
This is the best 2-in-1 option out there. Some overmantels offer various mirrors that complement TVs. Your TV screen will disappear when you switch it off, and you'll be looking at yourself instead. What a wonderful way to use the surface like a mirror. The mirror can be customized to the dimensions of your TV screen.
Adding a mirror layer to the screen does not hamper the functions of your TV in any way—you will still be able to connect to 4K, Xbox, Playstations, etc. Upgrading your screen will also not be an issue with the mirror.
Behind Oversized Art
If multiple frames bother you, you can always opt for a giant piece of art to hide your TV. You can add massive botanical, digital, or abstract prints from the ceiling to the floor of your room. They add a lot of character to the decor too—a perfect solution to conceal your TV. You can place your giant art on a slider and move it accordingly.
Behind Sliding Panel
Yet another unique way to camouflage your TV is to put it behind a sliding panel. You can decorate your sliding panel with art pieces, pictures, or by painting it to suit the rest of your home theme. There are accordion-style panels, where you only have to push them out of the way before watching TV. The panels slide away to the side, revealing your TV screen.
To successfully install the TV behind sliding panels, you have to mount your TV to the wall bracket, then the cabinet walls are built around it. If you enjoy having surround sound, then you might have to ask your manufacturer to build mesh doors for the speakers.
There are many different brackets available for your TV to be mounted. The most common one is a static arm, where the TV is fitted and not movable. There are articulated brackets too that allow you to pull down your screen, move it sideways, etc.
Conclusion
One last tip, and the most important one before you go—check the size and dimensions of your TV properly. Factor in the frame and screen size before you decide on investing in a piece of furniture, framed prints, or wall mounts. This is a common mistake that people often make, and they end up going back and forth because the TV just won't be covered fully. It is also important for you to decide where you want to sit to watch.
The viewing level also has to be right. Set the screen to a convenient viewing distance from where you can sit and watch TV without feeling uncomfortable. The rule of thumb is to divide the size of your TV by 0.55. To give you an idea, the optimal viewing distance for a 42″ television is 76 inches away. So, you should be 100″ away from a 55″. Now go get some popcorn, switch on the television, and enjoy your movie nights!