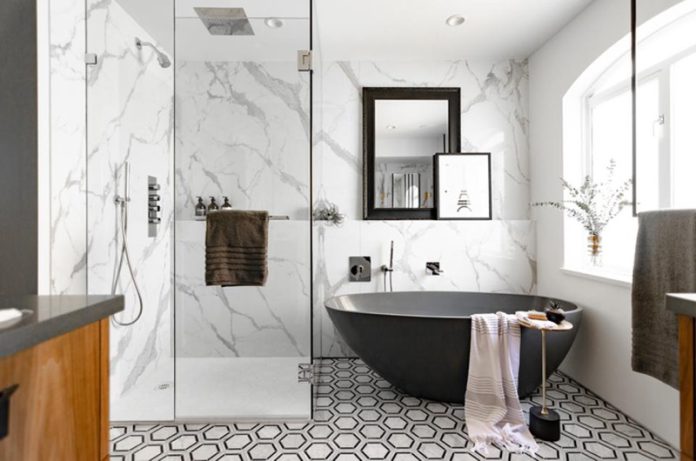 You may not know this, but the bathroom is one of the most important rooms in your house. It's where you get ready for work every day, and it's where your family gets ready for school. Yet many of us overlook the bathroom when it comes time to remodel. This doesn't have to be the case! There are plenty of cheap bathroom remodeling ideas that will make your house sparkle without breaking the bank! We talked to a friend working at Majestic Small Bathroom Remodel Works in Seminole FL and said that these are ten simple changes you can make to your bathroom today.
Update Your Sink And Faucet
One of the easiest ways to update your bathroom is with a new sink and faucet. This can be done in an afternoon, and you'll pay around $150 for the fixture.
A stylish, well-built sink will not only look great but can last for years. When it comes to choosing a faucet, anything from simple chrome to brushed nickel will work.
Update Your Towels
Nothing says elegance like a beautiful pair of towels hanging on the wall. Not only will they bring some personality to your bathroom, but they'll also get rid of that old bath rug that's been collecting dust in your linen closet.
Add Wall Storage
Wall storage doesn't have to be difficult or expensive. You can easily add a shelf to the wall with a few pieces of plywood, some screws, and brackets from your local hardware store. There are plenty of attractive designs for shelves out there, so you can find one that fits your style.
Makeover Your Mirror
Mirrors are a great place to start when you're looking for cheap bathroom remodeling ideas. You can use them to update the style of your room without having to spend a lot or even purchasing anything at all! Just take an old frame, remove the glass, and cover the backing with fabric. Then, hang it on the wall! If you have a few extra dollars to spare, consider adding LED lights under the mirror.
New Tiles And Paint
The quickest way to spruce up your bathroom is with new tiles and paint. You can get both of these things for cheap, and the effect will be amazing. New tiles mean that you can pick out something bright and fun that reflects your personality. Picking out a bold color will give you an instant update to your bathroom without costing much.
If you want something more subtle, there are plenty of neutral colors to choose from. You can even have it done in a pattern or with different textures to help it stand out! Painting the walls is another easy update that will make all the difference in your home. If you're worried about paint splatters on your new tiles, simply cover them with plastic until the paint dries!
Install A Shower Curtain Rod
One of the simplest ways to make your bathroom look new is to install a shower curtain rod. Your existing rod may be broken, or it may just be old and worn out. Either way, installing a new one can really update the look of your bathroom. All you need is a drill to install the shower curtain rod. You can find rods that are made out of chrome or another metal for $20-$30 at places like Target or Home Depot.
A shower curtain rod will only take about 10 minutes to install and will make your bathroom feel new.
Add a blackboard to your shower
Why not add a blackboard to your shower? You can keep all sorts of reminders or messages on there for the whole family to see. This is a really easy way to get the whole family involved in chores, homework, and other activities.
Store your soap in a pump container
One of the most inexpensive ways to improve your bathroom is to store your soap in a pump container. Not only will this look much nicer than a used bar of soap sitting on the counter, but it will be easier for guests and family members to use as well. If you're on a tight budget, this is an easy way to make the most impact with very little money!
Hang a plant or blackboard in your shower
One of the most simple changes you can make to your bathroom is hanging a plant or blackboard in your shower. A plant will add some green to your space while also cleansing the air, and a blackboard will provide hours of fun for your family! If you're feeling really ambitious, paint the wall behind your shower with chalkboard paint and let the creativity flow.
Put Up Shelves In Your Medicine Cabinet.
A great way to add storage to any room in the house is to install shelves. This is especially true for smaller spaces like a medicine cabinet. By installing shelves, you can make the most of the space in your bathroom and store things like toiletries and makeup you use every day right in front of you. You'll never again have to fumble about through your cabinets looking for your toothbrush when you can simply reach up and grab it from your new shelf!