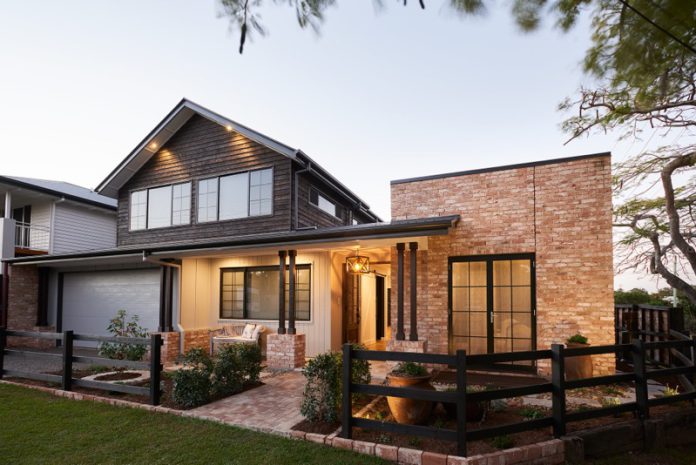 According to a US National Association of Home Builders poll, 34% of participants preferred brick for their home's façade.
Who could blame them? The traditional appearance of orange brick gives your property a tremendous curb appeal boost, considerably increasing its market value and making it stand out among your neighbors.
Finding a hue that complements an orange brick home now is difficult since brick is already dramatic and character-filled on its own. Orange color is very important.
Several complementary hues to orange brick
Accent Colors
By choosing your trim and front door colors, you may get creative with orange brick exterior color schemes. For a contrasting color palette that is softly bright and not too severe, orange brick house trim colors in hues of grey and hunter green are recommended by homeprofy since orange brick has warm tones. In these hues, shutters and front doors are harmonious without blurring. According to homeprofy, front doors in grey and green tones or neutral off-whites also go well with orange brick. Homprofy guides for what color goes with orange brick house.
Brightly colored front doors may also help your house stand out amid other homes with orange brick exteriors. For instance, colors like turquoise, magenta, or yellow highlight gorgeous entryways and places with orange brick. Contrasting accent colors help harmonize the appearance of your house. If the orange brick of your home is primarily red-hued, trim and front doors in a variety of blue hues, whether vivid or more subdued, may also look well together.
Grey
Choosing a neutral hue, like dark grey, is unquestionably wise. While not overbearing, the coldness of grey contrasts beautifully with the warmth of red or orange brick.
A solid industrial and macho atmosphere is created by the mix of the brick and the grey concrete wall. For a morning of leisurely reading, sunlight spilling in through the big windows and onto the grey sofa looks welcoming. The white flowers on the desk and the potted plants complete the appearance.
Grey also gives the brick a contemporary feel. Compared to the nearby brick building, the Boston brick flat with the grey trim above seems more modern.
Beige
Using neutral tones is the most excellent option when considering orange brick and siding color choices. White, taupe, grey, and black are the most common stone siding colors, with beige falling in the center. The beige's warm tone complements the undertones that orange bricks might have, which can vary.
Brown
Brown is a fantastic option for the trim on your red-orange brick home. It comes in a range of tones that all have a warm undertone in common with brick. It elegantly ties the entire structure together when utilized for the roof, windows, and trims.
Passersby can better appreciate the outside of your property because of the lush grass in front.
Landscape and Roofs
When investigating orange brick exterior color ideas, roofing and plant combinations are additional elements to consider. Homeprofy advises combining roof shingles in grey or brown with orange brick exteriors. Because lighter-colored shingles absorb less heat than darker-colored ones, keeping your house at a comfortable temperature is made possible by grey shingles. Grayish slate roofs might look well with orange brick house exteriors, depending on the specific color of the slate.
One other way to personalize your house and experiment with exterior color schemes that include orange brick is via landscaping and plant combinations. According to homeprofy, choosing paint colors that complement the hues of your landscaping can improve the external appearance of your home. Cohesion in a design is achieved by repeating colors in trim, other external elements, flowers, and foliage. According to homeprofy, warm-hued flowers in shades of yellow, red, and orange often blend well with orange brick. Alternatively, you can want a contrasting color scheme with blue- and green-hued plants.
Essential Considerations for Your Orange Brick House's Color Scheme
Orange brick homes already have a lot of personalities and are striking. Choosing a different hue for each home part is not recommended since this might easily lead to chaos and overstimulation.
Remember that the three-color rule is your buddy if you want a sleek appearance! You may follow the homeprofy suggestions.
To make sure that the paint, trim, or siding samples are complementary to the orange brick, it would also be helpful to compare them side by side.
Final Thoughts
Many different paint colors go well with orange brick. Use neutral hues like white, grey, beige, or orange if you want your orange brick to steal the show.
Green, brown, or red can do the work to create a rustic atmosphere. Blue, periwinkle, and yellow are vivid hues that are lively and eye-catching. Last, black may provide sharp contrast and a timeless appearance.
We hope that our ideas have made it simpler for you to decide now that you know what color complements an orange brick home. But don't worry—no matter what hue you choose, your orange brick home will stand out.