Roohome.com – You might dream applying modern living room decor one day. Well, now it is your turn to make your dream come true. This living room design has designed by a professional interior designer which has brilliant ideas in creating a modern living room. Besides that, you will see how the designer arranges a modest living room space becomes stylish and fashionable with a smart interior and colorful accents. Grab your chance to create your own living room by applying some modern living room decoration ideas below. Here you go!
Modern Living Room With Smart Interior and Colorful Accents by KNQ Associates
Let us introduce you one of KNQ Associates' masterpiece, here is a modern living room interior which has a perfect decoration with a modern appearance. The designer chooses smart and colorful as the main point of the design because, in 2016, many people are looking for something new. Firstly, you can take a look at the design below. The designer paints all over the living room with a shade of faded khaki as the basic color. You must be careful in choosing the basic color because if you get any mistakes, it would make your living room appearance becomes stuffy or narrow. The designer also utilizes a large window in the living room in order to evoke natural sunlight through the window from outside.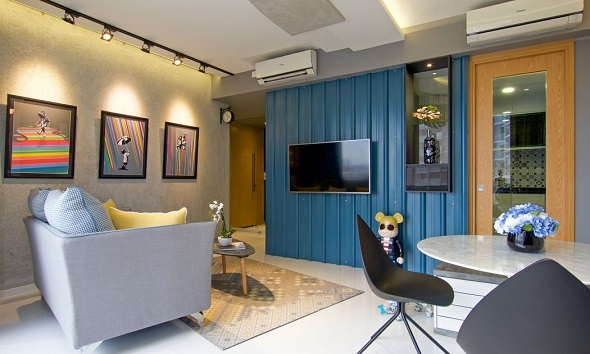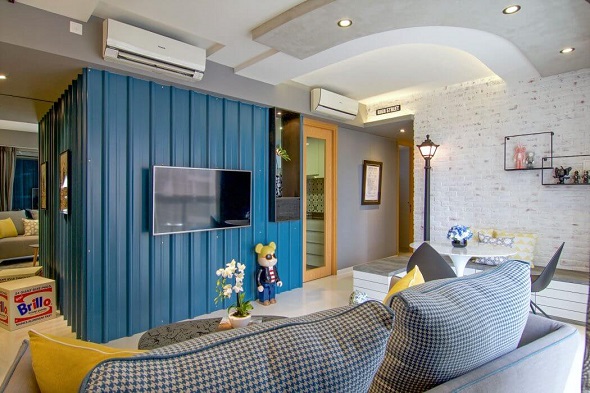 Having a modern living interior inside will inspire you a lot. For example, this living room design below is decorated with a modern interior such as a big blue box right in the middle of the living room. This is not only an ordinary box but KNQ Associates create a useful box which has many benefits for you. The box itself can be an alternate television cabinet. The designer chooses a denim blue color because the color provides a cozy and peaceful atmosphere. To make the room more stylish, you can place some colorful accents and decoration in it.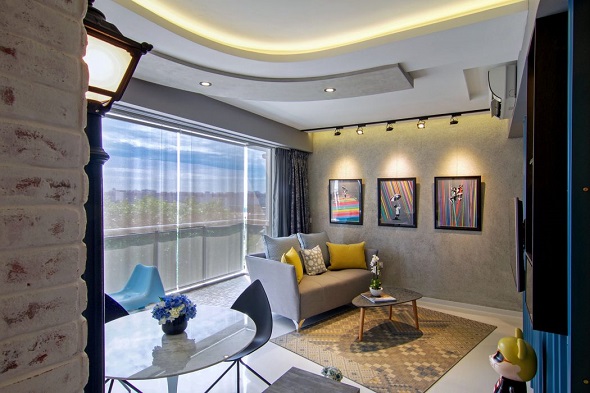 Modern Living Room Decoration Creates Multifunctional Spaces in It.
Do not be worried if you have a modest space in the living room. The designer creates a modern living room decor to facilitate you place any interior in creating multifunctional spaces in it. KNQ Associates place to different types of a coffee table all in one space. The first coffee table is placed against the white stone wall. To make it more lively, the designer puts three pillows with colorful patterns. After that, put some shelves on the wall will make some parts of your wall gorgeous. The second coffee table is placed near the large window. The aim of this arrangement to make you feel cozy in enjoying a cup of coffee while having chit-chat with your partner or family. Two mini blue chairs are being eye-catching in this living room. Besides that, the designer also places a unique rug on the floor.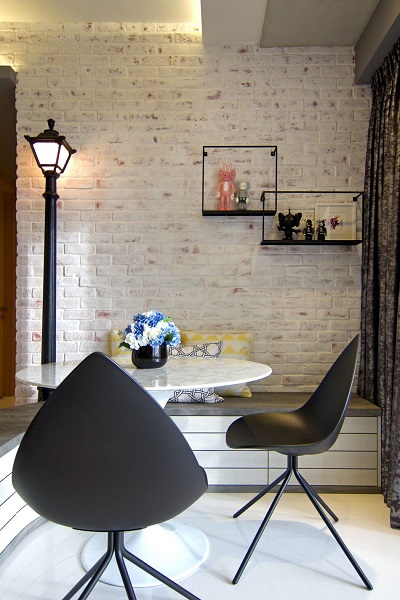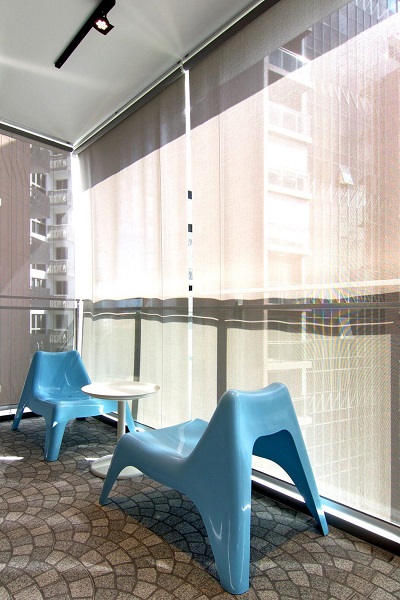 There is an addition for you who have one free room. KNQ Associates creates another room as a simple relaxing room. By placing a unique cardboard, the designer has created a multifunctional furniture. Keep improving your creativity as well as KNQ Associates.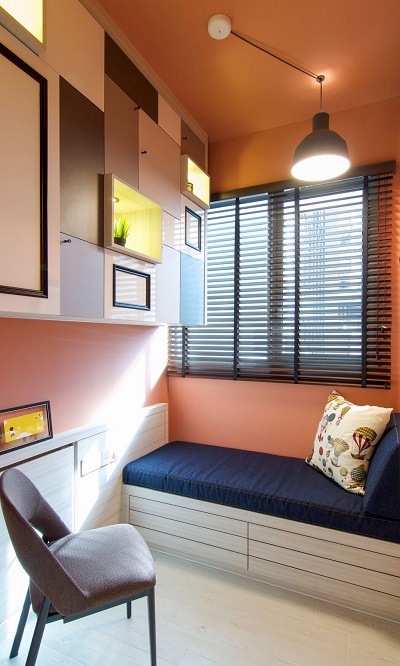 Are you interested seeing this modern living room decor? If so, you are not in a wrong way. Just grab this modern living room 2016 to be applied in your own living room now! If you want to see other designs, just visit and check here. Have a nice day!