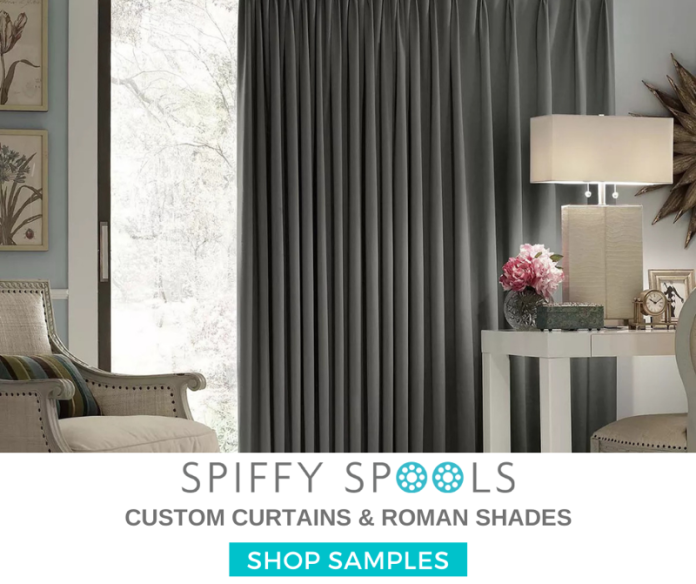 Curtains are as important to the overall appearance of space as the furnishings, artwork, or carpeting. Curtains, aside from their useful qualities, provide individuality and appeal to the décor of your space. Because of their huge surface area, drapes and curtains truly set the tone for how your space looks.
Whether you are going for custom curtains or custom roman shades, one of the first decisions to make is the type of fabric you want. There are several curtain fabric options available on the market.
One of the most important components of the procedure of selecting curtains is the fabric you choose. In such a scenario, you'll be well advised to consider a few aspects when selecting fabric for your custom curtains.
Factors to consider when choosing the best fabric for your curtains 
1. The significance of fabric material
Your choice of fabric for curtains will affect a number of factors, including its transparency, usability, and final appearance in terms of color and design. Avoid selecting really heavy-weight materials with decorations for your curtains since they might make retraction problematic on a regular basis.
Additionally, heavier or thicker materials are a terrible choice if you want the folds of the cloth to perfectly stack on top of one another when the blackout custom curtains are drawn open.
For instance, cotton, polyester, linen, silk, brocade, acrylic, and rayon are some of the best and most common materials for custom curtains. Cotton is a flexible fabric, especially if you want a classic aesthetic for your house.
There are simply too many choices and alternatives to make when it comes to curtain fabrics. Here's a rundown of some of the famous choices for drapery fabric to get you started, especially if you're thinking about buying your own fabric for custom curtains:
Velvet – smooth, plush, and oozing with vintage charm
Velvet is a lovely mix of brilliance and elegance that drapes wonderfully and suits elegant and/or traditional décors. It is extremely soft to the touch and provides excellent insulation against noise, light, and heat. However, velvet curtains must be brushed or vacuumed on a regular basis.
Velvet may be used for very broad curtains on walls with plenty of stacking area on the sides to assemble this thick, soft fabric. Avoid using it on small windows. It is also not suggested if you want your area to seem bright and airy.
Cotton – timeless, earthy, and chic fabric
Cotton curtains lend a touch of refinement to every room! Cotton looks elegant and gives off a neat, crisp impression. Best of all, it is available in a variety of weaves and textures to complement your décor. Colors can fade somewhat in direct sunlight, thus, the lining is essential for preserving the fabric and life of cotton draperies.
Make sure that your cotton curtains are lined with a high-quality lining to prevent fading from direct sunlight, as this will help them last longer and give off an earthy and fresh feeling. Cotton also needs extensive ironing for a faultless finish.
Silk – lush, luxurious, and expensive
Silk curtains look fantastic, and exude utter elegance. Of course, silk is not cheap (count in dry cleaning too). But the finest things in life are always worth it!
Silk encapsulates luxury and pleasure. Yes, it is more expensive, but it works wonders for your space! In formal spaces with conventional decors, it always gets approval.
Linen – elegant, lightweight, and fashionable
You have to adore linen! This all-natural fabric offers several advantages. Apart from its basic yet evident elegance, linen is also resilient, airy, insulation friendly, and lends a natural sense to any home. Much like cotton, it comes in a variety of colors. However, linen wrinkles readily and is more expensive than cotton or polyester. As a result, we recommend exercising caution when considering utilizing children's rooms and high-traffic areas.
Linen curtains are absolutely worth the minor price difference. Furthermore, they are ideal for complimenting minimalist/Scandinavian/contemporary décor trends. If your budget permits, go for it!
Polyester – Reliable, strong, and cost-effective
Polyester is a versatile curtain fabric that may be used on several levels. It is light and sturdy, fits into small spaces, and is simple to maintain. It also provides outstanding insulation against cold and does not fade readily when exposed to direct sunshine. However, in certain polyesters, pleats take a little longer to settle into straight lines.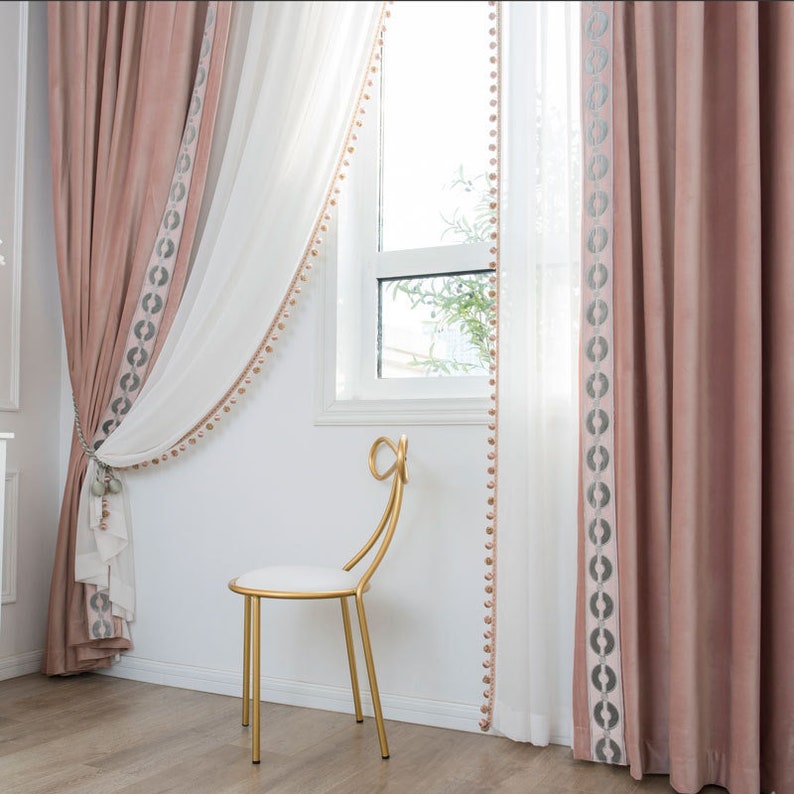 2. Density
Decide how much privacy and natural light you want in your space; this will help you select the proper density curtain fabric. With blackout custom curtains, more light will be blocked and you can also enhance your privacy with these thicker, more impenetrable curtains.
Choose lightweight, transparent, loose-weave materials like sheer cotton, linens, or polyester mixes if you desire natural light to come in. This is especially suggested for tiny areas since it allows more light into the room.
3. Weight
A heavier fabric, such as velvet or canvas, gives extra seclusion and insulation. Furthermore, it won't be carried away by severe winds. However, in order to prevent it from collapsing, the weight should be considered while choosing the curtain rods and accessories.
Sheer fabrics, for instance, are thought to be far too light for these custom curtains. However, heavier fabrics like damask and velvet would be inappropriate.
4. Opacity
Another important quality that is closely tied to the amount of privacy you experience is opacity. It is also connected to the weight of the curtain as opaque fabrics are often heavier. They are ideal for rooms that receive a lot of sunshine since they may soften the harshness or fully block it based on the level of opacity.
5. Colour
The color of the curtain should be carefully picked to suit the general décor of your home. The same color might have a distinct impact and appearance within the same décor plan based on the material used. Consider the utility of the color you select as well. Dark colors, for instance, are more susceptible to fading from sunshine, but light colors are more susceptible to stains and grime.
So, parting words…
If you get the fabric right, half your work is done. With these tips, you are quite covered on your quest for the perfect fabric for curtains.