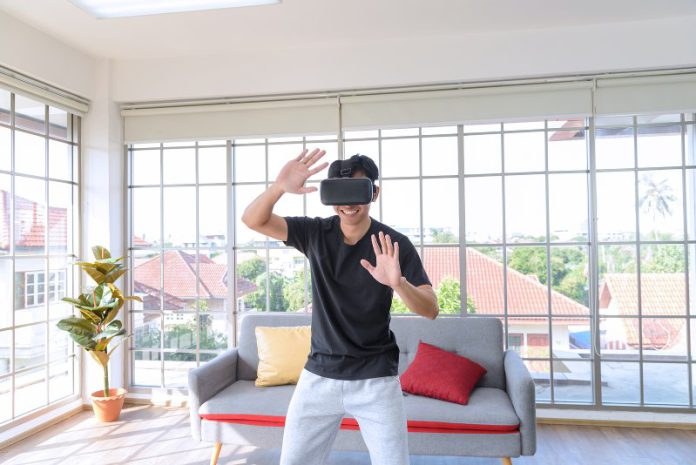 We are a group of interior designers, furniture designers, and hobbyists who specialize in space-saving furniture. Therefore, we'll teach you how to create enough space in your home to play VR comfortably.
A decent Virtual Reality Metaverse Experience requires around 6 feet by 6 feet. Naturally, the more space you have, the more immersive the experience will be.
What Kind of Space Is Best for VR?
The three best rooms in your house for playing VR are the living room, the bedroom, and the basement. There are other sneaky ideas for making space in other locations, but we'll get to that later.
Setting Up Your Bedroom For VR Gaming
A bedroom is an ideal location to create space for VR. However, the big problem is usually the bed because it takes up most of your room space, preventing you from playing VR.
A Murphy Bed is an easy fix for that. They are simple to pull up and out of the way, adding more than 6 feet of depth. This way, you have adequate area for VR, even if you have a double or queen bed.
Your room will be the perfect location for VR if you seal the door!
You will also have privacy, so no one will criticize your flailing arms and body which may seem weird and out of context. If you need more storage space in your bedroom, a Compatto Revolving Wall Bed Bookshelf may be the ideal option. The shelves include additional storage room for all your VR gear or books, and you can turn them around to expose a single bed.
Making Your Living Room a VR Gaming Space
How can you create a 6-by-6-foot space in your living room when all of your furniture is in the way?
It may appear obvious to simply push your sofa and coffee table out of the way, but this will be a nuisance every time you have to move them.
But what if you're low on cash? Sliders may be your ideal choice!
Look for cloth furniture sliders if you're on a hard floor like concrete, tile, or hardwood. They fit underneath the legs of your sofa or coffee table, making it much simpler to slide furniture.
You should opt for carpet plastic sliders if you are on a carpet. This produces a slick surface that doesn't grip your carpet and makes it easier for your furniture to slide.
Furniture sliders are useful; you can even place them beneath a piano to move them easily!
Looking to Upgrade Your Furniture?
Purchase a transformable coffee table with wheels. These height-adjustable tables are ideal for viewing TV or having a meal while watching a movie. They are also transportable, allowing you to move them to another location quickly.
Look for a modular couch system that allows you to reconfigure or vary the shapes of the seats. If you have a modular sofa, simply pull your chaise seat away.
Can I Wear a VR Headset in a Small Space?
Even though a larger space is better for VR gaming, with some careful design and furniture selection, it is still possible to have a good time in a smaller environment. If you want to take advantage of your available space, purchase modular or folding furniture.
Also, make sure to clear any potential risks before beginning your VR session. To prevent bumping into walls or furniture, be mindful of your movements and alert to any barriers in the space. You can even transform any modest area into an entirely immersive VR scene with a little imagination and preparation.
We recommend you to always contact industry's top suppliers of compact furniture. With an experienced team, you may expand your home's space while simultaneously getting ready to host visitors.