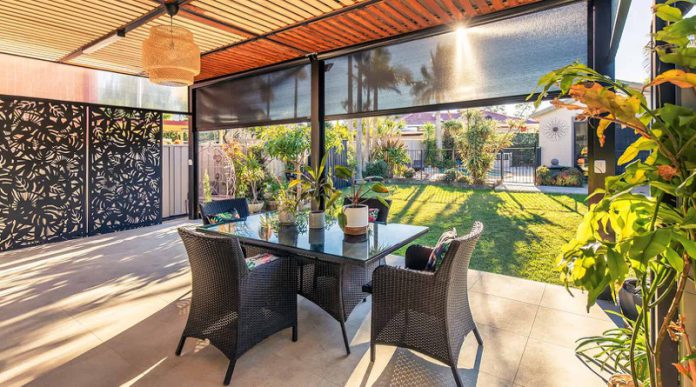 Are you craving comfort, conjuring up dreams of relaxing on your deck and enjoying the view? With DIY outdoor blinds you can make that dream a reality. Installing and maintaining your own outdoor blinds is easier than you think; all it takes is a bit of know-how plus plenty of motivation for improving your home and making sure it's as comfortable as possible! This guide will walk you through everything from selecting the right type of blind fabric to taking steps to prevent damage caused by sun exposure. Whether this is an initial endeavor or part of regular maintenance, these tips are simple yet effective ways to get just what you need out of those outdoor blinds without breaking the bank. Let's take a look at how to install them in no time!
Why Should You Install Outdoor Blinds in Your Home
Installing outdoor blinds not only provides you with the ultimate approach to outdoors, but it also comes with various benefits. An obvious benefit of having outdoor blinds is energy savings – blinds help to keep your home warm in winter and cool in summer as they provide great insulation. Additionally, installing blinds on your patio area or deck can transform the look of your backyard. They give you additional privacy, shade from the sun and wind protection, so you can enjoy your outdoor space all year round, no matter what mother nature throws at you! Outdoor blinds require little upkeep; a quick cleaning every so often will keep them looking like new. Thus, if you're searching for a quick and affordable approach to maximize your backyard, think about including some outdoor blinds in the mix.
Installation Procedure
You may completely revamp your outdoor living area with DIY outdoor blinds if you have a few simple equipment and materials. Start by measuring the various parts of the track system and connecting them. In the chosen place, fasten the track system to a solid surface made of metal, wood, or concrete. The bottom bar and side guides should then be slid into the appropriate channels. Install the head box and each cable lock into its respective hole to complete the process of raising or lowering your blind as necessary. With these simple steps, you'll be ready to enjoy all of the benefits of having new DIY outdoor blinds in no time!
Helpful Tips for Maintaining Your Outdoor Blinds
To get started, wipe down the fabric of your outdoor blinds on a weekly basis. Doing this with lukewarm water, some mild soap and a soft cloth will remove dust and other residue that accumulates over time. Beyond just wiping it down though, take note of any wear and tear like loose seams or rips, and attempt repairs as soon as possible. Finishing off with an occasional deep cleaning with water sprayed from a garden hose should be enough to keep your outdoor blinds in pristine condition. Follow these useful tips and you'll have attractive looking blinds that last!
With these few tips and tricks, you've got all the info you need to begin installing your own DIY outdoor blinds. From the tips on materials and weather proofing, to insights on motorised blinds Sydney, you're ready to get the shade setting just right. Enjoy the satisfaction that comes with a job well done and bask in the sights and atmosphere of your new outdoor space. So don't wait any longer– what are you waiting for? Start planning out your project today!